Gorakhpur, Phulpur a good start for Opposition, but one boundary won't win them match against Modi in 2019
The recent upset for Narendra Modi's BJP in Gorakhpur and Phulpur bypolls in Uttar Pradesh have occupied an unreasonable amount of space in public debates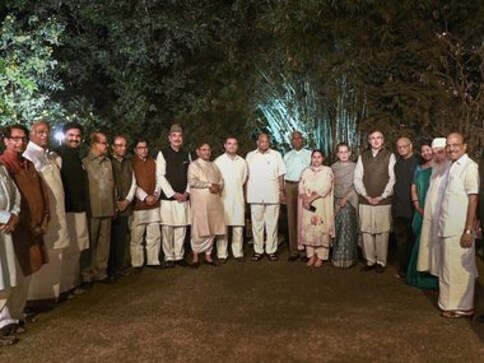 By-elections to Lok Sabha seats in Gorakhpur and Phulpur in Uttar Pradesh — following Chief Minister Yogi Adityanath's and his deputy KP Maurya's entry into state politics – have occupied an unreasonable amount of space in public debates. Ordinarily, these results would have gone unnoticed, but since BJP lost both seats to Samajwadi Party (SP) and Prime Minister Narendra Modi will seek re-election in May 2019, it was inevitable that sparks would fly all over.
The bizarre part of the loss has been the reaction of politicians and explanations offered by Yogi and Maurya. Yogi credited the defeat to his over-confidence, forgetting that the coterie that he has built around himself, fooled him all along about the realities on the ground. He has since transferred scores of IAS and IPS officers, blaming them for failing to send his development message across. It betrays his administrative immaturity. Maurya, wearing a forced grin on his face, has blamed his own community for surreptitiously switching support to his opponent.
The victor's camp, on the other hand, is buzzing with euphoria. Soon after the victory, Mayawati, BSP leader, sent her Mercedes to fetch Akhilesh Yadav to jointly rejoice the victory of SP candidates, made possible because she transferred her Dalit votes to the party. She cannot forget the pain that Modi's demonetisation has allegedly caused to her and would do anything to avenge the loss of her monetary reserves.
The irrepressible Lalu Prasad Yadav, sulking in prison for being the major beneficiary of the fodder scam, felt relieved that "truth finally triumphed over untruth". One does not know what he meant by this sartorial expression. In a gesture of ultimate magnanimity, Congress matriarch Sonia Gandhi, whose party candidates lost security deposits, hosted a dinner for 18 Opposition party leaders to discuss how best to cobble up a united front of like-minded parties to counter Modi. Except for Sharad Pawar of NCP, no regional satrap, however, was present. They were represented by their nominees.
For Telangana chief minister K Chandrashekar Rao (KCR), the BJP loss was a great opportunity to engage in national politics. He gave a clarion call for forming a non-Congress, non-BJP Third Front to take on the saffron headlong. His idea is fanciful, to say the least. The time for a government in Delhi without BJP or Congress is not so near that KCR can begin preparing to move from Begumpet, Hyderabad, to Lok Kalyan Marg in Delhi in 2019. He is meeting the mercurial and ever undependable Mamata Banerjee on Monday to take his idea forward.
Chandrababu Naidu, the quintessential opportunist, who had taken Atal Bihari Vajpayee for a rough ride for five long years, has pulled out his party from the NDA and is poised to move a no-trust vote against the NDA government, which is bound to fail. His excuse is that Modi did not grant special status to Andhra Pradesh.
Being a crafty politician, he should have realised that Modi is not Vajpayee and you cannot stretch this man beyond a point. Congress, a party in the wilderness, is trying to fish in troubled waters. Party president Rahul Gandhi, who thinks everyone is a fool, has promised special status to Naidu.
Not long ago, his party had buckled under the pressure of KCR to break up Andhra Pradesh and gave nothing to both states to rebuild themselves. Naidu, suspicious of arch-rival KCR's political move, has also given a call for forging an alliance of parties of southern states to halt the BJP's southward push.
Naveen Patnaik, the Orissa chief minister, has kept a distance so far from the herd. He is weighing all options and does not want to rock his boat when the elections in the state are around the corner.
It is comical that two by-elections can have such impulsive reactions. The recent tango of Mayawati and Akhilesh is at best a four, scored in the first power play of a 50-over cricket match. From now on till the next 40 overs – ie 2019 – they can neither afford to play bad shots nor forgo good partnerships, keeping aside their ambitions and jealousies. It is a difficult call, given the aspirations of over 16 political party leaders to become the man of the match. The voters of Phulpur and Gorakhpur would not have bargained for such free entertainment when they went to cast their votes.
It is wrong to see a wake-up call in these electoral reverses for BJP. It simply points out that BJP has to contest the elections to win. It did not do so this time. If you look at the numbers of Yadavs, other Backwards, Dalits and Muslims and relate them to the percentage of votes polled, you will know why Samajwadi Party won the elections.
This voting combination is lethal and is practised all over the country. One may find this phenomenon abhorrent, but this is what wins you elections in India. The talk of protecting secularism, the plurality of India and liberal values as the winning recipe is hogwash.
To give Modi some credit, he has at least tried to take away a bit of sting from the poison of the Backward-Dalit-minority formula by mixing the development potion. Travel to the villages in Jharkhand, you will know what he has done. When I asked my mason whom he will vote in the state election, he replied, "for Jharkhand Mukti Morcha". And, what about in May 2019 parliamentary elections. His answer was Modi.
"But why not the JMM candidate," I asked. He replied that because of Modi, he now "had three houses, inexpensive and plenty of rations, free electricity and three gas connections, issued in the name of his three sons". "But did the state BJP government not provide these facilities?" I countered. He explained that Modi provided money and directed the state to give the services.
"Then, why would he still prefer JMM over BJP in the state when JMM had no role in providing those services?" He said that he did not get the full amount which Modi had provided for. His argument may sound flawed, but it broadly hints at how difficult it will be for the ragtag groups, emerging out of the recent UP by-elections, to run Modi out.
The author is former special secretary, R&AW.
Politics
Gandhi's attack came a day after Prime Minister Modi lashed out at the Congress for wearing black dresses on 5 August in protest against price rise.
India
Equipped with state of the art gadgets and a data centre, the building is the latest landmark in the city. Built at a cost of Rs 600 crore, the building houses it all - from the city police commissionerate to data collection centre. It also has yoga centre, museum, war room, auditorium and more
Politics
The BJP's 'Har Ghar Tiranga' programme to celebrate 75 years of Independence is a super hit. Now, while Congress is trying to malign the initiative even as its Punjab unit launches a version of the 'Tiranga Yatra', Delhi's Arvind Kejriwal has plans of his own