Goa Exit Poll Results 2017 as it happened: BJP likely to get 15 to 21 seats, AAP draws a vacuum on debut
LIVE NEWS and UPDATES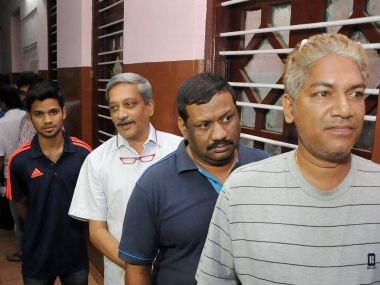 22:06 (IST)

Here is the final comprehensive data for the state of Goa

20:25 (IST)

What do the exit poll results indicate?

If exit poll results come true, Goa is definitely headed to deliver a fractured mandate. Three exit polls conducted are unanimous that the state's ruling BJP may emerge the single largest party in a hung Assembly.

Taking average of all three exit polls, it appears that BJP's juggernaut may stop in the coastal state at 18, three short of simple majority, while Congress party's dream of returning to power may yield it just three more seats compared to 2012 when it had won nine seats. It seems Congress may snatch three seats from BJP that had won 21 seats five years back.

AAP may manage to open its account by winning three seats, though it had identified Goa as a potential state for its expansion beyond Delhi. Tally of Others and Independents will come down from 10 to 7.

And it may also mean Union Defence Minister Manohar Parrikar returning to Goa as chief minister and drum up necessary support, since he has requisite experience and expertise.

19:07 (IST)

BJP may form new govt, but will it cross the majority mark?

Going by exit poll predictions, Goa ruling BJP may form the new government, but it may need crutches to cross the majority mark of 21 seats in the 40 member Assembly.

Aajtak-AXIS survey has predicted 18-22 seats for BJP, slight improvement in fortunes of the Congress party by projecting 9-13 seats for it, disappointing debut for AAP which may draw blank or win maximum two seats and four to nine seats for others, who may become the kingmaker and demand their pound of flesh before extending support to BJP.

BJP had won 21 seats in 2012 polls while its ally MGP had bagged 3 seats. After MGP broke the alliance BJP fixed target of winning 25 seats, which at this stage looks farfetched.

19:00 (IST)

BJP leads with 18 to 22 seats: Axis My India

18:58 (IST)

BJP leads with 18 to 22 seats: Axis My India

18:44 (IST)

Smaller parties and Independents may play a critical role

India TV-C Voter in its exit poll prediction has said state's ruling BJP may end up between 15 and 21 seats, Congress party between 12 and 18 seats, AAP between zero and four seats and others between two and eight seats.

BJP managing to retain its 2012 tally of 21 seats is the best scenario presented. Going by it, Goa could be headed for hung Assembly in which smaller parties could come into picture. Congress winning the maximum 18 seats may open intense efforts and bargaining.

As of now it is clear that AAP's attempts to extend its 2014 Delhi experiment may have failed in Goa.

18:38 (IST)

BJP ahead in Goa

18:22 (IST)

BJP to be the single largest party: Exit polls

MRC predicts 15 seats for BJP, 10 for Congress and AAP seven. Meanwhile, C-voter predicts that BJP may retain Goa with 18 seats and Congress may gain six seats. AAP which is making its debut in Goa might just end up only two seats. C-Voter exit polls say BJP to be the single largest party in Goa.

17:56 (IST)

BJP likely to win Goa

17:45 (IST)

Hung Assembly in Goa: NDTV

NDTV Goa predicts 15 to 21 seats for BJP, 12 to 18 for Congress and AAP is likely to win 0 to four seats. The channel predicts a hung Assembly in Goa.

17:19 (IST)

Huffpost-CVoter poll

The poll predicts a hung Assembly in the state. While the Congress is expected to be the single largest party with 16 seats, the BJP is a close second with 15 seats.

The "others" seem to make a considerable dent in the prospects of the two major parties. This category, which includes the AAP and the Maharashtravadi Gomantak Party-led mahayuti, is expected to grab eight seats in the 40-member Assembly.

17:17 (IST)

India Today-My Axis survey

According to the India Today-My Axis Poll, the incumbent BJP is expected to win between 23 and 27 seats, while the Congress will win just 12 to 14 seats. However, it is bad news for the debutant AAP, which the poll predicts won't win more than two seats. The main reason for BJP retaining the tourist state can be attributed to the split in anti-incumbency votes.

17:15 (IST)

Results of 2012 Goa Assembly election
With the polling concluding in all five states — Goa, Punjab, Uttarakhand, Manipur and Uttar Pradesh — pollsters will start churning out exit polls results by 5.30 pm onwards. Pollsters seem to be divided over the election outcome in Goa. While the India Today-My Axis Poll predicts a clear majority for BJP, the Huffpost-CVoter predicts a hung Assembly.
According to the India Today-My Axis Poll, the incumbent BJP is expected to win between 23 and 27 seats, while the Congress will win just 12 to 14 seats. Meanwhile, the Huffpost-CVoter poll predicts a hung Assembly in the state. While the Congress is expected to be the single largest party with 16 seats, the BJP is a close second with 15 seats.
According to Goa Chief Electoral Officer Kunal, the overall polling percentage on 4 February was 81. Out of the 11.10 lakh registered voters,
8,98,507 exercised their franchise. The constituencies in the mining and tourism belts saw more than the average polling, as per the EC estimates.
Though as many as 250 candidates, including many Independents, are in the fray for the 40 seats, the fight is mainly between ruling BJP, Congress, AAP and MGP-led alliance. The counting of votes will be done 11 March.
Both the Congress and the BJP claimed victory with a comfortable majority ahead of the counting of votes in the February 4 Assembly polls.
"We are expecting 23 to 25 seats. We should have the majority this time. I know that many, including some of our senior leaders, were saying that the Congress will not get more than three seats. The situation is now from minus to plus," said state Congress president Luizinho Faleiro.
Faleiro also said that the Congress was open to support from leaders of other political parties and Independent candidates.
"As I said before, if any other candidate believes in the Congress ideology, programme and manifesto, they're free to support us," Faleiro said.
State BJP president Vinay Tendulkar also expressed confidence about winning the Assembly elections. Tendulkar said that the ruling party would win 22-23 seats in the 40-member Goa legislative Assembly.
"The BJP is sure to win 22-23 seats when results are declared on 11 March," Tendulkar said.
When asked whether current chief minister Laxmikant Parsekar would be anointed to the post once again if the party wins the polls, Tendulkar said: "That is up to the party MLAs and the Parliamentary board."
(Inputs from agencies)
Your guide to the latest election news, analysis, commentary, live updates and schedule for Lok Sabha Elections 2019 on firstpost.com/elections. Follow us on Twitter and Instagram or like our Facebook page for updates from all 543 constituencies for the upcoming general elections.
Updated Date: Mar 09, 2017 22:06:49 IST