Goa Election 2017: Manohar Parrikar desperate to return to Goa, says Subhash Velingkar
Sharpening his attack on Manohar Parrikar, RSS rebel and Goa Suraksha Manch founder Subhash Velingkar on Thursday said the defence minister is desperate to be back in Goa, amid speculations of his possible return as chief minister if BJP secures a fresh mandate in 4 February polls.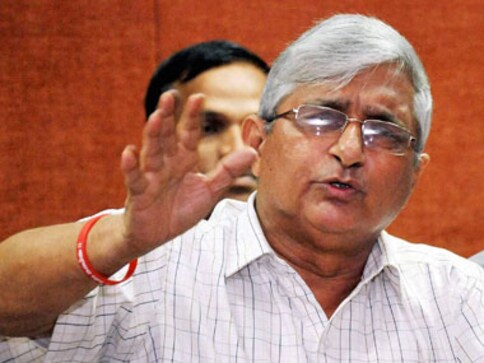 Panaji: Sharpening his attack on Manohar Parrikar, RSS rebel and Goa Suraksha Manch founder Subhash Velingkar on Thursday said the defence minister is desperate to be back in Goa, amid speculations of his possible return as chief minister if BJP secures a fresh mandate in 4 February polls.
Velingkar, whose outfit is fighting the polls in alliance with the Maharashtrawadi Gomantk Party (MGP) and Shiv Sena, also accused the RSS leadership of turning a blind eye to 'misdeeds' of Parrikar, even as he affirmed that he still stood by the basic "principles of the Sangh."
The prime target of the MGP-led alliance, though not officially declared, is the BJP dispensation in Panaji, and its architects believe that the combine could poach into the saffron party's vote bank in the state.
Last year, the RSS "relieved" Velingkar of his responsibilities in the organisation after he launched a fierce attack on the BJP leadership and accusing state government of reneging on promises like giving primacy to regional languages like Konkani and Marathi in eudcation.
"Parrikar has been failing in Delhi in his job as the defence minister. Now, he is desperate to return to Goa as CM," Velingkar told PTI.
"Parrikar is acting as a part-time defence minister. All political and administrative reins of Goa are in his hands," he claimed.
The regional language crusader, who floated GSM ahead of the polls, also charged Parrikar with "playing against the national and cultural sentiments of Goan people," saying he had gone back on stopping state grants to English medium schools.
Velingkar-led Bharatiya Bhasha Suraksha Manch has been agitating against the state government while demanding mother tongue be made medium of instruction (MOI) and withdrawal of grants to English medium schools.
"While he was the Opposition leader in Goa, in one of his marathon speeches in the assembly, which lasted 100 minutes, Parrikar had said that if the grant to English medium schools continues, Goan culture will be destroyed within five years. We have the CD of that speech with us and are showing it to voters," Velingkar said.
"We are showing what this person has done. Parrikar is now famous in Goa as a U-Turn Person," he said. He claimed that the RSS leadership is "protecting" Parrikar despite being aware of hi follies.
"Sangh principles are as they are. It is the system which is not performing the role. We belong to the Sangh principles, which have formed our character," he said.
"I don't call Parrikar a Sangh 'karyakarta'. The real Sangh karyakarta should be true to the culture and to the mother tongue and to the promises made to people," Velingkar said.
On reports that he may disband his outfit after the polls and return to the Sangh, he said, "We are basically RSS people. It is not that you join the RSS by applying. It is a mental state of mind. We belong to RSS. We don't mind going to the shakhas. We feel that we have been relieved (by the RSS) for this great work."
"The Sangh has taught us to stand by 'siddhant' (principles) at all costs," he said.
Asked if anyone from the top RSS leadership had tried to dissuade him from taking on Parrikar, Velingkar said, "That was done. Inducements also offered through some acting on behalf of Parrikar. He claimed that a proposal came in the form of offer of funds to erect new buildings for the schools run by his outfit. He also alleged that coercive tactics too were resorted to by his detractors to dissuade him from carrying on with his campaign.
"The top leaders of BJP in Goa are interested in scuttling Parsekar's chances of becoming chief minister again by ensuring that he is defeated in his Assembly constituency," Velingkar claimed. They will help the opposition to get Parsekar defeated," he said.
Velingkar alleged Parrikar had promised three candidates that he will make them deputy chief minister. "Our internal survey indicates that our alliance will get 22 seats, meaning a clear majority in the 40-member House. The BJP won't get more than five. There is also anti-incumbency," he said.
"Congress will get less seats than it got in 2012 polls. AAP has some pockets in south Goa, among the Christian community. They don't have any support among the Hindu voters," he said.
The Parrikar-led BJP government, after coming to power in 2012, had refused to stop funding to private primary schools in which the medium of instruction is English, rather than Konkani or Marathi, thereby violating the pre-poll promise to voters, claimed Velingkar.
In 2012, the then ruling Congress party had overturned a two-decade old policy and extended state funding to private English language primary schools.
The decision had found support among parents who wanted to educate their children in English, but was condemned by opposition parties and native language associations organised under Bharatiya Bhasha Suraksha Manch.
"Parrikar had promised to reverse the decision if BJP won the 2012 polls. However, in 2013, the BJP government declared it would continue to support 139 English-language primary schools," he said.
India
A day after being convicted in a 2019 criminal defamation case, Rahul Gandhi has now lost his Wayanad seat after being disqualified as an MP. The Congress leader needs a stay on his conviction if he wants to return as a lawmaker
Explainers
Purnesh Modi is a BJP MLA and ex-Gujarat minister. The 57-year-old, who, joined the BJP in 1984, has held several positions within the party including its Surat city chief. Purnesh was in December 2022 among a slew of big names dropped from the Bhupendra Patel cabinet
India
Recalling the 2013 incident when the Congress leader had "publicly torn" the ordinance brought in during Manmohan Singh's regime, Shah added that the law is very clear on the disqualification of a Member of Parliament and had Gandhi not been so "arrogant back then, he could have saved himself now"