The state of Goa is all set to for the 2017 State Assembly election on 4 February in a single phase, the Election Commission said on Wednesday.
Currently under the rule of a Bharatiya Janata Party-led coalition, the state assembly election will see not only the local parties like Maharashtrawadi Gomantak Party (MGP) and established national parties like the Congress, BJP, NCP and Trinamool Congress but also marks the debut of Aam Aadmi Party in Goa.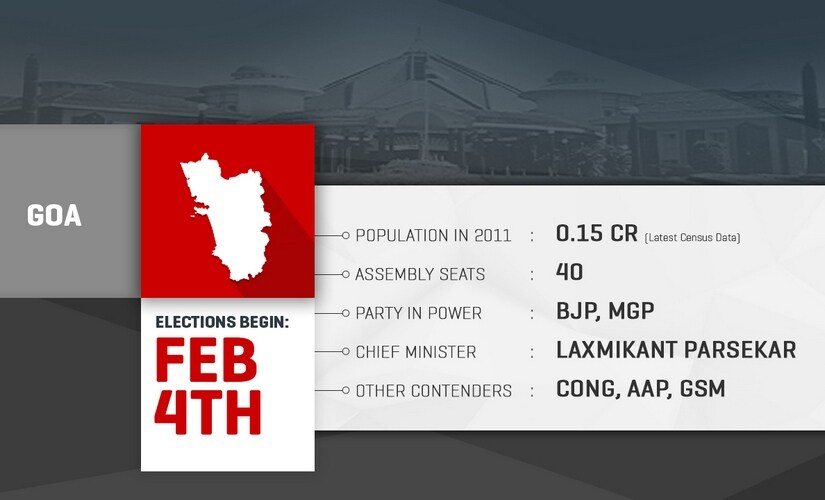 The state of Goa with its 40-seat assembly is likely to emerge as a major battleground among the five states that are set to go on the poll this year, with the Bharatiya Janata Party trying to retain its stronghold in the state, whereas Congress will try to gain major ground in the state. The BJP had won the 2012 State Assembly election in the alliance with the MGP.
The Aam Aadmi Party, which is making its debut in Goa will be testing new waters with bureaucrat-turned-politician Elvis Gomes as its chief minister candidate. The party had earlier announced a list of candidates for 36 out of the 40 constituencies.
Congress, which lost power in 2012 will be looking at making a comeback, whereas the BJP-led government will be looking forward to attain complete majority and without any support from local parties like the Maharastrawadi Gomantak Party, which recently has been creating a lot of trouble for the BJP.
Goa will be one of the few states, where the Election Commission will use new voting pads which will allow voters to see where the vote has been placed.
The counting of votes will take place on 11 March, a day before Holi.
Updated Date: Jan 04, 2017 20:58 PM