Goa Assembly Election 2017: Congress divided over pre-poll alliance, candidate list
With the process of the week-long filing of nominations scheduled to start from 11 January for the ensuing Goa State Legislative Assembly Election, scheduled for 4 February, fissures have come to the fore within the state unit of Goa's principal Opposition Congress party.
Senior BJP leader Murli Manohar Joshi used to often give an analogy between arch-rival Congress party and an orange during his brief tenure as the BJP national president between 1991 and 1993. His pet dialogue was: Like an orange which comes apart when peeled, the Congress party falls apart when given power.
Even Joshi, now living a semi-retired life as an ignored federal lawmaker, would not have imagined that Congress would become a house divided while dreaming of coming to power in the south-western coastal state of Goa.
With the process of the week-long filing of nominations scheduled to start from 11 January for the ensuing Goa State Legislative Assembly Election, scheduled for 4 February, fissures have come to the fore within the state unit of Goa's principal Opposition Congress party. The division is two folds over whether the party should go in for pre-poll alliance or seat adjustments with some smaller parties and finalising the list of candidates for the 40-member Assembly.
While a faction headed by state unit president Luizinho Faleiro is in favour of going to polls on its own strength, barring adjustments on some seats, other faction headed by Digambar Kamat, the last Congress chief minister of the state, is advocating pre-poll alliance with parties like the Nationalist Congress Party (NCP), Goa Forward (GF) party and the United Goan Party (UGP). Kamat enjoys support of popular youth leader and sitting state lawmaker Vishwajit Rane, son of former chief minister Pratapsingh Rane and now Leader of Opposition in the outgoing Assembly, and another sitting legislator Reginald Lourenco. The Kamat-led faction has publicly demanded alliance at least with the GF. What complicates the issue is that the party's national general secretary in-charge for Goa, Digvijaya Singh, is also in favour of an alliance with the GF. Singh is supposed to be a close confidante of party vice-president Rahul Gandhi.
On the other hand, Faleiro is known for enjoying close proximity with the Congress president Sonia Gandhi. Sonia let none in doubt over this when she sanctioned a personal meeting with Faleiro during her year-end sabbatical in the popular tourist destination Goa. In all likelihood, a final call on this vexed issue will be taken by the party's Central Election Committee (CEC) meeting in which both Sonia and Rahul are likely to participate. The CEC is scheduled to meet on 11 January to finalise the list of candidates. Technically, the party has time till 21 January to make up its mind over the contentious pre-poll alliance issue, which happens to be the last date for withdrawal of nominations.
Faleiro is annoyed with GF leader Vijai Serdesai, accusing him of trying to blackmail Congress. Serdesai has been talking to some party leaders, including Digvijaya Singh, for an alliance and concurrently taking pot-shots at the state unit leaders of Congress.
Pitch for Congress has already been queered with the entry of Delhi chief minister Arvind Kejriwal's Aam Aadmi Party (AAP) into the fray. While AAP's strength in Goa is yet to be tested, it is expected to poach on the anti-BJP votes which Congress was eyeing in its bid to return to power after an agonising wait of five years.
Both BJP and AAP are set to contest on their own. However, multi-party contests on most of the seats were inevitable even without AAP, considering BJP's erstwhile ally Maharashtrawadi Gomantak Party (MGP) and the breakaway Goa Suraksha Manch (GSM) have already entered into an alliance to dent BJP's prospects.
More than AAP, what is hurting Congress more is the presence of four senior leaders who have occupied chief minister's post at some time or the other in the past. They have their own minds, set of followers and often take divergent stance. The same has been visible over the difficulties being faced by the party's state unit in finalising list of candidates at its level. Multiple rounds of meetings only ensured unanimity over 15 names. There was lots of confusion over candidature of Faleiro himself until last weekend, he claimed to enjoy the blessings of Sonia upon his return from New Delhi and announced he has been asked by Sonia to contest from Navelim constituency.
Faleiro, twice Goa chief minister in the past, was serving as a national general secretary of Congress before being asked by Sonia to return to his home state as state unit chief in October 2014. He has since been striving to rebuild the party by infusing fresh blood. He is in favour of giving chance to new and younger generation leaders to contest under the party's symbol. The old guard, however, are opposed to this as they are demanding nominations for not only themselves but also for their family members and supporters, virtually splitting the party vertically and pushing the ball into the court of the central leadership of the Congress party.
The tussle is so keen that Congress may be forced to release its Goa list in phases and hold back naming its candidates on some of the contentious seats for as late as 18 January, the last stipulated date for filing of nominations, to merely ensure that those denied nominations do not enter the fray as rebels.
The ongoing infighting may eat up into the limited window for campaigning given by the autonomous Election Commission of India in Goa, hurting the party as its cadres are waiting to know who their candidate would be before hitting the campaign trail.
Find latest and upcoming tech gadgets online on Tech2 Gadgets. Get technology news, gadgets reviews & ratings. Popular gadgets including laptop, tablet and mobile specifications, features, prices, comparison.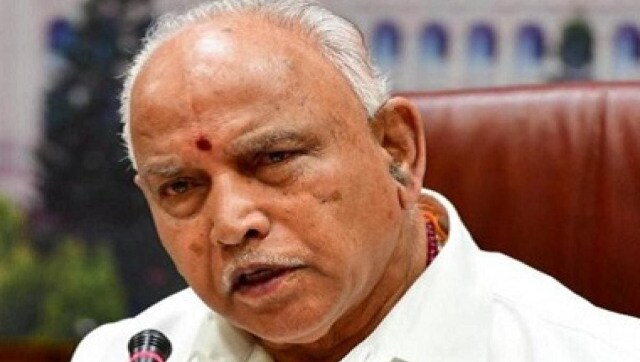 Politics
Earlier, Siddaramaiah, alleging that the BJP government has lost the people's trust, had said that the BJP never had the mandate to rule the state
Politics
While no reshuffle of this magnitude can possibly be uncontroversial, some decisions taken with regard to West Bengal certainly look a bit on the quixotic side.
India
DGP Bhupendra Singh said in a statement on Sunday night that police had to use force and opened fire on Saturday evening, in which two persons were killed and as many injured. The injured are out of danger, he added.