Given Hardik Patel's demigod-like following in Gujarat, BJP needs to throw everything it has at him
Those who doubt Hardik Patel's importance in the Gujarat Assembly election should have been at Mansa, BJP boss man Amit Shah's hometown, on Saturday night.
Patidar leader Hardik Patel has an interesting way of praying in public. At his rallies, his speech is always preceded by a bhajan praising Maa Durga. When the singing starts, Patel switches on the flashlight of his phone to use it like a traditional diya or an agarbatti. Then, as the singing reaches a crescendo, Hardik, who always sits in the middle of the front row of the stage, starts swaying, as if in a trance.
Since gods have to be propitiated with the lighting of mobile flashlights in Hardik's rule book, his followers are expected to do the same for their hero. So, every time he arrives on the stage, speakers on the stage exhort the gathering to point their mobile phones upwards and switch on the flashlights. Then, to the rhythm of a Gujarati song whose refrain is, what else, ''Hardik, Hardik," the followers sway deliriously in their seats.
You guessed it right. The 23-year-old Patidar leader has indeed become larger than life. Till he arrives, people waiting for him remain restless. They become wild with excitement when he appears on the stage, breaking into a thunderous applause that sounds like the clattering of clouds. And when he speaks, they listen in pious attention, following his cues and commands like an audience hypnotised by a trickster. Hardik, if politics were magic, could have been Houdini.
'Jai Sardar,' Hardik shouts from the stage. On cue, thousands of hands rise in unison, shattering the evening calm with their war cry, 'Jai Sardar, Jai Patidar'.
Did his detractors really believe that this demigod could have been felled with videos of his peccadilloes? With CDs of his alleged amorous encounters in private? If yes, those trying to silence Hardik do not know how well entrenched he is in the psyche of the youth, how his followers are ready to follow him wherever he takes them, like the Pied Piper of Patidars.
Those who doubt Hardik's importance should have been at Mansa, BJP boss man Amit Shah's hometown, on Saturday night. Buoyed by a crowd that left no chair, no corner, no nook unoccupied, Hardik roared and roared, calling himself a victim of the BJP's sleaze machinery and launched a blistering attack on Shah and PM Narendra Modi, promising to uproot them from Gujarat.
"We will take them on. If they want us to fight legally, we will fight legally. If they want to try gundagardi (illegitimate force), we will respond with gundagardi," he proclaimed in Shah's den. In terms of tone, resolve and defiance, his oratory seems borrowed from Winston Churchill's famous speech after the retreat from Dunkirk, where he vowed to fight on the seas and oceans, in the air, on the beaches, landing grounds, fields, streets, and in the hills.
In a fiery speech that is full of seeti-taali inducing dialogues inspired from Bollywood, he tears into the BJP, challenging, mocking and ridiculing its top leaders. Uncharitable words, slurs and metaphors flow like the Sabarmati.
That Hardik and his followers are not afraid of the ruling regime on their home turf comes across as a bit of daredevilry for outsiders. But that is part of his appeal. His machismo and bravado endear him to the audience, who believe that the Modi-Shah duo can be brought to its knees only in a battle, not through supplications and pleas.
This should be a cause for worry for the BJP. In a state where Modi is revered and Shah is feared, a 23-year-old is going from village to village to question them without fear, to ridicule them in public. More importantly, the very audience that would till recently attack anybody saying uncharitable words about Modi, not only listens in silence but also applauds and guffaws. What is at stake here is not just the Gujarat election, but also Modi's aura, his reputation of he-who-should-not-be-challenged.
Under the flashlight-lit skies of Gujarat, amidst the backdrop of bhajans, on the waterfronts of Sabarmati, an upstart is trying to bring the ruling deity of Gujarat's politics to the level of a mere mortal.
If it wants to retain Gujarat and the aura of its ruling pantheon, the BJP needs to throw everything it has at Hardik. Relying on the love stories of the Patidar heartthrob won't be enough.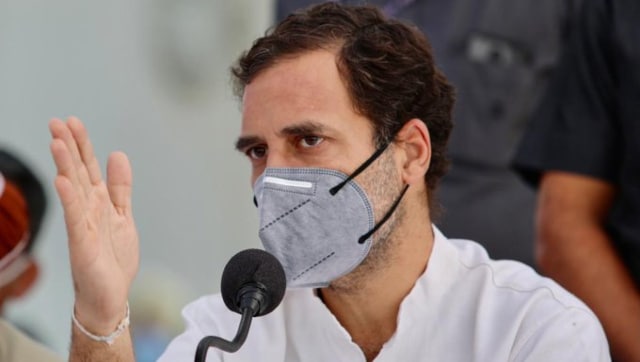 India
The former Congress president also shared a video on Twitter highlighting the alleged slow vaccination rate and media reports where people were not getting vaccines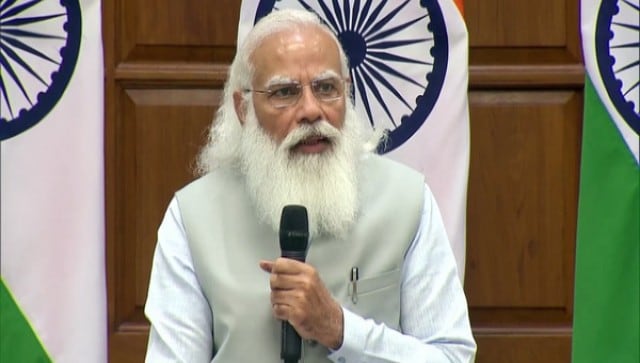 India
Leaders of several NDA constituent parties were in attendance. These included Apna Dal leader Anupriya Patel, JDU leader Ram Nath Thakur, AIADMK leader A Navaneethakrishnan, RPI leader Ramdas Athawale and LJP leader Pashupati Paras
India
One of the key mistakes that critics and Modi's political opponents make is to perceive his governance style as episodic