Ghar wapsi to beef ban: How life has changed since Modi became Prime Minister
Here at Firstpost, we take a look at how life has changed since Modi became prime minister.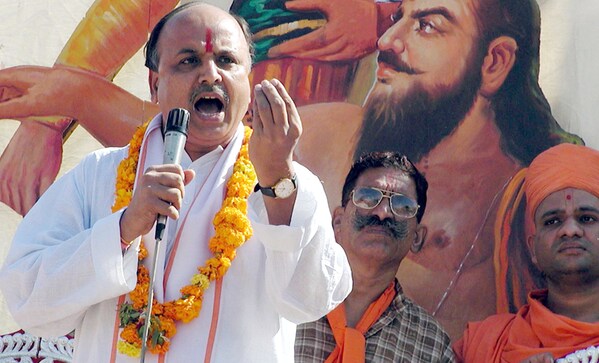 It has been a year since Narendra Modi took an oath to become the 15th Prime Minister of India. While the BJP was expecting a win in the 2014 Lok Sabha elections, the results in favour of the party were unprecedented.
The former chief minister of Gujarat won 282 seats — a thumping majority India had not seen in years — and rode to power on what was termed by the BJP as the "Modi wave".
In the run up to the elections Modi had promised what a young India was looking for — development, jobs and empowering the poor. With the scams and corruption that UPA was embroiled it, the people of India clearly lapped up whatever Modi said and chose to vote for change.
And since taking his oath to office, he has introduced several programmes like the Swachh Bharat campaign, the Pradhan Mantri Jan Dhan Yojana and the Atal Pension Yojana to name a few.
However, the ride has not been smooth, there have been several road bumps in the form of the RSS-backed Hindutva brigade, certain bans and the rise of sadhus and babas.
Here at Firstpost, we take a look at how life has changed since Modi became prime minister:
The Ghar Wapsi campaign: Ghar Wapsi became a household phrase last year when Hindutva hotheads backed, by the VHP and the RSS (Modi's alma mater), went on to convert poor non-Hindus to Hinduism. With no action from the government, leaders of saffron parties claimed that such a thing was constitutional, while the opposition and liberals heavily criticised the Prime Minister. Under pressure, PM Modi made clear that the government won't tolerate religious discrimination, but notwithstanding Modi's comments, the Ghar Wapsi continued. VHP leader Praveen Togadia defended ghar wapsi saying, "Since the Supreme Court has observed that Hinduism is not a religion but a way of life, 'ghar wapsi' cannot be termed as unconstitutional."
The beef ban in Maharashtra: Meat lovers in the state were left heart-broken and beef starved when Maharashtra's BJP government backed by the NDA at the Centre brought a ban on slaughtering of cows, bulls and buffaloes. Consuming or even possession of beef is now a crime in Maharashtra, in a bid to protect the gow mata. The sad foodies of Maharashtra are keeping their fingers crossed in the hope that the government doesn't ban chicken, mutton, pork and everything else that is delicious.
The rise and rise of sadhvis, sadhus and babas: All sorts of saffron clad sadhvis and sadhus tumbled out of the woodwork after PM Modi's coming to power and they have done no good for the government's image. Even as the government tried to keep the focus on it's development agendra, these rightwing Hindutvawaadis left no stone unturned to get their 15 minutes of fame on news channels. Never before heard of, the likes of Sakshi Maharaj, Niranjan Jyoti and Sadhvi Prachi made one controversial and ludicrous statement after another, putting the Modi government in a sticky spot. While there came a warning from the Prime Minister himself, they continued with their statements. While Niranjan Jyoti rose to fame with her 'ramzade vs haramzade' comment, Sadhvi Prachi wanted Hindu women to have at least four children (this was to out-populate Muslims). The most recent one came from Sakshi Maharaj who blamed the Nepal earthquake on Rahul Gandhi because he ate beef before visiting Kedarnath. All you geologists can throw your seismographs out of the window and dump your theories.
Attacks on churches: The low tolerance of the Hindutva brigade towards other religions is well known, but India saw its ugly side repeatedly after the Modi-led BJP came to power. There were repeated attacks on churches across the country, including in Delhi several times in 2014, in Mangalore in February 2015 and the latest was the attack on Navi Mumbai's St Sebastian Church in March. The worst was the gangrape of a 71-year-old nun in West Bengal's Nadia district. This incident saw harsh criticism towards the Modi government from all sections of society. But the government has maintained distance from the issues and written-off anti-minority theories as hokum.
Use of social media: Prime Minister Narendra Modi is known to be tech-savvy — he knows a thing or two about selfies — and under him, his administration and ministers have successfully used everything from Twitter to Facebook to reach out to the people of the country. This is a far cry from the extremely unreachable UPA government whose social media presence was next to nil. While Modi often tweets out to celebrities and sports persons, his ministers like Sushma Swaraj have used Twitter in crisis situations like the Nepal earthquake and Yemen evacuations. While there have been some gaffes (read VP Singh's 'presstitute' tweet), the Modi government gets a thumbs up for good use of the internet.
PM Modi's diplomacy: Right from his swearing-in ceremony Prime Minister Modi proved that he knows his diplomacy by inviting leaders from all the SAARC countries, including Pakistan prime minister Nawas Sharif for the ceremony. And since then he has visited almost all our neighbours including Nepal and Bhutan and other countries like Japan, China and the US. He was a rockstar at he Madison Square Garden event that attracted thousands of NRIs, and he even invited Barack Obama as the chief guest to India's Republic Day Parade. Since then he has made 'friends' with Obama and now addresses him with his first name Barack. All his foreign trips from Japan to France to China have been big opportunities for him to hard sell India as an investment and manufacturing destination , despite being severely criticised by the opposition. In comparison to the previous PM's trips abroad Modi has at least gotten brilliant photo ops, if nothing else.
Mann Ki Baat: It won't be absolutely wrong to say that no prime minister in the last two decades has used the radio to his advantage like Modi. His monthly 'Mann Ki Baat' has ranged from different topics like Childrens' Day to the Nepal earthquake. Modi managed to even rope in Barack Obama for a Mann Ki Baat in January 2015 when the US president was on a trip to India. The two discussed US-India ties, their lives and what inspires them. While even this has been criticised by the opposition as 'all talk and no action', Modi's initiative to reach out to people with this unique initiative is laudable.
World
Kishida, who is on a two-day trip to India, said he hopes to promote a vision of a free and open Indo-Pacific, a Tokyo-led initiative for greater security and economic cooperation that is geared toward curbing Beijing's growing assertiveness.
World
The Defence Acquisition Council (DAC), the top government body for capital acquisition approvals for the Indian military, approved the orders worth 705 billion rupees ($8.52 billion) for all its services
Tennis
In his congratulatory message to Sania Mirza, PM Modi conveyed that she has left an indelible mark on Indian sports, inspiring the coming generation of athletes.