Gadkari represents everything that's wrong with BJP today
Gadkari's manifest advancing of his business interests through his political connections is no less egregious than Vadra's. The BJP's embrace of his actions have compromised its ability to go on the offensive on Vadragate.
Conventional political wisdom dictates that the next general election, whenever it is held, ought to be a virtual slam-dunk for the BJP. The UPA government's record in office in the past three years — of monumental corruption and colossal mismanagement of the economy — has positioned the BJP in a political sweet spot from where it need only do the barest minimum — that is, not score spectacular self-goals — in order to set itself up for a win.
But that's exactly what the BJP today appears to be incapable of doing. In the past three years, the party has scored a succession of self-goals, each of which is calculated to ensure that it will do its darnedest to snatch defeat from the jaws of plausible victory, and allow the Congress to slither away just when it has been cornered.
Nothing represents the BJP's manifest loss of its will to win more than the manner in which it has allowed itself to drop the ball on so sensational a case as Vadragate with its artless and wholly unconvincing defence of its president Nitin Gadkari's no-less-shadowy business dealings, which is providing the Congress with the alibi it so desperately needs.
In many ways, the scandal surrounding Sonia Gandhi's son-in-law Robert Vadra's land transactions with DLF — which caused his business fortunes to multiply some 600 times in three years — has provided the BJP with enough ammunition to devastate the Congress. Vadra's transactions, which reek of influence-peddling and 'sweetheart deals', have shown up a money trail that leads right up to Sonia Gandhi's household. In political terms, it doesn't get bigger than that.
But today, rather than going on the offensive, the BJP finds itself forced on the backfoot with its defence of Gadkari's business dealings, which too reflect similar conflict of interest transactions, and the leveraging of political clout for advancing business interests by rewarding — and in turn being rewarded by — contractors who profited from their proximity to Gadkari.
When Arvind Kejriwal first made his expose on Gadkari, in respect of 100 acres of land that his "social enterprise" unit had taken on lease in Vidarbha region of Maharasthra, the BJP breathed a sigh of relief, since it didn't seem serious enough. But as Firstpost noted at that time (here), it was too early for the BJP to celebrate. "Kejriwal's allegations (against Gadkari) may seem tame today, and BJP leaders may be breathing easy. But... the last word hasn't been said on the subject, and it's too early to say... that Kejriwal has either scored a self-goal or is out hit-wicket."
Much in the manner that we had suggested, an NDTV expose of Gadkari's business transactions (details here) has seriously compromised the BJP's ability to leverage Vadragate for political gain — particularly since Gadkari and his party are busy trotting out the same lame excuses that the Congress lays out in defence of Vadra.
The scale of the transactions surrounding Vadra and Gadkari are, of course, vastly different; also, Vadra's political clout — arising from his status as Sonia Gandhi's son-in-law — extended over several States where he had land dealings; and unlike Vadra — who to this day remains incommunicado — Gadkari has come in front of cameras to offer his wholly unconvincing responses to the charges. But beyond all that, Gadkari's case is actually just as damaging, given that the quid-pro-quo business dealings have their roots in his tenure as Maharashtra PWD Minister.
Briefly, the NDTV expose established that
(a) During Gadkari's tenure as PWD Minister from1995 to 1999, a company called Ideal Road Builders was awarded several contracts that saw its turnover rise from Rs 41 crore in 1996 to Rs 67 crore in 1999.
(b) After Gadkari demitted office in 2001 and established his Purti group of companies, Ideal Road Builders picked up equity to the tune of about Rs 1.85 crore. Ideal Road Builders' founder DP Mhaiskar, whom Gadkari calls his friend, made an additional investment to the tune of Rs 2 crore.
(c) In 2010, one of Mhaiskar's companies, Global Safety Vision, lent Rs 165 crore to the Purti group, which allowed the latter to wipe out its outstanding debt. But Global Safety Vision itself has a paid-up capital base of only Rs 1 lakh.
(d) Gadkari claims that the Purti group has a very broad equity base, with almost 10,000 farmers making investments in it. But the NDTV expose established that of Purti group's paid-up capital base of Rs 68 crore, almost Rs 50 crore came from 18 companies - several of which appear to be shell companies that don't exist at the registered address they have listed. (Watch the video here.)
Gadkari's defence of his transactions with Ideal Road Builders and with Mhaiskar — "I can accept equity from anyone, there is nothing wrong. I am friends with Mr Mhaiskar and many contractors are my friends..." — sound like an eerie echo of the same excuse that the Congress lackeys trotted out in defence of Vadra's land dealings with DLF.
It has also provided Congress' principal motormouth Digvijaya Singh to go on the offensive against the BJP at a time when the latter should have reaped political harvest from Vadragate. Digvijaya Singh alleged, for instance, that Gadkari had "channelled his ill-gotten wealth through shell companies." All that Gadkari can do is to sputter in pathetic denial.
It is hard to know precisely what political wizardry Gadkari performs that the BJP and its mothership the RSS would want to come out swinging in his defence — and even go ahead with plans to reanoint him for a second term as party president. But Gadkari today represents everything that is wrong with the BJP. His manifest advancing of his business interests through his political connections is no less egregious than Vadra's. (The fact that he calls himself a "social entrepreneur", not a businessman, makes not one difference.)
As Firstpost noted here, both the Congress and the BJP are resorting to legalistic defences of the shadowy transactions that embarrass them — as if  propriety, probity, ethics and good practice don't have a place  in Indian politics anymore. "The Congress, followed by the BJP, has devised the new defence and is currently perfecting it. It's the evolution of Indian politics in the era of scams."
It is instances like these that inhibit the BJP from taking political advantage of the Congress' many failings, most recently in Vadragate. With its artless defence of Gadkari, the BJP has demonstrated yet again that it lacks the will to win — and has no pretence of taking the high moral ground against the Congress anymore.
Find latest and upcoming tech gadgets online on Tech2 Gadgets. Get technology news, gadgets reviews & ratings. Popular gadgets including laptop, tablet and mobile specifications, features, prices, comparison.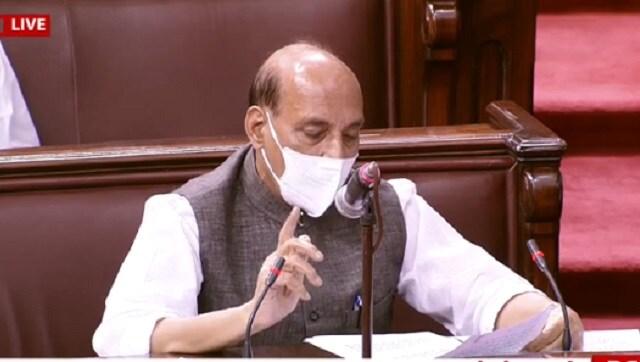 India
Beijing has undertaken significant infrastructure construction along the Line of Actual Control, Rajnath Singh told the Upper House on Thursday
Politics
Parliament LIVE Updates: The AIMIM leader questioned government's selective intervention in the Yes Bank crisis but not for PMC. 'SBI immediately flowed funds in Yes bank case, but not into PMC bank. What was RBI doing when Yes Bank happened?', he asked
India
The Union defence minister's statement would assume significance in the backdrop of the Opposition demanding a debate on the issue