From 'temple run' to flaunting of Brahmin supremacy, Gujarat polls have exposed Rahul Gandhi's utter hypocrisy
The only thing more comical about the controversy around Rahul Gandhi's faith is Congress's defence of it.
The only thing more comical about the controversy around Rahul Gandhi's faith is Congress's defence of it. From a blunder during election season, attempt to take the high moral ground to full blown display of Brahmin chauvinism, in a fateful few hours, Congress' soft Hindutva campaign for Gujarat Assembly polls has come spectacularly unstuck. The fiasco has also exposed Rahul's utter hypocrisy that lies at the intersection of religion and politics.
It is not clear whether the Congress veep signed the register meant for non-Hindus while paying a visit to Somnath Temple. Congress claims he signed only the "Visitor's Book". It is possible that the gaffe was committed by Manoj Tyagi, a party functionary, who purportedly entered the names of Rahul and Ahmed Patel, Sonia Gandhi's political secretary.
PK Laheri, the temple trustee, told The Times of India, "Congress media coordinator made the entry for Ahmed Patel and Rahul Gandhi as 'non-Hindus'. How can we explain it? Congress leaders are best placed to tell why such an entry was made in the register." Leaving aside the motivation behind Tyagi's actions, a larger question remained to be answered. What was the need for ambiguity?
The Indian Constitution guarantees the right of individuals to run for public office regardless of their religion, caste or creed. Rahul may not be of Hindu faith, follow another religion or is an atheist like his great grandfather, nothing stops him from visiting a temple or aiming for the prime minister's chair. Even if he is indeed a follower of Hinduism, a clarification from the party that a mistake had been committed or a two-word confirmation from the Gandhi scion could have settled the debate.
It is not the faith that is in question here but the ambiguity over it. A man who aspires to be the prime minister should possess the moral courage to come clean on his religion instead of being coy, or taking recourse to mystifying silence. While the Gandhi scion stayed silent, his party first accused the BJP of "conspiracy" and then tried to take the high moral ground, claiming that religion and politics should be kept separate. This fragrantly nonsensical positioning of a liberal argument must be called out.
To be clear, Rahul's faith is an issue absolutely private to him. It is nobody else's business. That is, until Rahul himself decided to turn his faith into a campaign cornerstone and sought to create political capital out of much-publicised and frequent temple visits.
Congress may well accuse the BJP of trying to sensationalise a 'non-issue'—the saffron outfit has gleefully jumped at the opportunity—the fact remains that Rahul's entire Gujarat campaign rests on three pillars: One, criticism of Modi. Two, stitching of a rainbow coalition of castes and sub-castes and three, soft Hindutva to dispel the party's pro-minority image.
Since the beginning of the campaign with four-leg 'Navsarjan Yatra' in September, the Congress vice-president has reportedly visited over 20 temples in Gujarat starting from Dwarka, Santrampur, Vir Meghmaya, Bahucharji, Khotidyar to Ambaji in Bansakantha and Akshardham, which has a huge Patidar following.
Interestingly, even as he visited a multitude of temples during Gujarat campaign and climbed thousands of steps to seek blessings from Maa Chamunda in Chotila, the Congress vice-president avoided visiting mosques and churches this time, unlike during the Uttar Pradesh elections when he paid a visit to the Deoband Jama Masjid in Moradabad, Jama Masjid in Allahabad, Nadwa Madrasa in Lucknow, Dargahe-Ala Hazrat in Bareilly and the St Joseph Cathedral in Lucknow, as Aman Sharma reminds us in Economic Times.
What's more, during a recent temple visit in Gujarat, Rahul proudly called himself "a devotee of Lord Shiva."  It is specious argument to now say that "faith is a personal issue" when it has been made into a public spectacle through assiduous political positioning. It cannot be a matter of convenience to switch between public pronouncements of faith and claims that "religion is private".
Such actions renders one vulnerable to charges of hypocrisy and impressions that Rahul's temple visits were borne less out of faith and more out of a compulsion to tap into majority sentiment.
It SHOULD not matter but let's face it for a politician it does matter. It matters a lot & especially in this surcharged hyper-religious environment. https://t.co/lP3CDdxIbJ

— Omar Abdullah (@OmarAbdullah) November 29, 2017
At this stage, the crisis could have still been contained had the Congress not gone ahead and committed the second blunder. While the party president-in-waiting still remained silent, an increasingly panicky Congress held two news conferences and proclaimed in one that "Rahul Gandhi is not only a Hindu, but a 'janeu-dhari' Hindu (one who wears the sacred thread)."
The use of "not only" for emphasis is a dead giveaway. It implies that "not only" is Rahul Gandhi a Hindu, but he sits on the very top of caste hierarchy in Hinduism. It is easy to dismiss such supremacist behaviour as another of Congress gaffes but the rot runs deeper. A mild scratching of the surface exposes Congress—which positions itself as a centrist political force—as an opportunistic outfit that displays Brahmin chauvinism one day and caste-agnosticism the next.
It was only last year that the Congress vice-president had proclaimed that he "doesn't believe in caste."
"I don't believe in caste, nor endorse any of that. Uttar Pradesh needs to get out of this morass. The only way to do that is to become a party that represents everybody equally. My view is the Congress is a party for all," Rahul Gandhi told Swati Mathur of The Times of India.
It apparently hasn't taken much for Rahul Gandhi—the champion of liberalism, voice of the oppressed and guarantor of subaltern upliftment—to swear by his "sacred thread" at the first sign of an identity crisis. It's the election season after all.
Click here for detailed coverage of Gujarat Assembly Election 2017
Politics
The former Congress chief will speak at the 'Ideas for India' conference. He will also interact with the Indian diaspora on what the present and future hold for the country
Politics
Addressing Congress leaders at the brainstorming camp in Udaipur, Rahul Gandhi said that regional parties lack ideology and cannot fight the BJP-RSS team. He believes it is the Indian National Congress party which can do it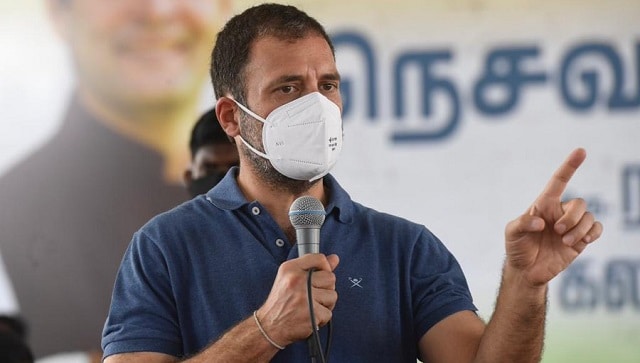 India
Congress leader Rahul Gandhi said there is a fight between two ideologies in the country