From Sachin Pilot's win in Rajasthan to Lal Thanhwala's defeat in Mizoram, key wins and losses in the state Assembly polls
As counting for the 2018 Assembly elections in Madhya Pradesh, Telangana, Rajasthan, Mizoram and Chhattisgarh drew to a close on Tuesday, the Bharatiya Janata Party (BJP) saw significant losses in all the states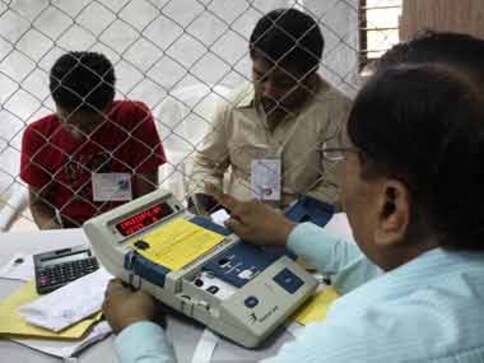 As counting for the 2018 Assembly elections in Madhya Pradesh, Telangana, Rajasthan, Mizoram and Chhattisgarh drew to a close on Tuesday, the Bharatiya Janata Party (BJP) saw significant losses across the board. The Rahul Gandhi-led Congress won in Rajasthan, Madhya Pradesh and Chhattisgarh, while the Telangana Rashtra Samithi (TRS) swept Telangana, and the Mizo National Front (MNF) won in Mizoram.
After fierce campaigning in all five states, here is a look at the key winners and losers in each state:
Madhya Pradesh
Three-time chief minister and BJP leader Shivraj Singh Chouhan won in the state polls from Budhni constituency with a margin of nearly 59,000 votes. However, despite his win, the BJP was unable to win sufficient seats in the state to form the government.
Following this, Chouhan tendered his resignation to Madhya Pradesh governor Anandiben Patel, and said "Ab mein mukt hoon (I am now free). I have tendered my resignation to the honourable Governor. The responsibility of defeat is totally mine. I have congratulated Kamal Nath ji."
Alongside Chouhan, another minister who won in the state is state Sports Minister and senior BJP leader Yashodhara Raje Scindia. She was able to secure 63,271 votes, while her opponent, Congress' Siddharth Ladha, got 35,933 votes. Scindia is the aunt of Congress leader Jyotiraditya Scindia and the sister of Rajasthan CM Vasundhara Raje.
Senior Congress leader and former chief minister Digvijay Singh's son Jaivardhan Singh also won from his traditional Raghogarh seat by 46,697 votes, against BJP's Bhupendra Raghuwanshi.
In terms of key losses, Opposition leader in the Madhya Pradesh Assembly Ajay Singh lost from his traditional Churhat seat for the first time in the Assembly polls. Singh, son of former Union minister and Congress stalwart late Arjun Singh, lost to Shardendu Tiwari of the BJP by 6,402 votes, Sidhi district's electoral officer Dilip Kumar said.
State minister Archana Chitnis lost from Burhanpur by a margin of 5,120 votes to an independent candidate, Thakur Surendra Singh.
Rajasthan
Chief Minister Vasundhara Raje won the Jhalrapatan seat with a margin of 34,980 votes, thus defeating her rival Congress leader Manvendra Singh, the son of veteran BJP leader Jaswant Singh. Raje and her five cabinet colleagues have won their respective constituencies.
Home Minister Gulab Chand Kataria (Udaipur), Education Minister Vasundev Devnani (Ajmer North), Women and Child Development Minister Anita Bhadel (Ajmer South), Parliamentary Affairs Minister Rajendra Rathore (Churu) and Higher Education Minister Kiran Maheshwari (Rajsamand) have retained their respective seats.
Rajasthan Congress chief Sachin Pilot, who contested from the controversial Tonk constituency, got 1,09,040 votes. Meanwhile his rival Yoonus Khan, who is the BJP's sole Muslim candidate, got 54,861 votes. Senior Congress leader Ashok Gehlot, who is one of the candidates likely to become chief minister of Rajasthan, got 92,934 votes, while his rival candidate Shambhu Singh of the Bharatiya Janata Party was able to secure 48,880 votes.
Among those who lost are Water Resources Minister Rampratap (Hanumangarh), Social Justice Minister Arun Chaturvedi (Civil Lines), Industries Minister Rajpal Singh (Jhotwara), Cooperative Minister Ajay Singh (Degana), and Gaupalan Minister Otaram Devasi (Sirohi).
Other ministers who faced defeat are Minister of Agriculture and Animal Husbandry Prabhu Lal Saini, Minister of Food and Civil Supply, Consumer Affairs Baboo Lal Verma, Housing and Urban Development Minister Shrichand Kriplani, and Minister of Industry Gajendra Singh Khimsar.
Mizoram
In Mizoram, TJ Lalnuntluanga of MNF was able to defeat Congress heavyweight and Chief Minister Lal Thanhawla. He was defeated in both the seats from which he had contested — his home turf Serchip. He also lost from Champai South constituency. Thanhwala submitted his resignation to Governor Kummanam Rajasekhar after the Congress' defeat
MNF candidate Lalchhandama Ralte on Tuesday won the Tuivawl seat in Mizoram defeating his nearest Congress rival RL Pianmawia by just three votes. Another MNF candidate, Lalruatkima, won the Aizawl West-II seat by the highest margin among all 40 winners in the new Mizoram Assembly for which elections were held on November 28. He defeated his Congress rival by 2,720 votes.
According to an Election Commission official, two other MNF nominees — Lawmawma Tochhawng and C Lalrinsanga — won from Lunglei East and Lunglei West by 72 and 77 votes respectively.
Chhattisgarh
Current chief minister Raman Singh, who was contesting from Rajnandgaon constituency in the state, won with over 37,023 votes. His rival from the Congress party, Karun Shukla, was trailing with 28,554 votes. Following this, Singh, who has been in power as chief minister for three successive terms, resigned, and said that he accepts responsibility for BJP's poll performance in Chhattisgarh. He added: "we (party) will sit and introspect".
Congress leader Bhupesh Baghel, who is one of the chief ministerial candidates in Chhattisgarh, won in the state's Patan constituency. He got over 47,884 votes against Matital Sahu of the BJP, who won 33,209 votes. Baghel has credited strong party organisation for the Congress' impressive victory in the state.
Vinod Seva Lal Chandrakar of Congress won from Mahasamund assembly seat by 22,700 votes; Congress' Dwarikadhish Yadav bagged Khallari seat by defeating Monika Dilip Sahu of BJP by 57,000 votes. Kismat Lal Nand of Congress won the Saraipali seat by 53,000 votes; and Devendra Bahadur Singh of Congress won in Basna by a margin of 13,000 votes.
Senior Congress leader TS Singh Deo, who was the leader of opposition in Chhattisgarh's previous legislative assembly, won the state assembly elections from Ambikapur constituency.
Key losses in the state include BJP's Kedar Kashyap in Narayanpur.
Telangana
K Chandrashekar Rao (KCR), caretaker chief minister and Telangana Rashtra Samithi (TRS) chief, won in Gajwel with a margin of over 60,000 votes. He was able to secure 1,20,608 votes while his opponent, Vanteru Pratap Reddy of Congress, could only get 63,686 votes.
His son KT Rama Rao (KTR) also emerged victorious in the state, who defeated Congress' KK Mahender Reddy in Sircilla constituency with a majority of 1,21,758 votes. Sircilla had been KTR's stronghold since he first won from there in 2009.
Another notable winner in the state is BJP MLA Raja Singh Lodh, who is known for his controversial comments. He is the sole torch-bearer for the BJP in the Assembly, as all other party candidates lost in the 7 December Telangana polls. Singh, known in many quarters for his "inflammatory" comments, and who has over 60 cases against him, mostly for "hate speeches", retained his Goshamahal Assembly constituency in Hyderabad.
Meanwhile, Congress' Revanth Reddy suffered a major loss in the state's Kodangal constituency. This is expected to be a big blow for the Opposition, as Reddy was a vocal critic of the TRS, and is considered unbeatable in his constituency.
With inputs from agencies
Politics
Baghel said inflation is rising continuously and GST imposed on essential products is contributing to it
India
Punjab, Rajasthan, Uttarakhand, Gujarat and Andaman and Nicobar Islands have been hit by the outbreak of the disease
India
A source in BJP said that the new Parliamentary Board constituted by the party shows how the party rewards old workers and values the experience of its karyakartas