From potol dorma to Jaya no-show: The definitive guide to Modi's swearing in
Are there dhoklas on the menu or not? Who gets to be in the North Court in the VVIP area, and who will languish in the South? Is the entire Mulayam clan going to be in attendance?
With a guest list that includes Pakistan Prime Minister Nawaz Sharif, Sri Lankan President Mahinda Rajapaksa, Afghanistan President Hamid Karzai, the swearing in of Prime Minister designate Narendra Modi promises to be not just the most high profile formal ceremony of its kind in recent times but also a major diplomatic event.
When it's a swearing-in ceremony as high on symbolism as this one, attendance or lack thereof sends out a clear message regarding the trajectory of the relationship between the various political parties, their leaders and the Centre. Tellingly, the Samajwadi Party that suffered a crushing defeat at the hands of the BJP in Uttar Pradesh, will be in attendance at the swearing in ceremony of Narendra Modi, while a whole gamut of regional leaders including some BJP allies have decided to stay away.
From guest list to RSVPs, from the menu to security detail, here's everything you need to know about the ceremony that takes place at 6 pm today.
Invitees: Who's In
Top allies and BJP leaders, naturally, are expected to be there in full force.
According to reports, the Shivraj Singh Chouhan of Madhya Pradesh and the Raman Singh government in Chhattisgarh have hired a private aircraft -- their entire cabinet will attend. Rajasthan chief minister Vasundhara Raje will be there too.
Among the allies, Shiv Sena chief Uddhav Thackeray and wife Rashmi, as well as son Aditya will attend, they indicated on Sunday evening, ending hours of suspense. The Shiv Sena has agreed to set aside its mistrust of Pakistan, Uddhav said in a statement, adding however that if the peace overtures are not returned in kind and if "Pakistani dogs' tails remain crooked", then prime minister Modi must press the nuclear button.
Other allies who will attend are those from the Shiromani Akali Dal. Punjab chief minister Parkash Singh Badal, deputy chief minister Sukhbir Badal, Shiromani Akali Dal (SAD) secretary general Sukhdev Singh Dhindsa and three newly elected party MPs (Harsimrat Badal, Ranjit Singh Brahmpura and Sher Singh Ghubaya) will attend.
Jharkhand chief minister Hemant Soren will also attend, as will two CMs from the Northeast, Lal Thanhawla (Mizoram) and Tarun Gogoi (Assam) .
The surprise visitors will be Uttar Pradesh chief minister Akhilesh Yadav, father and Samajwadi Party supremo Mulayam Singh Yadav and their family including newly elected MP daughter-in-law Dimple, as well as two nephews who also won the elections, Dharmendra and Akshay.
Who Won't Be There
The big boycott, of course, has come from Tamil Nadu chief minister J Jayalalithaa, who has decided to snub the prime minister over his decision to invite Sri Lankan president Mahinda Rajapaksa.
A change of regime at the Centre "in no way alters the already existing strained relations between Tamil Nadu and Sri Lanka", the TN chief minister had said in a clearly worded statement. What's more, Jaya will also not follow the norm of sending a representative, making it a total snub.
Other southern state leaders will not be in attendance either: Karnataka CM Siddaramaiah and Kerala CM Oommen Chandy have both declined. Andhra Pradesh does not have a chief minister and is under President's rule.
Other southern regional parties opposed to the invitation to Rajapaksa include DMK president M Karunanidhiand also BJP allies MDMK, led by Vaiko, the PMK and DMDK led by actor-politician Vijaykant -- none of whom will be in attendance. Vaiko has in fact announced a black-flag demonstration in New Delhi and Chennai against Rajapaksa on Monday.
Trinamool Congress chief Mamata Banerjee has decided to give the ceremony a miss as well.
While party leader Mukul Roy will attend to "honour tradition", the Trinamool has in fact barred its 34 newly elected MPs from attending with Banerjee herself reportedly unenthusiastic about the function "given her high-voltage pre-poll standoff with Modi", according to reports.
While newly appointed Bihar chief minister Jitan Ram Manjhi will be there, the JD (U) top brass of Sharad Yadav and Nitish Kumar will give the ceremony a miss.
BSP Mayawati has continued to keep the suspense, and there is a possibility that she may not make it, and could instead send senior party leader and Rajya Sabha MP Satish Chandra Mishra to represent her.
Odisha chief minister Naveen Patnaik will skip the ceremony too, and will despatch finance minister Pradeep Kumar Amat instead.
Sabka Saath: Special invite for Muslims
With no Muslim face in the treasury benches, the Bharatiya Janata Party will ensure that at least 30 Muslim leaders are present at the swearing-in, as special guests of the RSS. A report in The Indian Express said most of these guests are associated with the Muslim Rashtriya Manch, including some religious leaders.
Dhokla? Check. Kebab? Check
There was much speculation over whether the guests would be served a vegetarian high-tea, given Modi's personal preferences. Report said, however, that the menu would be predominantly vegetarian, though not entirely so.
A report in The Indian Express said the "VVIP menu" on the North Court and the South Court will include "sandwiches, dhokla, kebabs, patties, imarti, kachauri, wafers, biscuits, cold drinks and tea". An unconfirmed menu card did the rounds on Twitter, though the contents were not verified by officials. Meanwhile Times of India has published a fuller menu that reads as follows:
Appetizers: Chilled melon soup, Chicken Hazarvi, Tandoori Aloo, Galauti kabab, Arbi ke Kabab
Entrees: Prawn Stew/ Vegetable stew (Kerala), Chicken Chettinad, Kadhi, Birbali Kofta Curry, Jaipur bhindi, Kela methi nu shaak, Dal Makhani, Potol Dorma.
Dessert: Shrikhand, Pineapple halwa, Sandesh
There is no mention here of dhoklas -- which however get special mention in The Indian Express which reports,  "dhoklas are not usually part of Rashtrapati Bhavan menus -- a source was quoted as saying the Gujarati snack was included in the menu for dignitaries especially to cater to the taste of the future PM." Ironically, it is Bengal that scores highest, at least on the TOI menu.

The original idea was to have a fully vegetarian menu, but a number of meat dishes were eventually included keeping in mind the number of foreign dignitaries. There was also speculation on whether there would be chicken biryani. There won't. To know what the political significance of this decision is, read this report by Firstpost columnist Rajeev Sharma.
Rashtrapati Bhavan's Biggest Do
Four thousand guests will be the longest ever guest list for any event at the Rashtrapati Bhavan, where the largest events have until now hosted about 1,500 guests.
A red dais will be the centrestage, erected at the bottom of steps leading to the Durbar Hall. The refreshments counters will be located at North Court, South Court and the Central Vista. A live band will be seated in the Central vista. Chairs will be laid out on the forecourt with the Jaipur Column in the backdrop.
At least two prime ministers have bene sworn in on the forecourt of the Rashtrapati Bhavan in the past -- Chandra Shekhar in 1990 and Atal Behari Vajpayee in 1998. The guest list numbered about 1,200 in both those instances.
From security detail to seating arrangements, from 12 horse-drawn buggies that will be on the ready for guests who may be unable to walk to detailed plans to ferry all guests indoors in case of an unexpected shower, Rashtrapati Bhavan staff have planned things down to the minutest detail.
A report in The Hindu said guests have bene requested to arrive three hours ahead of the ceremony. Ambulances and doctors will be on call too.
The North court, in front of the residence of the President, is the venue for top dignitaries -- the President, vice president, prime minister, cabinet members, Chief Justice of India, their families and foreign dignitaries. Across from there, the South Court will host the remaining guests including 800-odd MPs and their families. Together, North and South court guests will number 1,000.
All other invitees, numbering about 3,000, will be hosted on the forecourt of Rashtrapati Bhavan. This includes Rashtrapati Bhavan staff, media and all other guests. The menu is the same, minus kebabs, sandwiches and dhoklas.
Managing The Security Nightmare
Needless to say, security will be a nightmare for authorities. About 6,000 security personnel including paramilitary commandos, NSG and police sharpshooters will form a security ring all around Raisina Hill. There will be a thick security cordon along a 2-km periphery of Rashtrapati Bhavan, said reports.
Apart from visiting foreign dignitaries, the guest list includes the Vice-President, 777 MPs (both Lok Sabha and Rajya Sabha), former Union Ministers, governors, chief ministers, diplomats, envoys and political leaders of all hues. Well-known faces from the world of art, cinema, sports and business are expected to be present too -- including Chetan Bhagat who confirmed his invite on Twitter today.
A report in The Times of India said the security unit of Delhi Police and the prime minister's security unit have drawn out a multi-layered security plan to provide ground-to-air security including an "impregnable" air defence system.
"The Indian Air Force will put in place a defence system to secure the skies, including air surveillance. Snipers, including NSG sharpshooters with anti-aircraft guns, will be deployed on the top of all high-rise buildings around the area," the report said, adding that barricading, mobile security teams, dog squads and bomb disposal squads will also be in place.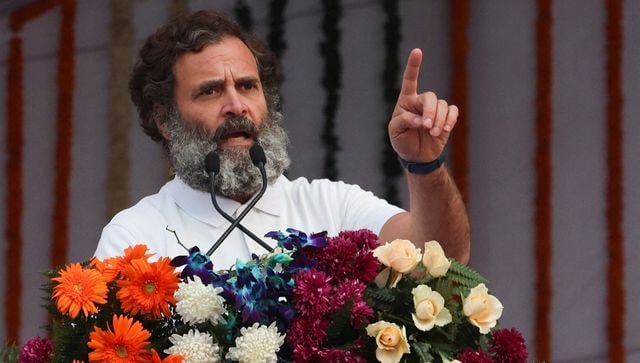 India
Congress leader Rahul Gandhi has been sentenced to two years in prison by a Surat court in a 2019 criminal defamation case over his alleged remarks about the 'Modi surname'. The Wayanad MP now faces the risk of disqualification from Parliament
Explainers
Purnesh Modi is a BJP MLA and ex-Gujarat minister. The 57-year-old, who, joined the BJP in 1984, has held several positions within the party including its Surat city chief. Purnesh was in December 2022 among a slew of big names dropped from the Bhupendra Patel cabinet
Opinion
Imran's speeches, like any cult leader, are filled with narcissism, grandeur and promises to change Pakistan into a Medina state