From Ayodhya pitch to Taj Mahal visit: Rewinding Yogi Adityanath's push for religious tourism
Yogi Adityanath's push to promote Ayodhya as a centre of religious tourism is one of the reasons that a mega event is being planned there.
The Yogi Adityanath government has been mired in controversy ever since BJP MLA Sangeet Som remarked that the Taj Mahal is a blot on Indian culture. The chief minister has since been in damage control mode and has distanced himself from the comment. He said that the monument is important, specifically in terms of tourism.
He has also been pushing to develop Ayodhya as a site of religious tourism. While declaring that a grand Diwali event is being organised in Ayodhya, he said that he wants to recreate it to match its past.
Ayodhya 'a matter of pride'
While talking to CNN-News18, Adityanath said that Ayodhya has always had a religious importance and everyone should be proud of its rich heritage. "My visit to Ayodhya is part of our effort to develop these religious places so that we meet international standards in terms of providing facilities to tourists," he added.
He is the first chief minister in 15 years to visit the city.
Talking about the elaborate Diwali celebrations planned for him in Ayodhya, the chief minister said that an attempt will also be made to refresh memories of Lord Rama returning to Ayodhya after fourteen years in exile.
VHP welcomed Adityanath's stand on Ayodhya and said that 66 percent of the construction work for Ram Mandir has been completed, reported CNN-News18.
#BREAKING - 66% of Ram Temple construction work complete: VHP pic.twitter.com/xrzm6DN4iF

— News18 (@CNNnews18) October 18, 2017
"Ramayan is 10,000 years old and Ayodhya is an integral part of it. It was a developed city even back then and people continue to come here from all over. To connect with its illustrious past is a matter of pride for us," he told Zee News.
World-class Diwali
The chief minister said that he will spend Diwali with his supporters and work is already underway to deck up the ghats. While talking to ANI, Adityanath said that the Uttar Pradesh government is organising a special event on Diwali and it will be a world-class event. He will welcome the Ram Shobha Yatra of the ongoing Ram Leela in Ram Katha Park.
'Wah' Taj
After Som declared that the Taj Mahal was a "blot on India culture", Adityanath distanced himself from the remark saying that it does not matter who built it and for what reason. "It was built by blood and sweat of Indian labourers." Adityanath, who is scheduled to go to Agra on 25 October, said that his visit was pre-planned and has nothing to do with Som's comments.
He said it is part of the government's efforts to develop religious tourism circuit that would include other major centres like Vrindavan, Varasani, Mathura. The Taj Mahal has been mired in controversies and he wants to stop that because it is the most important tourist places, he added.
#EXCLUSIVE | @TajMahal has been mired in controversies and we will ensure this stops: @myogiadityanath on Taj politics #YogiToNetwork18 — News18 (@CNNnews18) October 18, 2017
The Indian Express quoted him as saying, "its (Taj Mahal) conservation, promotion for development of tourism, and providing protection and facilities for tourists who visit the monument is the Uttar Pradesh government's responsibility… we will fulfil our duty."
He further said that the Taj Mahal is very important, specifically in terms of tourism. "it is our priority to provide facilities and safety to tourists there (Agra)," he said.
While speaking to India Today, Adityanath said that he does not agree with Som's remarks as Taj Mahal and Red Fort are both parts of India's heritage. "Government has planned tourism projects worth Rs 370 crore under which schemes are meant for Taj Mahal and the surrounding areas," he added.
Soon after Adityanath's statement, BJP MP Vinay Katiyar told CNN-News18 that Taj Mahal is a Shiva temple which was destroyed by Shah Jahan.
Earlier, Som had said "Many people were disappointed that the Taj Mahal was removed from Uttar Pradesh tourism booklet. What history are we talking about? The creator of Taj Mahal (Shahjahan) imprisoned his father. He wanted to wipe out Hindus. If these people are part of our history, then it is very sad and we will change this history."
India
Vivekananda's speech, which dwelt at length on Hinduism and Indian culture, had drawn all-round praise and remains resonant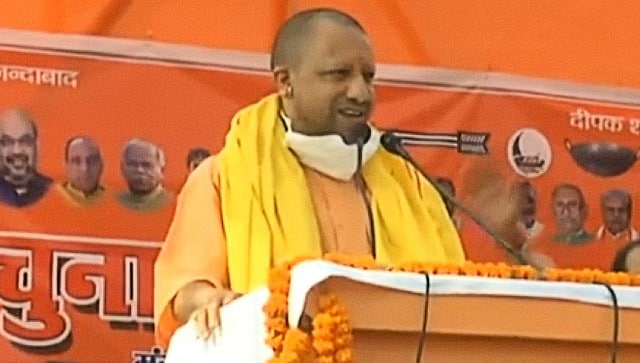 Entertainment
The seers alleged that Bollywood artistes consume alcohol, eat meat and involve in immoral activities due to which they can never represent pious characters of the Ramayana.
India
MP Sanjay Singh had declared that AAP would contest all 403 seats in Uttar Pradesh to expose BJP's 'fake nationalism' and showcase his party's 'real nationalism'