Fresh trouble for AAP: Sting tape charges Kejriwal with poaching; Yadav, Bhushan release letter
Even as the AAP was dealing with the crisis of leadership regarding Yogendra Yadav and Prashant Bhusha, it was hit more controversies as its Maharashtra leader Anjali Damania quit over allegations of horse-trading against Kejriwal.
New Delhi: Besieged by infighting, the AAP was on Wednesday hit by twin blows with a former party MLA accusing Delhi Chief Minister Arvind Kejriwal of trying to poach six Congress MLAs to form government last year following which its prominent Mumbai face Anjali Damania quit the party.
AAP's former MLA Rajesh Garg also alleged that Deputy Chief Minister Manish Sisodia was in touch with the Congress MLAs to try to lure them to float another political party and extend support to AAP from outside as Kejriwal was not ready to face the assembly polls.
As Garg levelled the allegations, an audio tape of purported conversation between Kejriwal and the former legislator from Rohini surfaced in which the AAP leader was heard talking about splitting the Congress.
"We are ready to form the government, but Congress is not ready to support us. Manish (Sisodia) is in touch with the Congress. Do one thing, split the Congress and ask their six MLAs to float a new party and support us," Kejriwal was purportedly heard saying in a telephonic conversation with Garg.
Congress had eight MLAs in the previous assembly and to escape anti-defection law, six MLAs would have required to form a breakaway group.
"Congress won't support us. We have been trying for the last one and a half months. These six Congress MLAs would have supported BJP, but three of them are Muslims. They won't support the BJP. Those six MLAs should support us," Kejriwal was heard telling Garg in the audio clip.
Immediately after the controversy broke, senior party leader from Mumbai Damania quit the party saying she has backed the AAP chief for "principles" and not "horse-trading".
Announcing her resignation on the twitter, Damania said, "I quit...I have not come into AAP for this nonsense. I believed him...I backed Arvind for principles not horse-trading."
"I demand inquiry in 48 hrs into all these allegations. Vols (volunteers) have given their sweat & blood. It is not for the party...It is for the country," she said in another tweet.
Kumar Vishwas, Ashish Khetan back AAP, dimiss Garg's allegations
AAP leader Kumar Vishwas hit back at Garg alleging he was trying to blackmail him in return for a party ticket.
After the controversy broke out over the clip, Garg feigned ignorance on how it went public saying he had e-mailed it to party leader Kumar Vishwas.
"Mr failed conspirator Rajesh Garg Ji, I had forwarded the audio clip to the party on the same day you tried to blackmail me with the same
"That was when you tried to exchange a Vidhansabha ticket with this audio.. remember? Denied a ticket, u r free to do whatever u wish," Vishwas tweeted.
Dismissing the allegations of horse-trading Ashish Khetan tried to justify the move saying that such type of political realignments keep on happening in the country and it cannot be considered as "poaching".
"Using the term horse-trading is far too harsh and irresponsible. We neither lured them with money nor did we offer them with any gains. Political realignments are not new in this country," Khetan said.
"Political realignment is not poaching. It is a truth in the country while horse-trading is fallacious," Khetan told reporters, adding BJP and PDP are poles apart ideologically and yet have formed government in Jammu and Kashmir.
Khetan alleged that it was the BJP which was involved in horse-trading while they were always in favour of elections. But the Centre did not take any step to ensure polls.
"Who was going to the President and petitioning in the Supreme Court for conducting fresh elections. Who was going to the Lt Governor? We were saying elections should take place. But elections were not taking place for 4-6 months and there were no indications that the Centre would ensure election.
"You know what kind of attempts were being made by the BJP to form the government. We also did a sting operation on Delhi BJP vice-president Shersingh Dagar that he was offering Rs 4 crore. This is horse-trading," he said.
The new controversy hit the party at a time when it was grappling with dissent by two senior leaders Prashant Bhushan and Yogendra Yadav who have openly criticised Kejriwal for his style of functioning.
Meanwhile, MLAs supporting Kejriwal has demanded that the father-son duo of Shanti and Prashant Bhushan be expelled along with Yadav from AAP for anti-party activities and have started a signature campaign for the ouster of these three leaders.
Bhushan, Yadav refute allegations in open letter
Responding to the allegations of "anti-party activities" levelled against them, Yadav and Bhushan on Wednesday issued a joint letter where they refuted charges of attempting to remove Kejriwal from the post of national convener.
The duo, in a joint letter to volunteers, gave point-by-point clarifications to all the allegations levelled against them by top brass of the AAP including Deputy Chief Minister Manish Sisodia, Sanjay Singh and Gopal Rai.
They, however, hoped to work for party unity in future as it was an "opportunity to strengthen" AAP, saying the organisation was much bigger than any individual.
A set of emails relating to candidature selection by Bhushan, addressed to Kejriwal, Sisodia, Pankaj Gupta, Yadav, Kumar Vishwas, Sanjay Azad and Gopal Rai, were also released by the duo.
Yadav and Bhushan claimed that the rift between Kejriwal and them started after the Lok Sabha polls when the AAP chief favoured forming a government again in Delhi with the support of Congress which they opposed leading to a divison in the party.
"Kejriwal was adamant on formation of government. We opposed this and insisted that it would send a very wrong signal among the volunteers across the country, as Congress had recently been rejected by Delhi voters completely.
However, Kejriwal went ahead with his efforts on formation of government and he continued till a month prior to elections," reads the letter.
The leaders also rejected the allegation that they were releasing some very confidential communications, saying if they wanted they could have made public some secret papers which would have really harmed the party.
"It was also very strange that after the Lok Sabha elections, Sisodia, Sanjay (Singh) and Ashutosh demanded that all members of PAC should put in their papers so that Kejriwal could restructure new PAC. Even demands were made to disband national executive also. So it was pertinent to oppose those unconstitutional moves," the letter says.
One of the emails, dated 28 November, quotes Bhushan as saying that he will have to "disassociate" himself from the selection process and would be compelled to raise the issue on an "emergency basis" with the National Executive.
"I know that we had decided to leave the management of Delhi to Arvind, but sitting in the PAC to approve candidates, I cannot be a rubber stamp for arbitrary, non transparent and questionable decisions on candidate selection, without following even minimum norms of transparency and due diligence," it said.
With PTI inputs
Subscribe to Moneycontrol Pro at ₹499 for the first year. Use code PRO499. Limited period offer. *T&C apply
India
There will certainly be grumbling that it's a very basic joint statement, that there have been so many of the sort in the past and that Pakistan is not to be trusted
World
In mainland China, major events have been largely erased from public memory by censorship. Critics fear that model is being imported to Hong Kong.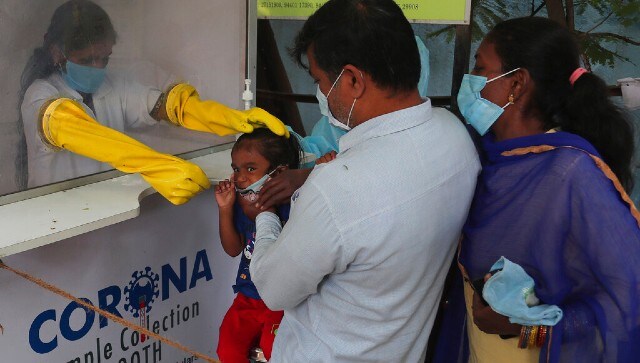 India
It is important to reiterate that the argument of 'natural herd immunity' remains largely a thereotical one, and cannot be relied on to mitigate the disease, especially with millions of vaccine doses ready