CBI raids Lalu Prasad's homes: RJD leader's corrupt legacy casts shadow on family, political heir Tejashwi Yadav
The FIR that CBI lodged following raids at Lalu Prasad Yadav's homes, is not only a matter of concern for the Rashtriya Janata Dal leader but for Bihar chief minister Nitish Kumar as well who has to reaffirm his stand of zero tolerance for corruption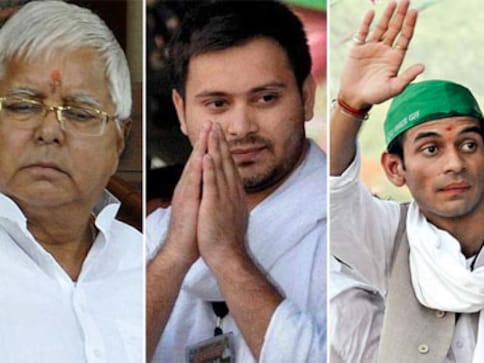 The FIR that the Central Bureau of Investigation (CBI) lodged against Lalu Prasad Yadav and his family members on Friday seems to have become a matter of concern not only for the Rashtriya Janata Dal leader but for Bihar chief minister Nitish Kumar as well. While for Lalu, it's the political future of his successor, son and deputy chief minister Tejashwi Prasad Yadav, whose name has featured in the FIR; Kumar is faced with a difficult question of whether or not to retain Yadav in his cabinet and reiterate his zero tolerance policy against corruption, especially because an expulsion of Yadav could further strain the Mahagathbandhan in Bihar.
The fortunes of Yadav and family have landed into uncertainty during the last couple of months after a string of allegations of amassing Benami properties surfaced against them. The CBI FIR not only names Lalu and his son Tejashwi but also wife Rabri Devi and five other family members in an alleged land scam.
It wouldn't be wrong to say that Lalu's political fate was decided on 3 October, 2013, itself when he was convicted in a fodder scam case by a special CBI court in Ranchi. He lost his Lok Sabha membership and barred from fighting elections for the next 11 years, virtually ruling out possibility of him fighting elections, again.
Everybody then thought that RJD was finished as his party was out of power for a decade, but a charismatic Lalu made a comeback again. He sensed opportunity in Kumar's growing discomfort with the Bhartiya Janta Party (BJP) when the later broke out of the National Democratic Alliance (NDA). Lalu was aware that there was nothing left for him but to establish someone as his heir apparent.
Political arithmetic had compelled Kumar to join hands with his staunch opponent. After facing debacle in the 2014 General Elections to Lok Sabha, Congress also pinned hope on an alliance and a Mahagathbandhan was formed. Caste calculation swung in their favour and the Mahagathbandhan swept the 2015 Assembly elections in Bihar.
This win, however, was not so easy for Lalu to announce his successor as his daughter Misa Bharti, after losing the Lok Sabha election, failed to get support among party leaders. On the other hand Lalu's sons — Tej Pratap and Tejaswi — won the Assembly elections and both found cabinet positions in Kumar's government.
Lalu was annoyed with the tantrums of his eldest son Tej Pratap whose childish behaviour was not suited for politics, and he tried to create business route for him.
Lalu bought many land parcels and helped Tej Pratap start auto agencies in his name. Apparently Lalu had decided to announce his younger son Tejaswi as his successor but Tej Pratap objected and he was forced to convince Kumar to induct both his sons in the cabinet.
But, as is becoming obvious now, Lalu's sons have also inherited the tainted legacy of their father. Allegations of Benami transactions are not only haunting Lalu and Misa but his two sons as well, who now face legal scrutiny.
These allegations, combined with differences arising out of the choice for presidential candidates of Lalu and Kumar, have shaken the grand alliance in Bihar. But, till Friday morning no FIR was lodged against the Lalu clan. Things changed around 11 am when CBI filed FIR and conducted subsequent raids on different locations including Lalu's residence in Patna.
Kumar, while distancing himself from allegations against Lalu and family, and his party, has repeatedly iterated that they would not compromise with zero tolerance policy against corruption. The Bihar chief minister, in fact, went a step further and had asked to investigate if there are matters against his alliance partner. Now that Bihar's deputy chief minister Tejaswi's name has figured in the  FIR, it will complicate matters for Kumar as he would not like to carry any tainted faces in his government.
Many political observers in Patna were of the view that the day any FIR or chargesheet is filed against any of Lalu's sons, Kumar might oust them from the cabinet which will deal the final blow to the Mahagathbandhan. Now all eyes are on Kumar's next move who is recuperating in Rajgir, almost 130 kilometers away from capital Patna.
India
Earlier on Sunday, a zero FIR was lodged with the Delhi Police against the Rajasthan minister's son for allegedly raping a 24-year-old woman
India
On 10 May, the high court will also take up Bagga's petition, seeking quashing of the FIR registered against him last month
India
Aviation regulator DGCA has started a probe in the matter and asked the airline to submit a report