Foodgrain scam: Police stop protesting AAP workers from reaching Badal's home
Over 5,000 AAP workers protested outside Chief Minister Parkash Singh Badal's residence against the foodgrain scam on Monday.
Nearly 15,000 Aam Aadmi Party activists on Monday marched towards Punjab Chief Minister Parkash Singh Badal's residence to protest but Chandigarh Police stopped them at the city's border with Mohali town of Punjab.
Later, a delegation of AAP leaders, including Sanjay Singh, in charge of the party's affairs in Punjab, state convenor Sucha Singh Chottepur, MP Bhagwant Mann and actor-comedian Gurpreet Ghuggi, was escorted by police to meet acting Punjab Governor Kaptan Singh Solanki to submit a memorandum against the Badal government.
The protestors are seeking a high-level probe into the Rs.12,000-crore scam of 'missing' food grain.
Security in and around Chandigarh was tightened on Monday ahead of the AAP protest against the Punjab government's alleged failure to probe the food grain scam and curb the menace of drugs, mafia and corruption.
The area around the official residences of the chief minister and his son and Deputy Chief Minister Sukhbir Singh Badal in the upscale Sector 2 was barricaded by police. Scores of police personnel, many of them in anti-riot gear, were also deployed.
Police personnel were also deployed around the Haryana Raj Bhavan, the official residence of Haryana Governor Kaptan Singh Solanki, in Sector 6.
Security was also increased at all entry points to Chandigarh, the joint capital of Punjab and Haryana, to stop the AAP activists from moving in close to the VIP residences.
According to The Indian Express, the party workers planned to meet at Gurdwara Amb Sahib and leave for Chandigarh where they will gherao Punjab Chief Minister Parkash Singh Badal's residence.
Ahead of the protest, security was stepped up with over 4,500 personnel deployed, most of them at the SAS Nagar- Chandigarh barrier, and the police invoked Section 144 of CrPC in Chandigarh, reported Hindustan Times. According to officials in Chandigarh, police have deployed riot control vehicles, fire fighting engines, ambulances to restrain the AAP activists from entering Chandigarh.
Meanwhile, Badal cancelled all engagements for Monday.
"This has been done in view of Aam Aadmi Party's reported programme, even though that party has not sent any formal information to this effect," the chief minister's spokesman said on Monday, according to NDTV.
Badal had said on Sunday that he would instead "remain available" at his residence to receive "any responsible political leader or representative for discussion on any issue concerning the people of the state." He also said, "This party had already delivered the most treacherous betrayal to the farmers of the state by backing out on the SYL issue. They cannot now pretend to be the sympathisers and supporters of the same farmers."
किसान उत्पीड़न एवं भ्रष्टाचार के खिलाफ उमड़ा जनाक्रोश,
तपती धूप में लाखों लोग सड़कों पर#PunjabKranti@SanjayAzadSln pic.twitter.com/c7PJz1n90D

— Vivek Kumar (@vivektyagi_) May 16, 2016
AAP had earlier proposed a plan to gherao Badal's residence. The party accused the SAD-BJP government of misusing the official machinery for "suppressing" its democratic right to protest in Chandigarh against the foodgrain scam.
"We challenge the Badals to tell the people of Punjab where Rs 12,000 went, whether it went in the pockets of Badals or in the pockets of officials,"AAP's Sanjay Singh was quoted as saying by India Today.
Singh also accused Badal of using "coercive ways and means at his command to ensure AAP doesn't hold a massive protest demonstration and surround his official residence at Chandigarh to expose his misdeeds".
#PunjabKranti
Badals have indulged the Farmers of Punjab to Commit Suicides,today We all are here to Gherao Them. pic.twitter.com/oFF8pyHDd1

— Sucha Singh Chotepur (@SChotepur) May 16, 2016
"The Reserve Bank of India (RBI) has unearthed the biggest food scam of the country accusing the Badal government of either siphoning off Rs 12,000 crore or the food grains worth the same amount from the Punjab godowns," he further added.
In reciprocation, Badal had expressed that his "doors have always been open" for everyone to discuss, in a constructive and meaningful way while adding his government will not allow "AAP's dramatic tantrums to weaken and dilute the state's struggle for justice" on the river water issue.
"It is disgraceful how AAP continued to indulge in double speak on this critical issue. They do not tire of raising slogans and at the same time continue to betray the state's interests through unbelievable flip-flops on the issue in the Supreme Court," he had alleged.
Meanwhile, in another development, the Punjab government on Monday inserted advertisements in newspapers claiming that account of every
procured grain is maintained by Punjab procurement agencies and FCI.
It claimed there was a "conspiracy of anti-Punjab elements" to "defame" Punjab and said bogey of "missing wheat" was raised by opposition parties for their "political gains".
"Beware of those (who are) out to defame Punjab," said an advertisement.
With inputs from agencies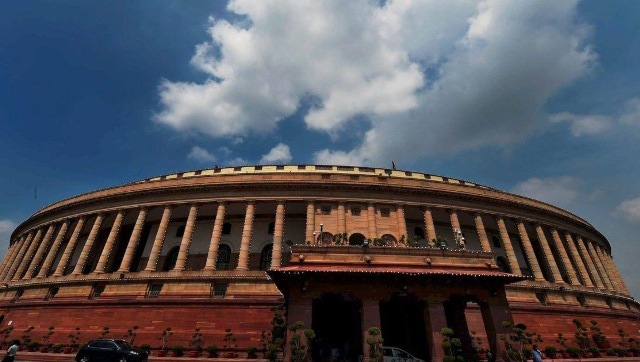 Politics
Monsoon Session of Parliament LATEST News Updates: The prime minister, while introducing ministers in the Rajya Sabha, said, Watch LIVE News, Latest Updates, Live blog, Highlights and Live coverage online at firstpost.com
India
AAP's Punjab co-incharge Raghav Chadha took to Twitter to make the clarification, tagging a report on a possible tie-up between the two parties ahead of the Punjab Assembly polls
Politics
Sidhu's statement came a day after AAP MP Bhagwant Mann questioned him about the 'funds' allegedly accepted by the Congress from private power companies in the state