Five Years of AAP: From India Against Corruption to today's rally at Ramlila Maidan, a look back at party's history
Four years since electing AAP to power in Delhi, the party's core constituency is disappointed
Autorickshaw driver Mohan Rathod, an 'insignificant man' from Govindpuri in New Delhi, came to the National Capital almost two decades ago from Bhind in Madhya Pradesh. And after doing some petty jobs, he has been driving his own rickshaw for over a decade.
But, in the summer of 2013, Rathod responded to the call of another 'Insignificant Man' called Arvind Kejriwal, who after parting ways with Anna Hazare had formed his political outfit — Aam Aadmi Party (AAP) that was about to make its electoral debut. Promising a corruption-free government — a panacea for all ills — Kejriwal had appealed to 80,000 odd autowallahs in Delhi to support AAP, so that after uprooting the "corrupt Congress government of Sheila Dikshit", a new government formed out of alternative politics would bring a new dawn in their lives.
But, after four years, Rathod like many of his ilk — the core constituency of AAP, is disappointed. So are lakhs of common men, who reposed faith in AAP and voted the party to power in 2015 with an overwhelming majority (67 out of 70 seats) — a historical feat indeed.
"Jeet ke turant baad, Kejriwal sarkar ne kam kimat par bijli aur free paani dene ka vayeda poora kiya. Par uske baad hum autowallon ke liye jo kaha thaa, uska kuch nahi huwa. Aur bahut saare vaadon ka kya hua? (Immediately after coming to power, Kejriwal government fulfilled its two promises — discounted electricity and free water. But, it didn't fulfil the promises made to autowallahs. What happened to many other promises he made to the public)?" asked Rathod.
Commemorating its fifth foundation day, the AAP is organising its first national conference at Ramlila Maidan from 2 pm on Sunday, which will see participation by volunteers, members and office-bearers from 22 states. The party was born on 26 November, 2012 out of social activist Anna Hazare-led anti-graft movement — 'India Against Corruption' (IAC) in 2011.  While Anna wanted the movement to remain apolitical, the then activist Kejriwal went on to form AAP and decided to get into electoral politics, much against the former's reservations.
The party had promised an alternative politics, a new regime of corruption-free governance, which would represent common man and would be the voice of the common man. Undoubtedly, Kejriwal and his team would present an attractive report card at the national conference listing the AAP government's achievements.
Besides providing discounted electricity and free water to a large number of households, Kejriwal government improved conditions of many government schools by upgrading its infrastructure. In the healthcare sector, AAP had promised to have 'mohalla clinics' — a unique initiative across Delhi, but it has remained limited to only a few areas.
One of the biggest failures of AAP government is that till today, the residents of Sangam Vihar — Asia's largest unauthorised colony, are deprived of direct water supply from the Delhi Jal Board, unlike the rest of the city. The residents have to depend on water tankers, controlled by 'tanker-mafias' operating out of Sangam Vihar. Prior to the elections, AAP had promised that it would bring an end to 'mafia raj' and ensure free water supply in the locality, which never happened.
"Earlier, the mafias were controlled by the Congress, and now it's under the AAP MLA of this area. We voted AAP as they promised to end this menace, but nothing has changed. We're still suffering, as we have to buy water," a group of Sangam Vihar residents lamented.
As the party came to power, voice of dissent started emerging from within the volunteers and its founding leaders. With the expulsion of its founding members Yogendra Yadav and Prashant Bhushan among others, AAP lost its intellectual face. This action was highly criticised. These ousted leaders went on to form Swaraj Abhiyan and its political wing Swaraj India, with Yadav as its president.
Rajmohan Gandhi, a historian and AAP member, who had contested 2014 Lok Sabha election and lost, wrote in Sunday Tribune, "Kejriwal cannot bring about the revolution he wants on his own or with the aid only of people with whom he feels comfortable. Occasionally, he'll need the comradeship of those whom he might find difficult, but who may have valuable ideas, talents and perspectives, and whose commitment has earned the trust of number of people including many AAP volunteers."
The party, whose core strength had been its volunteers, lost a major chunk of volunteers, who had been with Kejriwal from the days of IAC. The volunteers, who had either left the party out of frustration or were expelled, formed a splinter group Aam Aadmi Volunteers Action Manch (AAVAM). "From a volunteer-based party, now AAP has become a coterie-centric party of 'Yes men'. The party is only about Kejriwal and a few of his men. The principle of internal democracy is no more there. Only one man calls the shots and it's Kejriwal," alleged Karan Singh, convener of AAVAM.
Many promises made by the AAP in its manifesto have remained unfulfilled. The list is endless, but to name just a few. The AAP government promised deployment of marshals in all DTC buses for women's safety, but it didn't happen. Free WiFi, installation of CCTVs, providing bus service till the last point from Metro stations in the evenings, maintenance of localities, measures to control pollution — nothing happened.
Besides slamming Prime Minister Narendra Modi, Kejriwal and his government got into a major tussle with the lieutenant-governor that virtually stalled development. This hasn't gone down well with the citizens. The party has failed to meet its national ambition as well. It lost both Punjab and Goa Assembly polls. Now, it's aiming at the forthcoming elections in Gujarat, Rajasthan, Madhya Pradesh and Karnataka.
Controversies seem to have become an integral part of AAP — whether related to its ministers like the fake degree case of Jitender Singh Tomar and sex CD case of Sandeep Kumar or the government's whopping publicity budget of Rs 526 crore, which was criticised by its own MLA Pankaj Pushkar or issuing of 399 licenses to open liquor vends in one year.
Of late, Kejriwal's uneasy relation and blame game with one of the party's founding members, Kumar Vishwas has hit headlines. The Okhla MLA Amanatullah Khan, apparently close to the Delhi chief minister, who had allegedly called Vishwas 'an RSS man', was suspended by the party. After a probe committee gave him a clean chit, Khan is back in action. This has worsened the Kejriwal-Vishwas relationship.
During the party's national executive meeting, Vishwas, who had earlier acted as a moderator in meetings, was on the other side of the fence. The rift was apparent.
On Saturday evening Vishwas tweeted:
I will Address @AamAadmiParty volunteers at 3 pm tomorrow at Ramlila Maidan. Listen my heart out about the truth, the revolution and the political scenario. Jai Hind🇮🇳👍#5YearsOfAAP

— Dr Kumar Vishvas (@DrKumarVishwas) November 25, 2017
Delhiites have to wait till 3 pm to see what surprise Vishwas has in store for them on the fifth anniversary of the party's foundation.
India
The Safdarjung Observatory, considered the official marker for Delhi, recorded 28.2 mm rainfall, while the Ridge station registered 126.8 mm rainfall from 8.30 am on Saturday to 8.30 am on Sunday, officials said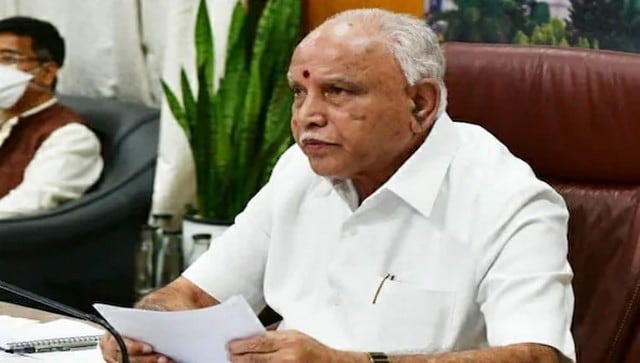 Politics
The 78-year-old Yediyurappa belongs to the older generation of politicians who started their service to the public as a teenager (in his case with the Rashtriya Swayamsevak Sangh) and did not hail from either a political or an affluent family
India
AAP's Punjab co-incharge Raghav Chadha took to Twitter to make the clarification, tagging a report on a possible tie-up between the two parties ahead of the Punjab Assembly polls