Firstpost Salon Live! Know I'd done nothing wrong, says Shashi Tharoor on Sunanda Pushkar's death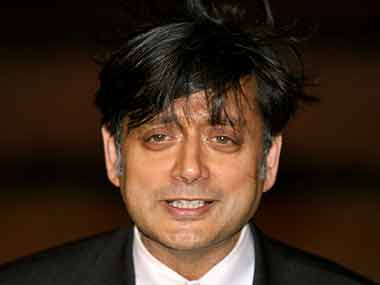 19:21 (IST)

Acche din only after 2019, says Tharoor

Tharoor maintained that acche din are still to come. He said that the government had been very eloquent but hadn't delivered.

"Everything they said they will do sounds good, but it is still to happen," he said.

So when are the acche din expected? Not before 2019, he said with a smile.

And with that we're done. Thank you for joining us.

19:19 (IST)

On being the political insider
"I am not an insider. I find I am operating in a world that 99% of the people in this field have been doing it all their lives," Tharoor said.

He had a word of advice for those aspiring to enter politics. Start soon.

19:14 (IST)

Tharoor his diplomatic best on dynastic politics

Tharoor was his diplomatic best when fielding a question on dynastic politics.

He said that he stayed with the Congress because of the party furthering socio-liberal values that he believed in.

However, if a doctor or a Bollywood star, could see his children continue in the profession he didn't see why it couldn't take place in politics.

So will he be the next PM candidate of the Congress?

"I think it's a safe to bet against that," he said with a smile.

19:03 (IST)

On test cricket

Tharoor lamented the lack of following for test cricket.

"I don't think Test cricket is in danger of dying out due to television coverage but I would prefer to watch a game surrounded by people," he said.

18:58 (IST)

India needs a witness protection program, says Tharoor

"We have seen that in the case of Vyapam people were killed because of what they knew. We need witness protection," he said.

18:57 (IST)

Would prefer courts not getting involved in regulation of media

Tharoor said that he would prefer if the courts didn't get involved in the regulation of media.

"What one wants is better journalism that is fair," he said.

He said that you had more cases of trial by media these days which is a disservice to society. Tharoor said that there were many journalists who had hounded him and come and apologised.

"We realised that journalists were also being made to do things they didn't want to do," he said.

18:54 (IST)

Tharoor on love and relationships

" You have to believe you will get it right at some point," he said, adding however that it wasn't a topic to joke about given the emotional pain it brought to those involved.

"I would never take back the experiences of loving the women I have and being loved by them," he said.

18:51 (IST)

Is Modi's foreign policy better?

The former MoS said that the Prime Minister had done a lot for foreign policy.

"It is important to stress that there is almost an overwhelming amount of continuity in foreign policy," Tharoor said.

If the BJP has done the right thing it is despite the positions they took when they were in the opposition and it's something that the party's supporters should acknowledge, he said.

He said that he found a lot of U-turns in foreign policy in areas like Pakistan policy. He spoke of the various discrepancies in the policy.

"I think there is a certain amount of incoherence which from the view of the public should be troubling," he said.

He said he hoped the Indian government was doing its homework before formulating its foreign policy.

18:47 (IST)

Am sure a reasonable conclusion will be arrived at in Pushkar case, says Tharoor

"I have throughout co-operated with the investigation throughout...I have even given them access to all my emails. I believe that in a fair minded probe there is no way that I will be found wanting," he said.

He said that the charge that a crime at all had come from a dubious source with the doctor who had claimed it providing no evidence to substantiate it.

"I am sure that at the end of it a reasonable conclusion will be arrived it," he said.

However, he said he at the end of it he did have complete faith in the system.

18:41 (IST)

On Sunanda Pushkar's death and media

"Some deeply obnoxious anchors have taken it upon themselves to be not only witness, but judge and executioner as well," Tharoor said. One guess on who he's talking about

"Even if the police conclude their work and it is concluded in a court of law, there would be lingering whiff of suspicion that would remain,"he said.

Tharoor said he had contemplated legal action in the case and other cases in the past but was advised against it by his lawyers.

He said that it was dangerous for the nation if the media could go on reporting in a manner where they could get away with saying anything wrong about someone.

"I knew I had done nothing wrong," he said, while explaining his silence following the controversy.

He said that despite the malicious campaign conducted by his opponents he had managed to win.

18:36 (IST)

Media's now a chase for TRPs

Speaking about the media he said that it had become a chase for TRPs and there was very little by way of serious debate.

"Certainly the media that I have seen since I came back do not live up to the ideals I had learnt about," Tharoor said.

He said that the print media was being affected by it as well. "It is a very sad indictment," he said.

18:34 (IST)

Tharoor on his 'cattle class' remark

"I am somehow portrayed as a person who puts his foot in his mouth," Tharoor said.

He said that the term of "cattle class" was purely a case of him using a term that was widely used in the West when asked about it by a journalist.

Tharoor said he had travelled a lot more by economy and that it wasn't as bad in India.

"To this day it continues to hurt me," Tharoor said.

18:28 (IST)

Bureaucrats in the Modi sarkar

So are the bureaucrats more empowered under Modi?

"The gossip I'm hearing is that empowerment is a myth,"Tharoor said.

He said that what he had heard was that everything they did went to the PMO and they were just aiding an overburdened PMO.

18:26 (IST)

UN bureaucracy or Indian bureaucracy? Which is worse

"India is a lot more process oriented," Tharoor said.

He spoke about how the UN bureaucracy was better at getting things done. He spoke of the freedom they enjoyed in their work.

Tharoor said that the Indian bureaucracy was less efficient than it should be.

18:21 (IST)

About being in the UN

Tharoor said that he didn't really intend to stay in the UN as much as he did and had even contemplated teaching at a point.

He spoke of his work with the boat people of Asia and said that he had learnt an enormous amount from the experience.

Tharoor said that the work gave him the joy of knowing that he had taken people to safety. He said the job offered him a great deal of "human satisfaction".

18:16 (IST)

Is there a difference between a left and right wing troll?

"I am not aware of any Congress troll,"he said to laughter.

The Congress MP said that the distance provided by the internet allowed people to say things that they wouldn't say otherwise.

He said that he didn't agree with the existence of left wing trolls but maintained that right wing trolls were more organised and more violent in their language.

"They felt at one point that they weren't getting enough say in the mainstream media,"he said.

Tharoor said it was very obvious in some cases that there was a angle of attack that had been handed out to the trolls.

18:12 (IST)

So what did he think that the long distance nationalism? Dangerous or not?

"It can be a dangerous thing but it could also be a dangerous thing," Tharoor said.

He spoke about how in many cases he had found many diaspora had gone abroad and then supported the most extreme causes back home.

"The ex-patriot blames the country that he left and decides to fund the most extreme idea in his home country..." he said.

He said that it also explained why there was so much support for far right-wing and Hindu fringe groups.

So is it growing? "I don't think so,"he said.

18:07 (IST)

What's the biggest effect of Modi arriving in Delhi's social scene

"English is very much my first language," Tharoor said, adding that he was very much connected with the roots of the country and he didn't see any reasons to be apologetic about it.

So has there been any effect of the arrival of Modi in Delhi with his supporters saying it would be the end of the Macaulayputras?

He said the biggest effect of the arrival of Modi was that the amount of socialising after hours had reduced.

"There seems to have been some diktat that was issued," Tharoor said

18:03 (IST)

Sandip Roy: Do you consider yourself a Macaulay putra? Shashi Tharoor: Well I've heard the word. #FirstpostSalon

— Firstpost (@firstpost) July 13, 2015

18:01 (IST)

Why the Congress is disrupting Parliament these days

"I don't call BJP leaders to my home for dinner since they don't show up," Tharoor said.

He said that he didn't expect everyone to agree with everyone else's views but they had to figure a way or working together.

The Congress leader spoke of how multiple sessions of Parliament were disrupted by the BJP when the UPA was in power.

"Now the golden rule of politics of politics is do unto them as they do unto you," he said, adding that it was part of the reason the Congress was disrupting Parliament now.

17:58 (IST)

About being in St Stephens

Tharoor spoke about his time in St Stephens in Delhi and fondly reminisced on everything that he loved about the institution.

He set up the Wodehouse society in the college which was dedicated to the author and dedicated to good humour. This included practical jokes.

"Some of them were very funny," he said and one of them was played on him while he was president of the students' union.

Tharoor however, feels there was something about that period that could carry forward into politics today. Namely, the spirit of debate.

"There is so much bitterness between the principal opposition party and ruling party which isn't good for the country," he said.

17:52 (IST)

Guess what? Tharoor's not a bad cricket commentator

Tharoor confessed he was not bad at imitating cricket commentators thanks to his love of listening to cricket matches on radio.

And he's not a bad singer at all...He gave us a couple of paragraphs of a song he says he last sang when he was in his early teens.

17:50 (IST)

BJP isn't a right wing party, says Tharoor

BJP is a nativist party that isn't truly a right-wing party when it comes to economic policy, the Congress leader said.

"They are much more protectionist...They are against many aspects of foreign trade,"he said, adding that it was the core of the BJP.

17:48 (IST)

Why the former Swatantra Party leader is now comfortable in the Congress

Speaking about his life in student politics, Tharoor said he was part of the Swatantra party and said he would still feel at home with the liberalism of the party.

However, he's not out of place in his current political party. Tharoor said that the Congress was a 'big tent party' which took in people with various views.

"The Congress party has become more a social democratic party," Tharoor said.

17:43 (IST)

Was politics a part of my family life in any way?

Tharoor said that politics was a part of his life since his father was the Statesman.

"Politics was one of my major interests. But putting my feet into it wasn't something I ever expected to do,"he said,

17:41 (IST)

Shashi Tharoor started by speaking about his ancestral home in Kerala and his grandmother who recently passed away. He spoke of what the house like when he was a child.

"It was an extraordinary experience," he said.

He spoke about his grandmother who passed away at 98 and what she meant to his life.

17:37 (IST)

Firstpost's R Jagannathan has kicked off proceedings with an introduction of Firstpost and Firstpost Salon.

17:21 (IST)

Shashi Tharoor's in the house and we're about to get started

Our guest's here and we're just getting set to get started. We should be live in the next 15 minutes

The #FirstpostSalon with Shashi Tharoor will start in 15 minutes. Hope you're ready! pic.twitter.com/HzadsVOG6K

— Firstpost (@firstpost) July 13, 2015
Shashi Tharoor's main identity these days is as the two-time Congress MP from Thiruvananthapuram. Or else he is in the news thanks to the police investigation into the death of his wife Sunanda Pushkar.
But in the immediacy of politics of the day it's easy to forget that Tharoor had a really unusual journey to the Lok Sabha.
He is neither a career politician nor a political scion. Nor is he a celebrity parachuted into politics. Not very many politicians can boast writing a WWII adventure modeled on Biggles stories as a boy and having it published. On the other hand the man who always excelled as a student has landed himself in many sticky situations as a politician.
Tharoor has the sort of career trajectory which for a man of his generation usually leads away from India. Excellent student. Debate champion. Quiz club founder. Ph. D at 22. Singing the song Lily the Pink on car rides.
In an interview Tharoor readily admitted "I was one of these kids that I am sure other kids had every reason to resent. I was just very good at taking exams."
He was such a good student that St. Stephen's waived their entrance examination for him. He set himself a goal once of reading 365 books in one year and made his target before Christmas.
His parents, like good Indian parents, fantasized about Shashi the doctor or Shashi the engineer. But he told them he hated science. He even took his IIM examinations to assuage his parents, got in, and then chucked it up to go to the Fletcher School of Law and Diplomacy in the US.
Like many Indians who go to America, he too thought he would live there a few years, get his higher education degree and come back. Perhaps take the Indian Foreign Service examination. His grandfather had a dream that he would be the collector of his district. Like many Indians who go to America, it didn't quite work out that way. A few years stretched to many but unlike many Indians living abroad -- many of whom are doctors and engineers -- he came back.
Sure, if he had won the post of UN Secretary General the story would have ended differently. But it's actually remarkable that at a time when NRIs come back and fret and fume about heat, dust and pollution, Tharoor got into the most heated, grimy and polluted sphere of them all – retail politics. A politician who read books, wrote books and made no bones about his erudition is an odd bird in Indian politics where Macaulayputra is a four letter word.
Much like Narendra Modi, Tharoor just can not tone his personality down. But he's also savvy enough to not wear his narcissism on his sleeve, or rather in pin stripes all over his suit. But there is little, in fact, that can shut Shashi Tharoor up or down.
Updated Date: Jul 13, 2015 19:32 PM