Okay, so Priyanka Gandhi can't pay a high rent, but what about Robert Vadra?
Priyanka got the bungalow with a moral high that she didn't ask for it but it was the super elite security agency SPG, which made this requirement for her.
Thanks to a RTI filed by Dev Ashish Bhattacharya, we have come to know that it was "beyond" Priyanka Gandhi Vadra's "capacity" to pay a minimal rent of Rs 53,421 for a sprawling 2,765 square meter colonial bungalow in the prized Lutyens' Delhi. A generous Atal Bihari Vajapee government took her plea on face value and drastically slashed an already subsidised "rent" by a whopping 82 percent.
But since the rental amount was to be paid by Priyanka Gandhi, daughter of Rajiv and Sonia Gandhi, granddaughter of Indira Gandhi, great granddaughter of Jawaharlal Nehru, howsoever low it was to be, it needed trappings of a VVIP, even if it was to come by neurological sequence of it. The rent figure decided for the house allotted to her, a type VI 35 Lodhi Estate, was Rs 8,888. No one knows what exactly led the then government to arrive at that figure.
Priyanka got the bungalow with a moral high that she didn't ask for it but it was the super elite security agency SPG, which made this requirement for her, something which left her with no option but as a conscientious citizen she had to abide by that; and second, as a private citizen she was paying a rent to the government.
A lead member of Congress' first family couldn't be a free loader. After all, the Nehu-Gandhi family which ruled India for 60 years can't take wrong moral positions. Years later in 2014, Priyanka was to take similar moralist position when the Narendra Modi government had proposed review of a special non-frisking status given to her husband Robert Vadra at all domestic airports. The format of her contention almost remained the same as in case of house rental.
Since the Vajpayee government, considered to be an adversary to Congress and Nehru-Gandhi dynasty, believed in every words that she said without any counter it was "beyond her capacity to pay the high amount", there is no reason for the ordinary Indians to disbelieve her either, that her financial means were very limited and couldn't have paid the amount she was initially asked to pay.
But then there is a problem. Her stated inability to pay a small rent for a huge bungalow in heart of the national Capital, adjacent to scenic Lodhi garden, however, has a contradiction. It comes from none other than her husband Robert Vadra, a natural fellow occupant of the same bungalow.
A day before Priyanka's self proclaimed poor financial condition was revealed by an RTI, Robert Vadra gave a longish interview to news agency ANI at the elite Delhi Golf Club saying: "I have enough, I have always had enough. My father gave me enough. I have been educated enough to sustain in all types of situations." He had also said, "I didn't need my wife Priyanka to enhance my life."
Again there is no reason to disbelieve what Vadra said only two days ago, either. He was always affluent and remains to be so. He never had a financial resource crunch. In Indian traditions, wife and husband's income, as also the assets are taken for consideration jointly. All persons who aspire to become an MLA or an MP and every officer in the Union and in the state government have to file an affidavit stating their income and asset, as well as of their wives.
True that Priyanka has no known source of income, at least publicly but the world now knows, by Robert's own claims and otherwise that he is really very affluent and all his business ventures are real money spinners. Could Robert have helped in paying the "high amount" as rent? Well, that's a question only someone in the Congress' first family could answer.
Take a look at what Priyanka actually had to say to the government in 2002. A report in Times of India said, "She informed the government that she had been 'occupying the bungalow on the request of the SPG and that a large part of the bungalow was occupied by SPG itself' and not by her family. She said she was staying in a general pool house not out of choice or voluntarily but because of security considerations."
Priyanka's lead was followed by three others, former Punjab DGP KPS Gill, All India Anti-Terrorist Front chief MS Bitta and Punjab Kesari editor Ashwani Kumar, who too were provided accommodation by the government on security grounds. And the good luck smiled on them too, heir rent was also slashed drastically.
It would be interesting to see what Priyanka had to say in May 2015 when there was lot of talk about security frisking exemption given to Robert Vadra at various Indian airports and the Narendra Modi government had proposed its review. She wrote to then Special Protection Group chief, Durga Prasad (not to the home minister, not to civil aviation minister, the heads of two ministries concerned), saying, "I would like to bring to your notice that his (Vadra) inclusion on that list came about at the instance of your predecessors in the SPG/Delhi Police and not upon any request by either of us who were informed after the fact. It was done ostensibly to facilitate the coordination of the two separate security agencies at the airport when we travelled together….Ever since then, it has been a source of constant embarrassment for my husband, who has asked me on numerous occasions to have it removed…..Since the government is now reportedly considering the removal of his name, I would like to inform you that I do not feel it will be correct for my children and me to avail of the facility of exemption of these checks while entering or exiting the airport when we are all travelling together."
Priyanka's moralist positioning had its impact on the Modi government. Priyanka, the children and Vadra continue to enjoy same privileges as before, with a difference that Robert Vardra name has been removed and a new category added, 'spouse of SPG protectees'.
The Himachal Pradesh government led by her party had been kind to her and gave her permission to buy huge chuck of agricultural land in close vicinity of President's summer retreat and Oberoi Group's luxury spa Wildflower Hall. Her bungalow there has been built, demolished and rebuilt to come up to her taste and standards.
Priyanka can consider an easy option to avoid controversy that keeps on recurring regarding the official Lutyens' Delhi bungalow. She should join politics, be an MP or whatever other positions she may want to take and happily live in a huge bungalow without any eyebrows raised. The vast mass of Congressmen and women have for long been bending over their keens to request her to take up leadership mantle. The choice of course is hers.
Politics
Rahul Gandhi could benefit from a change in his thinking by focusing on facts and he only needs to remember that his terminator in Amethi happens to be a woman
World
Sources said the Taliban have no option but to wait till an inclusive government is formed though it seems unlikely in the near future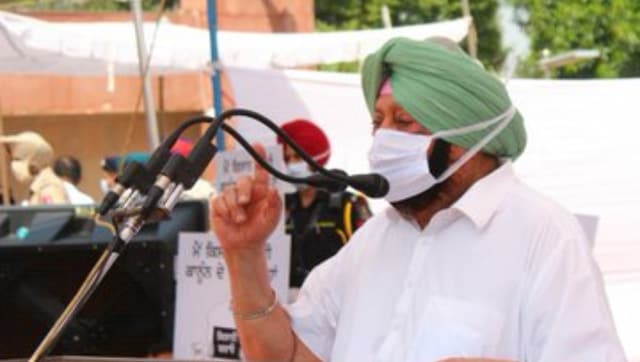 India
The party also refused to comment on whether Singh would leave the party after his "unceremonious" exit as the chief minister of Punjab, and said "if someone wants to leave, we have no comment to offer".