Filming Shazia Ilmi: New documentary shows why AAP's ideal of swaraj is a creaking bridge
In the film, ironically, Ilmi's own volunteers accuse her of flouting of the swaraj principle, when she decided to replace two poll managers.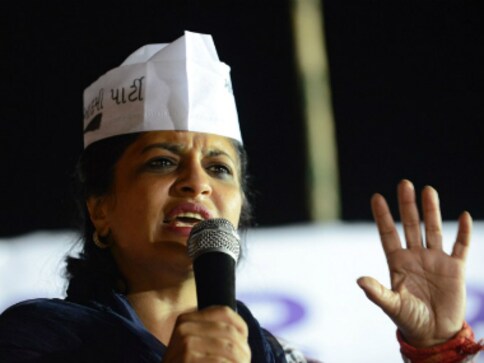 It is Admiral (retd) MM Chopra who makes the stunningly prescient observation in An Ordinary Election, a documentary the Germany-based Lalit Vachani has made on the 2013 election campaign of Shazia Ilmi in the RK Puram Assembly constituency of Delhi.
Chopra is among the group of elders in the park of Vasant Vihar, an upscale locality of Delhi, where Ilmi is shown talking about AAP's agenda. The camera zooms in on the retired naval officer, who, in the hectoring manner typical of men in uniform, says, "Shazia Ilmi, you have done more service to this country as a journalist than you can ever
think of doing as an MLA. Remain a journalist."
Chopra continues, "As journalists you all have spread awareness… Let me tell you, I have seen this country from inside out… You will be as much a prisoner of the system (as anybody) once you become an MLA."
Over Chopra's life looms the shadow of a tragedy – he's the father of Geeta and Sanjay Chopra, the two schoolchildren who were abducted and murdered in 1978, the girl raped before she was killed. One may have dismissed his words as a man embittered by life and the system in 2013, but his words now ring as eerily prescient.
Chopra – who goes on to say that he will, despite his reservations, vote for Ilmi -- articulates the tension inherent to the process through which a movement transits into a political formation, forever running the risk of its ideals being mangled before these can even be translated into reality.
Back in 2013, Ilmi had indeed embodied an AAP ideal – that of shunning the politics of identity, tellingly symbolised by her party's decision to field
her from a constituency where Muslims comprise just 4.5 percent of the electorate. Seldom have political parties nominated Muslim candidates from constituencies where their community constitutes less than 10 percent of voters.
Yet the very participation of political parties in electoral politics dims ideals.
In one remarkable scene from An Ordinary Election, Ilmi has us cheering as she rings the bell of a temple in the RK Puram constituency and pays obeisance to the deity, a gesture conservative Muslims would perceive as heretical.
The next frame has her stepping out of the sanctum sanctorum, the camera trailing her. A person who is ostensibly the temple priest says, "God is pleased with those who seek the blessings from Brahmins." It is a remark Ilmi could have challenged, but she doesn't – you do understand that electoral politics demands tactful silence.
But what you are decidedly appalled by, is what follows next - she walks to the priest and whispers, "My mother-in-law is a Brahmin." The priest coos in delight, "You have joined our tradition."
Considering the film shows her debunking the tendency of even intellectuals to perceive her as Muslim, and pleading she be treated as a citizen averse to seeking special privileges on account of her religious identity, it is undeniably cynical of her to flaunt the badge of Brahmin acquired through marriage.
Ilmi lost the election by a narrow margin of 300 plus votes; she never entered the system and did not experience the inexorable pressure it exerts on a political ingénue wishing to uphold her ideals. However, this pressure was already present during her campaign, as that little incident at the temple reveals.
We all know, as the film too shows at the end, Ilmi left AAP in the summer of 2014, claiming she could not remain in the party which preaches swaraj, or self-rule, to people, but failed to introduce that concept in the party. She also accused the party of being run by a coterie around its leader, Arvind Kejriwal.
In the film, ironically, Ilmi's own volunteers accuse her of flouting of the swaraj principle, when she decided to replace two poll managers. In the beginning of An Ordinary Election, it is Omendra Bharat who's shown overseeing her campaign.
An IIT Kanpur alumnus who had worked with the Tata Consultancy Service, Bharat cites his two-year-old daughter as one of the reasons he joined AAP.
"She is two-year-old and India is called a developing country. When she is 35 years old, I want India to be called a developed country," Bharat says, conveying to his audience that he believes AAP can achieve the dream he nurtures. He displays admirable skills at public speaking, connects with both the middle class and the poor, and seems to enjoy the confidence of Ilmi's team.
One fine day, however, Bharat is removed as campaign manager. There are voices which suggest it was at Ilmi's behest. The invisible wall of class seems to divide AAP's RK Puram team of volunteers. The suave, English-speaking Anjana Mehta feels Bharat possessed no virtue other public speaking, added no new volunteers to the campaign, and the guest house where campaigners from outside the city resided was uninhabitable. Even a dog would find it hard to live there, she says.
The other volunteers, Hindi-speaking and from a background seemingly less privileged than Anjana's, are visibly upset at the removal of Bharat.
Why were they not consulted? they ask, referring to the party's professed claims that it would consult volunteers before taking any decision. But their consent, one of them points out, was taken neither in his appointment nor in his removal as campaign manager.
Bharat is replaced by Siddharth Bhatia, whose social background is similar to Ilmi's and Anjana's. But even he gets the axe, caught making remarks in a sting operation against a clutch of AAP candidates, each of whom shown as being amenable to taking donations in cash without issuing receipts. (The sting was subsequently deemed to have been
doctored.) Some volunteers, however, believe Siddharth should have been defended, and feel that he was made the fall guy.
The RK Puram team now gets its third campaign manager – Anjana Mehta, who seems in control of the situation. But suspicion is rife: she dismisses unhappy volunteers as those who have done nothing, making innuendoes that they perhaps have been paid by other parties to play spoil sport. The atmosphere is riven with tension. A hierarchy of power emerges in sharp contrast to the party's ideals of all volunteers being equal. Every decision is looked at askance.
Following Ilmi's defeat, a third purge takes place. Some volunteers are declared dissidents and expelled from the party. Six months later, she herself walks out of the party, accusing its leaders of the same charges that volunteers in RK Puram had levelled against her – that talk of swaraj is a deception and power remains concentrated in a few hands.
This remains the defining theme of the crisis plaguing AAP even now as the bitter factional fight brews in the party.
An Ordinary Election is a tribute to the energy of AAP volunteers, their aspirations and dreams, and how they fought an election on a relatively meagre budget. Yet it tellingly underscores the gap between those who hold the reins of power, whether in a party or even a constituency, and others.
The ideal of swaraj is a creaking bridge which too often collapses under the weight of political reality, demanding urgent repairs. Without the bridge of idealism the gap between those who wield power and the ordinary followers might seem even grimmer and frightening.
(Ajaz Ashraf is a journalist from Delhi. His novel, The Hour Before Dawn, published by HarperCollins, is available in bookstores.)
India
Yashoda Hospitals Group has acquired space on Decentraland — a metaverse platform where users can buy and sell property and engage in other life-like activities — to set up a virtual clinic it hopes will be operational for patients by next year
World
Lithuania is a member of NATO and is thus subject to its protections under Article 5 which states that an attack on one member is an attack on all members
Politics
The Delhi Assembly passed five bills increasing the salary and allowances of the legislators from Rs 54,000 to Rs 90,000 per month. MLAs in Telangana and Maharashtra receive much more — Rs 2.5 lakh and Rs 2.3 lakh respectively