'Fax pas' in Jammu and Kashmir: As parties form govt on Twitter, WhatsApp, Satya Pal Malik's 'faulty fax machine' defence is frail
In a strange turn of events amid the political turmoil in Jammu and Kashmir, both PDP chief Mehbooba Mufti and JKPC's Sajjad Gani Lone had to send the letters — staking claim to form the government in the state — through email and WhatsApp respectively as the fax machine at the Raj Bhavan in Jammu 'didn't receive' them.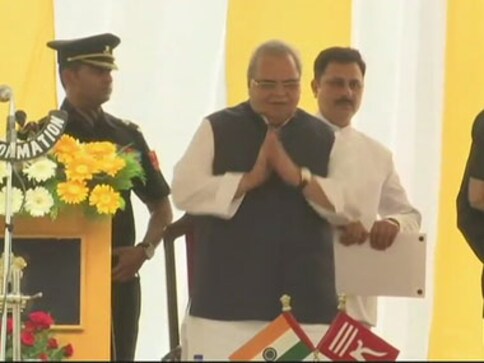 What came as a bizarre political development in Jammu and Kashmir, when official communique were sent and shared over social media — Twitter and WhatsApp to be specific — turned even more outlandish when Governor Satya Pal Malik said that since there was "absence of staff" due to Eid holidays, he missed Mehbooba Mufti's letter staking claim to form the government.
Malik said that he would not allow a government to be formed on defections. The governor also said that he dissolved the Assembly for the interest of the state and it was in keeping with the Constitution of Jammu and Kashmir.
Let's do a quick recap of how things unfolded since Wednesday evening:
PDP chief and former chief minister Mehbooba Mufti send official communique to the Raj Bhawan (via fax) staking claim to form the government in Jammu and Kashmir
A little later (time unknown), Mehbooba tweeted the letter and said:
Mehbooba also claimed that she had sent the letter by email too:
Soon after, Jammu and Kashmir People's Conference leader Sajjad Gani Lone also tried sending his letter staking claim to form the government (via fax) but after receiving no response, sent a copy of the letter to the personal assistant of Malik on WhatsApp.
In a few minutes after the two letters were made public, Malik dissolved the Jammu and Kashmir Assembly.
The dramatic situation of an out-of-order fax machine at the Governor's office and governments being formed on social media, sent Twitterati into a tizzy. What was curious was Malik's instant order dissolving the state Assembly soon after complaints of a faulty fax machine went viral. Even Mehbooba in her tweets noted that even though the fax machine was out of order, it did not take too long for the Governor to send an order on dissolving the state Assembly.
PS - In todays age of technology, it is very strange that the fax machine at HE Governor's residence didn't receive our fax but swiftly issued one regarding the assembly dissolution. 4/4 — Mehbooba Mufti (@MehboobaMufti) November 21, 2018
In his defence, Malik said that his office was shut because of Eid so he got "no communication from Mehbooba". "She could have approached me any other day...On a holiday no one was sitting next to fax machine," he said. He further added that there was no one even to "give me food". We think that's when everyone was ready to call the Governor's bluff.
Former chief minister of Jammu and Kashmir and National Conference chief Omar Abdullah, while taking a jibe at Malik's claim that he missed Mehbooba's correspondence because his fax machine was not working, said that many things had killed democracy in Jammu and Kashmir, but this was a first when a fax machine did the job. He said that Malik apparently had a one-way fax machine which could send the governor's recommendation to Delhi, but failed to receive Mehbooba's letter. He, however, added that now NC does not even have any option but to look for light humour in the situation. "But this is in no way a matter that can be laughed off," he said on Thursday.
Click here to follow LIVE updates on Jammu and Kashmir politics
Omar also expressed surprise over the governor's decision to dissolve the Assembly minutes after the letters were sent to him. "(JK)NC has been pressing for assembly dissolution for months now. It can't be a coincidence that within minutes of Mehbooba Mufti sahiba letter staking claim the order to dissolve the assembly suddenly appears," Abdullah tweeted on Wednesday. Further, reacting sarcastically to the situation, Abdullah share a GIF on Twitter of a fax machine receiving a document and subsequently throwing it into a shredder.
He then shared a meme to mock the Governor's silence on the political developments, until he finally decided to dissolve the Assembly.
Reporters from Jammu and Kashmir, who are familiar with the functioning of the Raj Bhawan, said that the staff are predominantly Hindu and don't usually take holidays on Eid. Even if that wasn't the case, it is a difficult to believe that the first citizen of the state was left without any staff and was forced to feed himself and run basic errands such as collecting a fax from his office.
But Malik mentioned that even if he had got the fax, his "decision would have been the same" since "he had decided not to allow any government on the basis of "defections or loose arrangements".
India
As per sources, the terrorist belonged to Lashkar-e-Taiba (LeT) and was planning to carry out attacks on security forces in the coming days. His aim was to cause major disruption during Amarnath Yatra
India
This year, the tourism sector in Jammu and Kashmir also got a major boost as the government made a record budgetary allocation of Rs 786 crore, an increase of 184 per cent over the allocation for the previous year
Politics
In a Facebook post written in Malayalam, the Kerala MLA said "the part of Kashmir annexed to Pakistan was known as 'Azad Kashmir' and it was an area where the Pakistan government does not have direct control"