Fantasies of Jashodaben: Leave Narendra Modi's wife alone
What is most striking about the coverage of Narendra Modi's marriage are the strikingly different Jashodabens that emerge in each iteration.
"Jashoda would read and watch every bit of news about Narenbhai. Despite being abandoned, Jashoda never spoke ill of him. That is a true Indian woman for you," Vasanti, sister of Narendra Modi, tells Times of India.
Cue the violins. Or rather the soundtrack of a 1950s Hindi movie. Maybe Bandini, that Bimal Roy weeper where Nutan played the simple village woman who remains devoted to Ashok Kumar the high-minded freedom fighter who abandons her.
What is most striking about the coverage of Narendra Modi's marriage are the different Jashodabens that emerge in each iteration.
TOI's version, for example, plays out like a boiler plate retro Bollywood plot: chaste but simple heroine spends lifetime yearning for her well-meaning but indifferent man.
"Her prayers have been answered as Narendrabhai has publicly accepted her as his wife. We are very happy. We all pray for him to become PM," said Kamlesh Modi, Jashoda's elder brother who runs a grocery shop in Unjha. Kamlesh said that Jashoda never considered re-marrying after Modi left her 45 years back to become an RSS pracharak. She gave up wearing footwear for four months seeking PM candidature for her husband and now is on a once-a-day diet to see her wish fulfilled.
All that's missing is Jashodaben breaking into "O jaanewale ho sake to laut ke aana." No judgement on Modi though because, well, men are like that only. Running off to find God or save the country, leaving their poor pining women behind.
This sainted version of a long-suffering Jashodaben is not new. An older Open magazine profile painted a similar picture but with a darker subtext. Here Modi is less Ashok Kumar, more Rishi Kapoor a la Naseeb Apna Apna, the cad who casts off the village wife who doesn't quite match up.
At the time of her mar­riage, she had studied only up to Class VII. That is believed to have put a strain on their marriage. (Also, according to a villager, Jashodaben does not like to be photographed as she believes she is not good looking.) A few days after the mar­riage, Jashodaben was sent back to her father Chimanlal's house to complete her education. As those who know her say, in a bid to please her husband and measure up to his exacting stand­ards, she started studying in Dholaka and com­pleted her SSC (old pattern) in 1972.
While Jashodaben doesn't quite end up becoming a housemaid, Open comes as close as possible to painting her as one: "But for all practical purposes, that means lit­tle. Jashodaben does not enjoy any privileges. She has to sweep and clean her house, fill water, use a public toilet, cook her meals and wash her own clothes. She does not have any domestic help."
Not only is Modi heartless -- "Villagers say that though she has been to Ahmedabad occasionally, she was never asked to stay on by her husband" -- he is also (this is about Modi, after all) downright menacing. "I will not say anything against my husband. He is very powerful. This job is all I have to survive. I am afraid of the consequences," a seemingly agitated Jashodaben tells the Open reporter, and as if on cue, strange men and vehicles park themselves outside her school. And since this is the only quote from the woman in the entire profile, Modi emerges as a full-blown villain, intimidating the 'meek' mousy wife who dares to speak of her relationship to him. (That she teaches Muslim children is a happy plus)
All this would be very comforting except it is a very different Jashodaben who emerges in Indian Express' interview with her. Perhaps it's the fact that unlike TOI or Open, the newspaper actually spoke to the woman, as opposed to just caricaturing her. Here then is what she has to say about her brief marriage.
We married when I was 17… I had quit studies once I went to his place and remember him saying he wanted me to pursue my education. He would mostly talk to me about completing my education…
He told me once that "I will be travelling across the country and will go as and where I please; what will you do following me?" When I came to Vadnagar to live with his family, he told me "why did you come to your in-laws' house when you are still so young, you must instead focus on pursuing your studies". The decision to leave was my own and there was never any conflict between us.
So Modi encouraged his wife to get an education -- perhaps as a way of fobbing off his marital commitments. But surely it mitigates his abandonment of his marriage. More so, since it appears to have helped Jashodaben build a life for herself -- one that she seems to genuinely appreciate.
However, once I started my studies, I started to enjoy learning and did my SSC in 1974, and went on to complete my teachers training in 1976 and became a teacher in 1978…
I enjoyed teaching and taught classes from the first to fifth grade and taught all subjects. Nowadays, I mostly start my day by 4 am and begin with prayers to Ambe Ma (Goddess Durga). I spend all my time in Bhakti (prayer). I mostly live with my elder brother Ashok Modi who lives in Unjha but I keep visiting the home of my other brother who lives in Brahman Vada near Unjha whenever I feel like. I feel I have got good brothers who have supported me.
Yes, whether he remained with Jashoda or not, Modi ought to have supported his wife, and so should have his family. They should have financed her education, provided support, and not left it to her family to bear the burden. He certainly should have owned his marital status much earlier, as opposed to lying by omission -- which surely disrespects the woman known in her village as "Narendra Modi's wife".
We will all judge him, one way or another. However, let's also be clear that -- despite the best efforts of Congress and Rahul -- it is unlikely to move the needle in either direction. His most loyal supporters, much like his elder brother, will see it as youthful folly, a bad decision made in an entirely different era. His detractors will view it as yet more confirmation of their worst suspicions about Modi's character, or lack thereof.
But why don't we leave his wife out of it. Whether Modi is a bad person or not, both sides ought to agree that Jashodaben is doing best where she is. Modi fans surely don't want to believe that she is still waiting for a husband who has no place for her in his life -- since it would make him look worse than ever. And Modi haters ought to agree that she has been spared a lifetime with someone they consider a very bad man.
Irrespective of how we feel, let's stop projecting our ideological fantasies on to the poor woman. She is neither victim nor saint, but a woman who seems to have made the best of the cards life has dealt her. And that's more than many of us can say for ourselves.
India
Meanwhile, a slew of BJP leaders including JP Nadda, Rajnath Singh and Smriti Irani praised the prime minister's announcements and said the decisions showed the government's committment to the public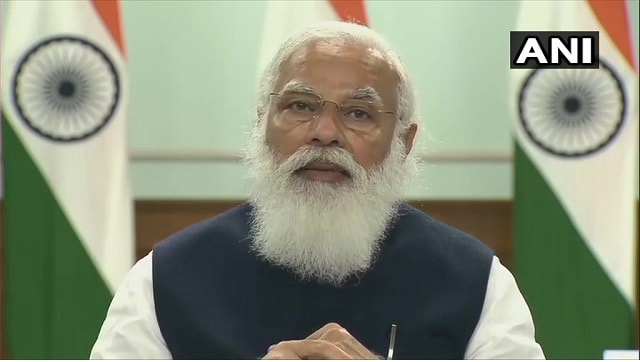 Sports
PM Modi was briefed that a total of 100 athletes have qualified for Tokyo Olympics across 11 sports disciplines and about 25 more athletes are likely to qualify, the PMO statement said.
India
The resounding success of the Aspirational Districts Programme is a testament to the efforts of the national, state and district level administrations