'False' educational qualification: Delhi court order on Smriti Irani likely on 24 June
A Delhi court is likely to pronounce its order on Tuesday on a complaint against Union HRD Minister Smriti Irani for allegedly giving 'false' information
New Delhi: A Delhi court is likely to pronounce its order on Tuesday on a complaint against Union HRD Minister Smriti Irani for allegedly giving "false" information about her educational qualification in affidavits filed with the Election Commission.
Metropolitan Magistrate Akash Jain had on 1 June reserved the order on the plea after hearing arguments on the aspect of limitation and whether cognisance can be taken or not.
The complaint was filed by freelance writer Ahmer Khan, who alleged that Irani in her three affidavits before the EC while filing nominations for her candidature for Lok Sabha as well as Rajya Sabha polls had purportedly given different details about her educational qualification.
Senior advocate K K Manan, appearing for Khan, had told the court that in her affidavit for April 2004 Lok Sabha polls Irani had said that she completed her BA in 1996 from Delhi University (school of correspondence) whereas in another affidavit of 11 July, 2011 for contesting Rajya Sabha election from Gujarat she said her highest educational qualification was B.Com part I from the School of Correspondence, DU.
The complaint alleged that in the affidavit filed for nomination of 16 April, 2014 Lok Sabha elections from Amethi constituency in Uttar Pradesh, Irani said she had completed Bachelor of Commerce Part-I from School of Open Learning, DU.
"It is evident from the contents of the affidavits filed by Smriti Z Irani that at best only one of the depositions by her on oath in respect of her educational qualifications is correct," the complaint alleged.
"The aforesaid affidavits of Smriti Irani, apart from the ostensibly false and discrepant statements in respect of her educational qualifications, also appear to contain false/discrepant statements in respect of immovable properties owned by her and other details set out by her," it claimed.
"The aforesaid facts and circumstances reveal commission of offences by accused under section 125A of Representation of People Act, 1951, besides any other offences that may attract other penal provisions as an outcome of an additional investigation," the plea alleged.
PTI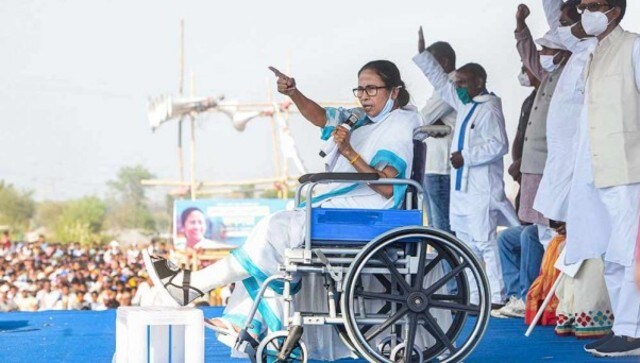 Politics
The EC said it found her speech, during a campaign in Hooghly, in violation of the provisions of the Representation of the People Act and the model code
Politics
The Congress also accused the Election Commission of acting "as per instructions of the BJP", adding that there are reports of people detecting EVMs being transported in private vehicles
Politics
CPM has fielded KN Balagopal in place of Potty this time in accordance with its three-term policy. The Congress meanwhile has fielded Resmi R. The Bharatiya Janata Party (BJP) has fielded Vayakkal Soman from the seat