Facing 'threat of transfer', J&K governor Satya Pal Malik takes his case to public, banks on Jat roots to keep BJP onside
Since last Wednesday evening, Satya Pal Malik has been all over the media: print, TV and digital, speaking at length to try to justify why he dissolved the Assembly.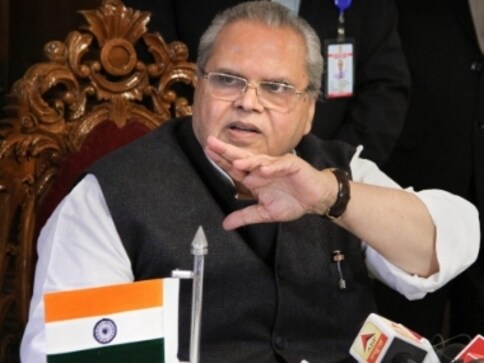 It was only three months ago, on 21 August to be precise, that the government of Prime Minister Narendra Modi surprised the nation by appointing Satya Pal Malik as governor of Jammu and Kashmir. Privately, many in the ruling BJP asked one question: "Why him?" But then all such discussions ended with the belief — and hope — that it must have been decided after due deliberations at the highest level for the greater good.
Three months later, Governor Malik has been pulling off one surprise after another. He has been talking non-stop. All he needs is an audience: either directly, on the phone or the mike of a TV channel. His latest outburst is the most interesting: claiming he is now faced with the "threat of transfer" by the ruling dispensation, which over 90 days ago, thought it prudent to give him command of this critical state. However, Malik still thinks that he wouldn't or couldn't be removed, that he will continue to enjoy position and perks of a being governor at a different Raj Bhawan, perhaps at a less scenic and less important state.
Speaking at an event in Jammu Tuesday, Malik said: "As long as I'm here — it's not in my hands — I don't know when I will be transferred. I will not lose my job, but the threat of transfer is there. As long as I'm here, I assure you people that whenever you call me, I will come here to pay tribute."
Malik is in the eye of a political storm, not because he dissolved the Jammu and Kashmir Vidhan Sabha at 9 pm on 21 November, a holiday on account of Eid Milad ul-Nabi, the birthday of Prophet Muhammad, but because what he said in an interaction in Gwalior, Madhya Pradesh while giving a rationale for his controversial decision. "Had I looked towards Delhi (the Centre), I would have been compelled to invite Sajad Lone to form the government," Malik said. "Then I would have gone down in history as unscrupulous. But I ended the whole thing. Those who want to abuse me can do so, but I am convinced I did the right thing."
The facts of the case remain unknown. Who spoke to whom, who said what and what he wanted to say. But surely governance and decision-making on subjects as sensitive and critical as formation of an alternative government in a House under suspended animation or its dissolution is complicated and confidential to the core among participants, also filtered at various levels.
Malik is wittingly or unwittingly letting out things that are making the situation extremely difficult for the BJP, the Modi government and Lone. Malik's statement embarrassed the government. Malik, 72, has been in political life long enough to understand the implications of the statements he's made these past few days.
Since last Wednesday evening, Malik has been all over the media: print, TV and digital. He has been speaking at length to try to justify why he dissolved the Assembly. And while Malik was hogging the headlines, there was concern in New Delhi's corridors of power that Malik was talking too much and to too many people. Malik has now proved those concerns were not without merit. Malik, a late entrant to the BJP, is not used to the ruling party's "discipline". Apparently, the socialist in him is still alive: speak first and think about the consequences later.
The turn of events suggest that Malik was trying to keep around him a halo, portraying himself as a righteous man defying his political bosses and employer to protect the dignity of his post. Malik may not have had any staff at Raj Bhawan to serve him food or to attend the fax machine when most urgent and important letters were sent by a former Jammu and Kashmir chief minister because it was a holiday. But a social media alert made him work overtime — in the loneliness and solitude of his majestic residence — and inspired him to work in the best interests of the state and the nation and abruptly dissolve the Assembly over two years ahead of schedule.
Malik was attempting to let the public know that he didn't care whether he had any staff to assist in this most defining task of his governorship. He also didn't care whether he landed from Delhi only hours ago, was tired and it was time for him to relax, but the call of duty told him that he must act and act fast, sign the Assembly dissolution order and have it released to the world.
If Malik is removed or transferred now, as he fears, fingers would be pointed at the Centre. Malik has played his card. It's now Centre's turn. Malik knows a governor's term is five years, but as per provisions of the Constitution, he holds his office "at the pleasure of the president". Malik's continued tenure may no longer please President Ram Nath Kovind.
What perhaps gives Malik confidence of holding his seat is his social roots. Malik is a Jat from Uttar Pradesh's Baghpat. Ahead of the 2019 Lok Sabha polls, the BJP would not like to get on the bad side of the Jat community, given its penchant for reacting emotionally.
Subscribe to Moneycontrol Pro at ₹499 for the first year. Use code PRO499. Limited period offer. *T&C apply
Lifestyle
Through this fortnightly column, Tales From TJ Road, Bachi Karkaria tells the story of Mumbai's metromorphosis
Entertainment
Netflix documentary Biggie: I Got a Story to Tell "unclenches your chest" when it decodes the human behind B.I.G., always "enshrined as a legend, a deity for so long."
Lifestyle
These attitudes have the support of not only society and families, but also the courts themselves.