Explained: The Guru Granth Sahib serial desecrations that have sparked protests across Punjab
The arrest of Rupinder Singh and Jaswinder Singh, of Faridkot's Panjgrain village on Tuesday, is the latest chapter in a series of holy book-desecrations that has plunged the Punjab into chaos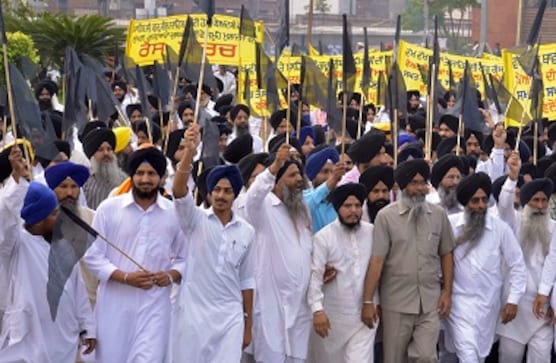 The desecrations and the protests
Seven incidents involving the sacrilege of various scriptures of the Guru Granth Sahib have occurred across the state since the first one on 12 October in Bargari, Faridkot, where 112 pages of the text were found by locals in a damaged state.
After the incident in Bargari, The Tribune reported that the incident had been in the making since June this year when a 'bir' or scripture of the Guru Granth Sahib was stolen from a gurudwara in Burj Jawahar Singh Wala village, Faridkot.
A few days later, reports emerged of a fresh incident of desecration was reported, this time from Bath village in Tarn Taran, which sparked an agitation. Over the next few days, incidents of sacrilege occurred in Kohrian village (Faridkot), Mishriwala village (Ferozepur), Ludhiana, Gurusar Mehraj village (Bathinda) and Sarai Naga village (Muktsar). A total of six persons linked to five of the seven incidents are now in police custody.
The arrests and 'the foreign hand' involved
The arrest of Rupinder Singh and Jaswinder Singh, of Faridkot's Panjgrain village on Tuesday, is the latest chapter in a series of holy book-desecration incidents that has sparked protests across Punjab.
The brothers — accused of being involved in the desecration in Bargari, which led to violent clashes between police and protesters — were taken into custody after their telephone calls were intercepted.
The Times of India quotes Additional Director-General of Police (crime and security) Iqbal Preet Sahota as saying that "the two brothers have been talking to their masters abroad, including Dubai and Australia, and discussed about delivery of cash to them in lieu of their acts of sacrilege".
The Tribune published a transcript of two conversations, recorded last Thursday and Friday, between Rupinder and Jaswinder, and their Australian contact, in which the brothers are discussing what seems like the modus operandi for some sort of meeting. Jaswinder is quoted warning his brother that a meeting with an unnamed person, could expose 'the matter'.
Rupinder: The task is important. He has some stuff of Maharaj… pages
Jaswinder: The torn ones or the other…..?
Rupinder: Enough. Don't talk further
In another conversation Rupinder is quoted discussing payment (it is not clear what for) with a caller from Australia.
The political fallout
Aside from violent clashes between protestors and police that claimed two lives, the spree of desecrations across Punjab has seen also seen political casualties in the form of numerous resignations.
Congress MLA Ramanjit Singh Sikki and Shiromani Akali Dal leaders Sukhdev Singh Bhoura, Rajinder Singh Sidhu, and Jaspreet Singh were among those to tender their resignations. The SAD leaders left the party in protest.
Furthermore, the sixth World Kabaddi Cup, originally scheduled from 14 to 28 November, was cancelled by Punjab Deputy Chief Minister Sukhbir Singh Badal, after teams from Canada, the UK and US pulled out of the event.
"At a time when the entire Sikh community is shell shocked with grief at the ghastly manner in which Sri Guru Granth Sahib ji has been desecrated, holding such a tournament is not appropriate," he was quoted on Tuesday as having said.
President of the BJP in Punjab Kamal Sharma was quoted by PTI saying that the perpetrators deserved 'exemplary sentences' so that the 'hard-earned peace of Punjab' would never again be in peril.
As tensions flared on Friday, Chief Minister Parkash Singh Badal made a statement in which he called on the people of Punjab to be vigilant, and wary of the 'nefarious designs of fissiparous forces to disrupt the peace and communal harmony in the state'.
Politics
The announcement was made in Delhi during a press conference by the BJP, which had won 303 of the 403 assembly seats in the last elections in 2017 in Uttar Pradesh
Politics
Rashmi Varma had made her debut in 2014 when she retained Narkatiaganj for the party in a by-election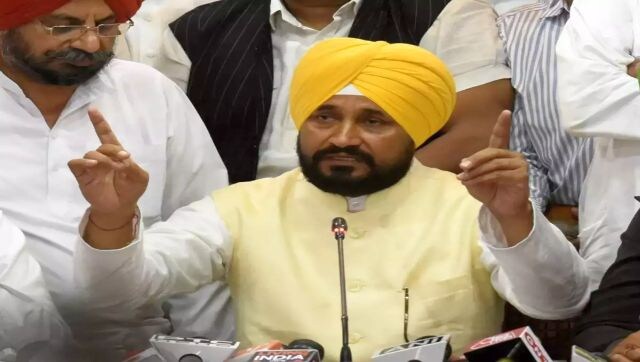 Politics
The Union home ministry has sought a report from the Punjab Government on the security breach during the Prime Minister's visit to Punjab on 5 January, 2022