Exclusive: Should have taken on Vadra earlier, says Arun Jaitley
Arun Jaitley gives Firstpost an inside view on what he thinks his party's prospects are in this election, and on Narendra Modi, Smriti Irani, Priyanka Gandhi, Robert Vadra and Rahul Gandhi.
For a man who is fighting his first real Lok Sabha election, Arun Jaitley, the BJP's leader of the opposition in the Rajya Sabha and the party's Amritsar candidate, seemed cool as the cucumber salad he was munching when Firstpost editors met him for an interview last Monday (5 May).
Whether his sangfroid was the result of knowing he will win in Amritsar, where Congress heavyweight Capt Amrinder Singh was believed to be giving him sleepless nights, or because his party appeared to be doing quite well so far in this multi-phase election, we don't know. But Jaitley appeared to be a man who had put his worries behind him when Firstpost Political Editor Sanjay Singh and Editor-in-Chief R Jagannathan met him to tap his political insights even as his party's prime ministerial candidate Narendra Modi was on a barn-storming trip to Amethi. The following are edited excerpts from a two-part interview, the first political, and the second economic. Read on.
Firstpost: How will your party fare in Amethi?
Arun Jaitley: Yesterday a news channel carried an opinion poll that (said) in the balance 33 seats in Uttar Pradesh, BJP is 40 percent and Congress is 4 percent. So any given seat for the Congress in this zone is a difficult seat. And if we have a formidable candidate like Smriti Irani, I don't think the Congress can afford to take us very lightly. And the last-minute push by Modi's rally, I think, will be a game-changer. There is strong anti-incumbency… Family ties (of the Gandhi family) are not enough. You need a little more than that to win a seat. This inherently makes Amethi vulnerable.
What made Modi do his last-minute Amethi push?
So far Rahul Gandhi has been getting a free run, a walk-over, in Amethi. And this year the fight can be made a little tighter. Coupled with the extensive campaigning done by Smriti Irani, the strong anti-incumbency against Congress and the Gandhis for the non-development of Amethi, and the desire to puncture the arrogance of those who feel they own Amethi, all these have a potential of making the Amethi challenge a stiff one (for Rahul Gandhi). Smriti is capable of sending Amethi into a tailwind.
Was this idea always there, about Modi going to Amethi?
It was always there, (just) formulated a little late.
It appears to have been an after-thought. Kumar Vishwas (of the Aam Aadmi Party) has been there for months… It seems like a last-day, last-show, last-push…
It may give us the last laugh…..(laughs) Modi, in any case, goes to a constituency only in the last three-four days (before polling).
Was the Priyanka factor also taken into account (while planning Modi's rally)?
I don't know what that factor is…where every sentence begins with 'my family, hamara parivar…'. I remember an anecdote…
What is that?
Priyanka Vadra's statement on Smriti Irani, denying her existence by asking a question "Smriti who?", displays arrogance at its worst. I recollect an incident narrated to me by George Fernandes (former NDA minister). In 1967, SK Patil was the strong man in Mumbai's politics. George Fernandes, then a young leader of the Mumbai Taxi Union, announced his candidature against Patil in the 1967 general elections. Fernandes had the challenging task of changing Mumbai's (then Bombay's) mindset.
His initial slogan was: "Patil can be defeated". This was written on the walls and stickers pasted outside each building apartment and jhoparpatti. When questioned about the prospect of his being defeated, Patil, with Mrs Vadra's style of smugness, announced: "Only God can defeat me". George Fernandes immediately retorted: "God does not vote, only you do. Only you can defeat Patil." When the result was eventually declared, Patil was defeated and George entered Parliament for the first time. Mrs Vadra's query on Smriti Irani reminds me of the Patil-George confrontation.
Coming to Robert Vadra, you personally had all the documents about his (controversial) land purchases), all the research work ready, when The Economic Times story on him came out. But the party did not take it up. AAP took it up and the issue exploded. Now it has become an election issue. Do you think, in retrospect, that it was a good move to hold it (the Vadra issue) for a later day or should it have been raised earlier?
I believe the Robert Vadra issue should have been taken up then. It's not a personal issue. It's an issue relating to probity. Issues relating to probity are not personal issues.
So it was a mistake on the party's part not to have taken up the issue then?
I won't say a mistake. There is always scope for two opinions and ultimately this is a probity issue. This view prevailed.
Have you, in this election, given up the old approach of political parties not putting up strong candidates against key rival leaders? Even SP and BSP have put up weak candidates against Rahul Gandhi…
There has been no such understanding (in the past). But SP and BSP are cooperating (this time with Congress). Normally, SP never used to put up a candidate against the Gandhis…But there was no consensus with us possible.
How do you assess the BJP's overall prospects?
Frankly, it's better than I had thought when we announced Narendra Modi as our prime ministerial candidate.
What did you think then?
Initially, when we announced Modi as PM candidate, we thought BJP will be 200 (ie, get 200 seats), Congress will be 100. Allies (would be) separate. Once we cross 200 we will get allies (was the assumption then). I think the current situation is far better than that (laughs).
Is it because of the Modi factor? Did he single-handedly turn the elections in BJP's favour?
Well, that's the single most important factor. Also BJP has had a very well-organised election (machinery) this time. Also, the rivals have not been able to put up a coherent fight. The Congress picks up any issue that appears likely to hit – so it was food bill, land bill, RTI; one day its Snoopgate, another day its secular-communal debate; one day its Amit Shah, another day it's something else.
How do you see your own prospects?
I am quite comfortable.
How do you read the AAP factor in Punjab? They are doing better than expected there.
You see AAP, after Delhi, was expected to do well in Haryana, but it declined. I see AAP getting a sizable vote in Punjab; it may pick up a stray seat also. And it is also getting some votes in Himachal. So Punjab, Haryana, Himachal and Chandigarh and Delhi.
Will AAP be a future threat to BJP?
If they do what they did in government….But wherever they become stronger, they are displacing the Congress.
You have gone to the Election Commission to file a complaint. You attacked the EC in your blog after it ordered an FIR against Modi. Then Modi made critical remarks on EC's failure to prevent booth capturing in UP, West Bengal and other states. What has suddenly changed? Is it turning into Modi versus EC?
You see media makes it sound like Modi versus EC. That's not correct. It's not EC versus Modi. It is (about) pressuring the EC to do its job. Let me put it this way. In India we have a good Election Commission. The EC has mastered the art of preventing booth capturing for the last 20-30 years. This time in parts of UP and Bengal, there are complaints of booth capturing. Therefore, we are telling the EC to please do your job. That's not attacking the EC.
Why do you think EC has failed this time in preventing booth capturing?
I think the (booth) capturers may have become cleverer than the EC. I have no reason to suggest that EC is doing it deliberately. Also, you see, the ruling (party in Bengal) manages to have the best collection of goons…
Is Bappi Lahiri winning in West Bengal?
The real one seems to be doing well… (the unstated reference to the 'unreal' Lahiri seems to be about Chandan Mitra, journalist and BJP candidate from Hooghly, who has a similar sense of dressing up like Bappi Lahiri).
(The economic part of the interview is being published separately)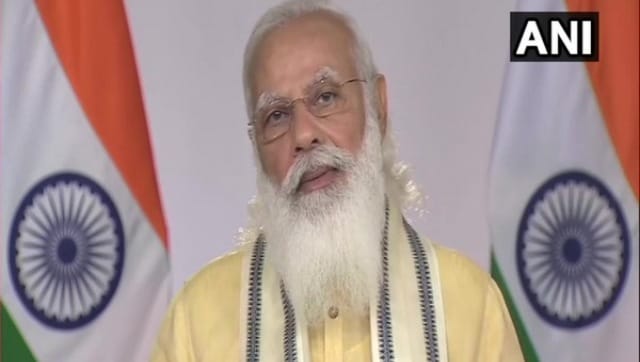 India
The survey, however, had a sample size of only 2,126 adults in India, a country of 1.3 billion people
Politics
Sharma's appointment to the post negates the chances of his induction in the UP cabinet because of the BJP's larger principle of one-man-one-post, a party leader said
India
Apart from Sibal, G-23 leaders Shashi Tharoor and M Veerappa Moily have also slammed Prasada for switching to the BJP