Exclusive: Mehbooba Mufti calls on Pakistan, militants to reciprocate Ramzan ceasefire in Jammu and Kashmir
In an exclusive interview with Sameer Yasir, Chief Minister Mehbooba Mufti said the announcement should become a stepping stone for a larger peace process to end the turmoil in the border state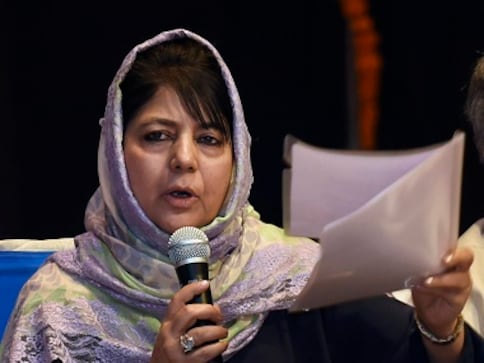 The Centre's announcement of a unilateral ceasefire in counterinsurgency operations, coinciding with the beginning of the holy month of Ramzan, has been met with relief tinged with hope in Jammu and Kashmir. In an exclusive interview with Sameer Yasir, Chief Minister Mehbooba Mufti said the announcement should become a stepping stone for a larger peace process to end the turmoil in the border state.
Edited excerpts follow:
What is your initial reaction to the Centre's announcement of Non-Initiation of Counterinsurgency Operations (NICO) for the month of Ramzan? There was a consensus on the issue during the all-party meeting, but your alliance partner had rejected it.
I think we have all worked hard for this. Everybody wants the guns to stop roaring in Kashmir. Everybody wants to get some relief; people should get some relief. All parties and concerned citizens groups called for a unilateral ceasefire during the month of Ramzan till the completion of the Amarnath Yatra. We are glad the Centre respected the sentiments of the people of Jammu and Kashmir and made the announcement.
What is the state going to achieve by pushing the Centre to announce the unilateral ceasefire? Do you believe it will pave the way for a larger political initiative?
At least something has been started. Let's see how it plays out in the coming days and weeks. If the results are encouraging, and there is less violence and positive contributions from the other (Pakistani) side, then this can be taken forward. I mean, somewhere we had to start a genuine process that would help our efforts to address the problems in Jammu and Kashmir.
It is not that we had not tried earlier. There have been setbacks. But I think this auspicious month will bring some happiness to the faces of people who have been affected by the recent events in Kashmir. Otherwise, even during Atal Bihari Vajpayee's time, this was done, but there was no positive reciprocation from the Pakistani side.
What was the response of your alliance partner, the BJP, when you asked for the ceasefire? They publicly opposed the move, terming it as 'surrender' before militants.
As you know, there is a particular mindset in different layers of the system ,where they have their own considerations and beliefs about how to deal with a security situation. To see Kashmir primarily through the prism of security is unfortunate, and that has been the case always. There are wheels within the wheels. I am very grateful to the Prime Minister Narendra Modi and Home Minister Rajnath Singh, who have personally intervened and ensured that this happens.
But the BJP, your alliance partner, has agreed to nothing previously. It has opposed everything you have demanded.
That would be a wrong assessment. We debate, we disagree but in the end, we find common ground and deliver. Unfortunately, someone making a statement out of turn on controversial issues gets more attentions then the real things we have been able to deliver on the ground in terms of infrastructural development and other critical issues. That was the basic purpose of my father putting everything at stake and on the line by allying with the BJP at the fag-end of his life.
The party that Mufti Mohammed Sayeed built with his blood and sweat was successful in giving an alternative in Jammu and Kashmir politics — an alternative setup. We put everything at stake thinking it will lead to some results and that it will have a far-reaching impact. For the wider interest of Jammu and Kashmir, we gave up everything if people were to get some kind of relief. We joined hands with a party and a prime minister who had such a huge mandate from the people of India — a lot of thinking had gone into it.
After Vajpayee, if there is one person who is in a position to take a decision on Jammu and Kashmir, it is Modi. After Vajpayee, there was so much space, so many years passed but nothing happened between the last ceasefire and this time. Now he (Modi) is in a position where he can take decisions (about a ceasefire), which means he understands the real problem. I think it is a good step. It is not the solution, but it is something to start with.
The Lashkar-e-Taiba has said it is a sin to even think about a ceasefire during Ramzan but Hizbul Mujahideen has not reacted so far.
Everybody should reciprocate. I am saying everyone should respond in kind to this announcement if they want to put an end to the bloodshed in Kashmir, because every passing day sees us losing more people. We are losing young boys and security forces. Somewhere down the road, everyone had to sit together and decide if we wanted to continue this bloodshed. It is not in our favour (to have the violence continue).
Fathers and mothers are grieving over the deaths of their children. It doesn't matter who is getting killed, but at the end of the day, human lives are being lost. We also have to understand that day after day, the greater the number of militants, the more the dominance of security forces and police. Then it becomes like a garrison. You have to call for more guns to combat guns which is not the kind of politics I personally believe in.
India
Jammu and Kashmir Lieutenant Governor Manoj Sinha at the opening ceremony said that about 68 varieties of tulips will bloom in the garden this year
World
The leopard was caught on camera crossing the fencing near the Border Security Force (BSF) border outpost nursery on the intervening night of Friday and Saturday
India
A video of the incident that happened in Chanti village on Saturday surfaced on social media, prompting authorities to initiate an inquiry against the accused