If we don't act quickly, idea of India will die, says Kejriwal
Firstpost speaks with Arvind Kejriwal about his entry into politics, his naming and shaming campaigns and how he plans to expand his party to all parts of the country.
What is you reaction to Mumbai based activist and former IPS officer YP Singh's allegation that you repressed the Lavasa scam involving NCP leader Sharad Pawar?
I am surprised by his statement. India Against Corruption (IAC) got all the documents against Sharad Pawar which YP Singh is referring to. We uploaded the same on the organization's website. We issued a list of 15 corrupt ministers and one of the ministers in that list is Pawar. On July 25, we conducted a fast at Jantar Mantar demanding probe against these ministers and regularly briefed citizens about the wrongdoings of these ministers. All this was done from the public platform. Therefore, it is unfair for Y P Singh to say that we have suppressed facts on Sharad Pawar.
BJP reacted to your Gadkari expose saying that you scored a 'self goal' and there was lot of hype around that press conference. You reaction?
For some people it might be small. But for those farmers whose lands have been taken, it is a matter of life and death. For them it's a big thing. When the Salman Khurshid expose came, Congress said it was too small an amount for a minister to siphon off. But for those disabled people whose crutches have gone, it is big. Another reason why people said Gadkari expose was small is because expectations were very high after the Robert Vadra expose.
Before you highlighted the scam allegedly involving Nitin Gadkari, IAC member Anjali Damania told a national daily that your organisation will expose five more politicians. Can you confirm this?
It is difficult for me to give you a number. People are giving us evidence. If we find substance in it, we will take up the issue.
Is P Chidambaram on your list?
I don't know.
Anything against the Delhi chief minister?
I don't know.
You have said that you will not move court with the evidence you have against political class. On their part, the political parties will refute the charges every time you do an expose. How does one break this cycle?
Our purpose is not to take the matter to the court. We have two objectives. One is to expose the entire political establishment. We are telling people that leaders cutting across party lines are corrupt. Second is to take the fear out of people. People in the country are very scared to talk about corruption and to take up issues. Our idea is to take fear out of people which has already started happening.
When you expose a Congress politician, they say you have done it at the behest of the BJP and when you expose a BJP leader, they suggest that you have connections with the Congress. How do you react to this situation?
People are watching this drama. We need not explain our affiliations.
One of your objectives, you said, is to expose the entire political establishment. Is it fair to paint them all with the same brush?
There is too much centralisation of power in these parties. Power corrupts and absolute power corrupts absolutely. Therefore, we are for decentralised power structure where people at the level of mohalla sabha and gram sabha take the decisions and government implements those decisions.
Such model is working in a few villages. For example, Hiware Bazaar in Maharashtra. But isn't it too ambitious to say this is the model which works for people and therefore should be replicated throughout the country?
We have tried it in some localities in Delhi. It worked beautifully. It you covert into a law, it becomes mandatory. If people of an area work, it will set a good example. If they don't work, it is their loss.
You say that people should tell the government where to spend the money at a given time. But how will people decide prices of petrol, diesel, fruits and vegetables?
No. That is not what I meant when I said that people should decide. Let me give you an example. An MP or MLA gets annual funds from the government. Currently it is the discretion of the MLA to decide how to utilize the money. The result is that he ends up creating fountains or rebuilding roads in an area which requires a school or a hospital. People should tell their representatives where to use that money and not the other way round. For bigger issues such prices of petrol and LPG, decisions should be taken at state level. But there too, people can have a say.
Being a political party, you would have to move beyond the discourse on corruption. What are your views on other issues such as Kashmir, reservation and affirmative action?
I have my personal views on these issues. Expressing them will not be appropriate at this stage. For our party's view, we have formed groups comprising of experts on all these issues. On all these issues, we will give varying views to public. A decision has to emerge from people.
Will you accept funding from a corporate house?
The team will have to decide on that. We cannot say right now.
From you campaigns during Lokpal agitation and your current protests as a politician, it appears that your reach is confined to Delhi and National Capital Region. When you conduct big protests, we get to see your supporters and activists in North India. As a political party with national ambitions, what are your plans in South India and North East?
The issues we have raised are all national issues and you will find such examples across the country. Robert Vadra issue is a national issue. It concerns people and such scams are happening across the country. Same is the case with the Salman Khurshid expose and what we have highlighted regarding Nitin Gadkari. You cannot say that issues are confined only to one part of the country. Having said that, I concede that our presence in South is not very good and we have to work on that. It has already started. Yogendra Yadav was in Hyderabad. Prashan (Bhushan) was in Kerala. We have really good members in Bangalore and Chennai.
While introducing your political party, you said if elected to power, you will have to overhaul the system in ten days. Is it practical?
Ten days are symbolic. But we would have to do that as soon as possible because the power is responsible for all the ills and you have to demolish the power structure. The only way is to enter it, demolish it in a very short span. If we stay there for longer, we will not realise when vested interests surround you. You have to do it as fast as possible. Decentralisation of power is very important and will have to be done soon enough. Rest all can follow.
Tell us about you your party's cadre.
This is a party which has come out of a movement. The people who participate in this movement will be the natural cadre of the party. What is required is to identify the people, to see if they relate to the movement and to train them.
Now when you have moved on from activism to politics, what changes you see in your role towards the society and nation at large?
This is a much bigger responsibility.
Not everyone was happy about your decision of taking a plunge into politics. Justice Santosh Hegde, Medha Patkar and Akhil Gogoi made their disappointment public. Did you reach out to them?
I am constant touch with all of them and I am very sure that soon, they should be also a part of this.
Exposing politicians and political parties is one thing. But you sound like a cynic when you go further and convey that all the institutions including legislature, judiciary and executive have become defunct.
It is the opposite. There was already cynicism in the country. People used to say "desh ka kuchh nahin ho sakta". We have brought them to a stage where people are saying "desh toh ho sakta hai." Therefore, we are taking people from cynicism to hope.
What are the three good things about India?
The people of this country are the biggest hope. These are first class people.
Your critics say that you are a man in a great hurry.
I completely agree. We are in a great hurry. That is because if we don't do something immediately, the idea called India would not survive.
Their perception is that you abandon one movement for another. In 2002 you started with Parivartan. You moved on to the RTI Act and for 18 months before August agitation, you worked for Lokpal.
It is not that I am abandoning causes. The next movement actually encompasses the previous one. Parivartan dealt with extortionist bribery. We graduated to RTI which helped us giving information on and containing extortionist bribery. Lokpal was the next logical step after RTI because people were getting information but no action was taken. And from Lokpal, now it is complete Swaraj.
Find latest and upcoming tech gadgets online on Tech2 Gadgets. Get technology news, gadgets reviews & ratings. Popular gadgets including laptop, tablet and mobile specifications, features, prices, comparison.
Politics
In an exclusive interview with Network18 group editor Rahul Joshi, Amit Shah delved into a range of topics, including the BJP's political relations with its former ally Shiv Sena in Maharashtra
World
Thai political history is littered with army coups that have nullified the results of national elections. The last coup, in 2014, was followed by the passage of an army-drafted Constitution that has eroded democratic institutions further. The Senate, for instance, is now entirely appointed.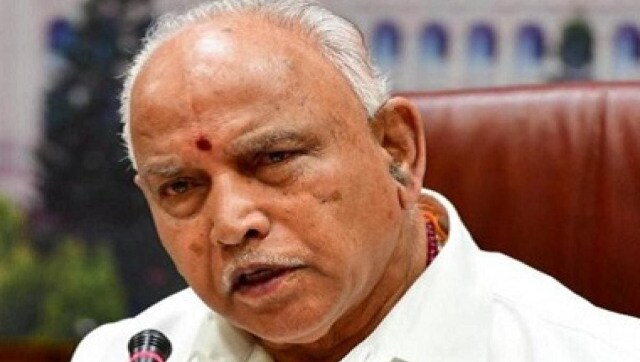 Politics
Citing media reports, Congress spokesperson Abhishek Singhvi on Sunday alleged that the BJP government in Karnataka is "engulfed in the clutches of corruption with dented, tainted leaders ruling the roost"