Exclusive: I will present BJP with 52 MLAs, says ex-Assam minister Himanta Biswa Sarma
Slowly this relationship of confidant turned into mistrust with Sarma finally quitting the Gogoi cabinet in July 2014.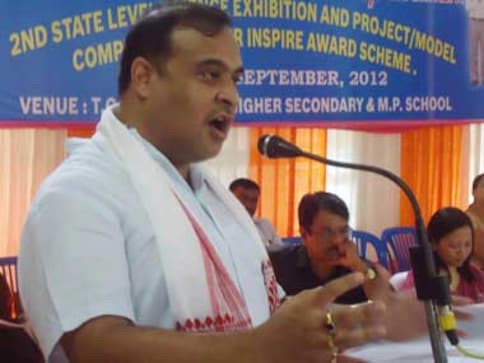 Before his gradual fallout with his boss Assam Chief Minister Tarun Gogoi, former state minister and Congress leader Himanta Biswa Sarma rose quickly in state politics and had a reputation for bringing in efficiency even in government ministries.
As education and health minister he effectively implemented UPA flagship programme National Rural Health Mission and managed to ensure the TET examination for recruitment of teachers in government schools in large numbers was carried out transparently.
Often regarded as Gogoi's confidant, Sarma's stature was a source of jealousy for many of his colleagues as he rose in influence. However, with the emergence of Gaurav Gogoi, who is Lok Sabha MP from Kaliabor seat in the political scenario in 2011, Biswa was perceived to having become more insecure.
The relationship soured and Sarma finally quit the Gogoi cabinet in July 2014. He dramatically claimed to have the support of 38 MLAs and paraded them before then Assam governor JB Patnaik. But with time Sarma realised all his confabulations with Congress vice president Rahul Gandhi, Congress Lok Sabha leader Mallikarjun Kharge and Congress general secretary in-charge for Assam, CP Joshi,  wouldn't help in his political rise.
Finally on 23 August this year, Sarma was at 11 Ashoka Road, New Delhi, the residence of BJP president Amit Shah accompanied by Assam BJP chief Siddhartha Bhattacharya. The former Congress minister would be formally inducted into BJP at a public rally in Guwahati on Friday. Here are some excerpts from an exclusive interview with him:
Although Assam Chief Minister Tarun Gogoi has called you an "opportunist" after you left Congress for BJP, he also termed you as the "blue-eyed boy"?
Is it the way to treat a blue-eyed boy? If this is the manner a blue-eyed boy is treated, the definition of blue-eyed boy needs to be changed. Since his son (Gaurav Gogoi) entered politics, the chief minister started being mean and did not offer the minimum courtesy to his colleagues.
You were one of the most successful ministers in Tarun Gogoi's three tenures. Your work in the state ministries of finance, education and health is still lauded. Do you think without support from the chief minister you would have succeeded?
Since 2011 there was no freedom for me to work independently. He was an obstacle. There is proof in official notes on how Tarun Gogoi created problems in the Teachers Eligibility Test method. He even objected to reforms in the health and education sector. Now he is trying to undo all the good work that we did without much support from him.
How many of your supporters are moving with you to the BJP?
BJP is an established party. I would present them an a la carte menu of 52 MLAs. It is for them to decide whom they want to bring in. It would be impractical to expect them to induct everyone at the cost of their own prospective candidates. I am sure they would also have someone in their mind from my constituency Jalukbari.
Even when there were talks of your joining the BJP earlier, a section of state leaders and MPs from that party did not like the idea of having you as their colleague. Are you sure everyone in the BJP is happy with your entry?
Since 2012 itself Gauhati MP Bijoya Chakravarty was keen to have me in the BJP. State BJP president Siddhartha Bhattacharya played a key role in the process now. There is no opposition or a single voice of dissent within BJP over my entry. Everyone is encouraging me instead.
What is your equation with Union Minister of State for Sports and Youth Affairs Sarbananda Sonowal? It seemed like he was not very keen to have you in BJP.
I have known Sonowal since class 5. We have both come from Assam Agitation (of the 80s) background since our AASU (All Assam Students' Union) days. There are no differences between us.
Who approached first -- you or the BJP?
I have lot of mutual friends. All this was possible with help from mutual friends.
I believe you have chalked out a roadmap for the development of Assam in the coming years. Can you elaborate on that?
Assam is an integral part of India. We have many regional aspirations. We need to vastly improve our road and rail network. We need access to the Chittagong Port. Due to the massive 1950 Assam earthquake, Assam Agitation, the Ulfa uprising, the state went behind by many years. I have already discussed with Amit Shah ji that we need to have an actionable vision plan for 2016-21 to make Assam among the top five states of the country. With the able leadership of Prime Minister Narendra Modi this is quite possible.
What do you think would is the most pressing need for the state?
There is the immediate need to seal the India-Bangladesh border.
India
Around 1,97,248 people have been affected by the floods, with Hojai and Cachar being the worst hit with 78,157 and 51,357 being affected respectively
India
She also added that the Congress was involving itself in absentee politics and what we required was a Congress-mukt Bharat
Politics
Like the BJP, the Congress too just concluded a conclave of its senior leaders called 'Chintan Shivir'— coincidentally also in Rajasthan, at Udaipur