Exclusive: Baba Ramdev and RSS lobbying govt to tax Coca-Cola, PepsiCo heavily
During their meetings with the two ministries, representatives of the RSS and Baba Ramdev are learnt to have cited warnings of health campaigners that adults and children in India continued to consume huge quantities of hidden sugar in processed food and drink, fuelling obesity and poor health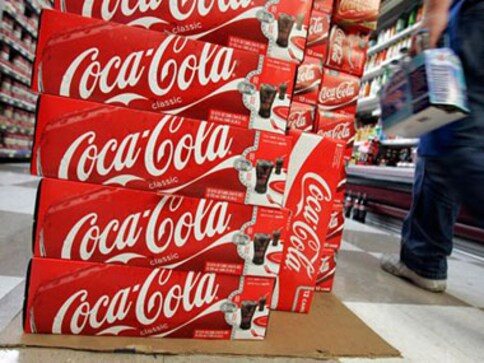 New Delhi: Swadeshi warriors yoga guru Baba Ramdev and the all-powerful Rashtriya Swayamsevak Sangh (RSS) are putting pressure on the finance and health ministries to impose a heavy tax on beverage companies selling products of high sugar content, according to highly placed sources. The move could prove detrimental to the Indian operations of PepsiCo and Coca-Cola, two of the world's beverage giants.
The sources said Ramdev and the RSS are lobbying hard to introduce the tax in the forthcoming budget to be presented in January 2017.
They have to their advantage recommendations of the GST panel headed by chief economic adviser (CEA) Arvind Subramanian which sought a sin tax of 40 percent on aerated drinks, tobacco and luxury cars. This rate is more than double the suggested standard GST rate of 17-18 percent.
Coca-Cola contains 10.6 gm of sugar per 100 ml. That's 26.5 gm (equivalent of five-and-half teaspoons) in a 250 ml can.
"The representatives of Ramdev and RSS have argued for high taxes on carbonated drinks," a top health ministry official aware of the development said on conditions of anonymity.
Patanjali Ayurved spokesperson SK Tijarawala refused to comment on whether his group was keen to push a desi version of the colas to replicate products offered by Coca-Cola and Pepsi. Haridwar-based Patanjali currently offers herbal FMCG products and competes with top Indian and foreign multinational companies.
Tijarawala, however, said the group has constantly argued for healthy products. "Our products have made a serious impact in India. We will launch more healthy products soon." According to him, the demand to curb sugar and fat-based products is global, not just local.
During their meetings with the two ministries, representatives of the RSS and Baba Ramdev are learnt to have cited warnings of health campaigners that adults and children in India continue to consume huge quantities of hidden sugar in processed food and drink, fueling obesity and poor health. (It is not clear whether both Ramdev and RSS held the meetings together or separately.)
Last year, a study by London-based Action on Sugar found the cola giants using double the quantity of sugar in their processed drinks as compared to those in Europe. To cite an example, AOS said Fanta in Ireland, Argentina or the UK had six teaspoons of sugar whereas the product in India contained almost double.
The World Health Organisation says consumption of sugar in India is likely to rise to reach 29.35 million tonnes (mt) by 2019-20, or over 15 percent of global consumption, thus making India - with a share of  - the biggest consumer in the world.
This July, Kerala recently introduced a 14.5 percent fat tax on burgers, pizzas, doughnuts and tacos, a move aimed at spreading awareness about obesity and food preferences. Interestingly, levying taxes on high calorie food items and drinks is one way to rein in consumption.
Earlier, Denmark had introduced a fat tax in 2011 but repealed it by 2013 when it found consumers were shopping across the border for high fat goods. Hungary taxes foods high in sugar, salt and fat. Mexico taxes sugary drinks, breakfast cereals and sweets. Taxes on sugary drinks vary across the United States while there is a soda tax in Philadelphia.
This April, Ramdev said his Patanjali would soon upstage giants like Colgate, Unilever and Nestle. "Colgate will be below Patanjali by this year, and in three years, we will overtake Unilever. Patanjali products would make shut the 'gate' in Colgate. The birds in Nestle's nest (logo) will also fly away," Ramdev told reporters.
Patanjali is aiming at a turnover of over Rs 10,000 crore in 2016-17, double that of last fiscal. The company, which has been grown exponentially in the last four years, plans to venture into the exports and e-commerce this year.
The cola giants are, obviously, feeling the heat already. The rivals, who fight bitter battles during summer in India through interesting advertising campaigns that pit one against the other, had recently petitioned the Chief Economic Advisor against what they felt was an unfair comparison.
They have argued that aerated beverages contribute 2.4 percent of total sugar consumption of Indians (daily) as compared to sweets (15 percent) and confectionaries (12 percent).
"We made it clear that we are not to be blamed for the sugar intake that is on the rise in India," said a Coca-Cola spokesperson.
Coca-Cola and Pepsi officials also argued in the meeting with the CEA that contribution of their products to the daily caloric intake in India is minuscule. Aerated drinks, as per the data collated by the Indian Council of Medical Research (ICMR), is 0.2 percent compared with egg meat and fish (15 percent), oils and fats (11 percent). In terms of daily density, the cola officials argued that aerated beverages stand at 440 calories (per litre/ kilo) compared with cake and bakery products (5,000), ice creams (3,200), biscuits (4,530) and snacks like samosas (5,443).
Representatives of the two companies also argued how lakhs of retailers, thousands of distributors, transporters, cold drink equipment manufacturers, farmers and producers of raw materials for the industry and the whole forward and backward supply chain systems will suffer if taxes on them skyrocket.
The cola giants found, almost unexpectedly, former finance minister P Chidambaram on their side when he, during the GST debate on 3 August, told the Rajya Sabha that it was important to tax the rich and save the poor.
"Any indirect tax falls equally on the rich and the poor. If you buy a soft drink bottle, if a rich man buys it or a poor man buys it, he pays the same excise duty on that bottle. World over, indirect taxes being aggressive in nature, the trend is to keep them as low as possible," said Chidambaram.
Coca-Cola too had sent a strong message in December 2015. In a statement the company had said that it will have no other option but to shut down some of its factories if the GST regime indeed puts in place a sin tax of 40 percent.
"An acceptance of the Arvind Subramanian committee recommendations with regard to GST rate of 40 percent on aerated beverages, will have a negative ripple effect on the entire beverage ecosystem," Coca-Cola India had said then.
The ball is now in the government's court. The cola giants will be able to counter the pressure from the Swadeshi brigade only if the government heeds Chidambaram and goes for a lower tax rate under GST.
World
The trend for nurses and other staff to leave parts of Africa or Southeast Asia for better opportunities in wealthier countries in the Middle East or Europe was already under way before the pandemic but has accelerated since.
World
A US agency was reported by the Wall Street Journal to have assessed the pandemic had likely been caused by an unintended Chinese laboratory leak, raising pressure on the WHO to come up with answers. Beijing denies the assessment
Opinion
Setting out to rejuvenate Indian nationalism in the 1920s, the RSS had lots of precedents to draw on. And one example from a country suburb south of Berlin resonates more than any other