Ex-VHP leader Pravin Togadia begins indefinite fast to demand construction of Ram mandir and nationwide cow slaughter ban
Former VHP leader Pravin Togadia begins his indefinite fast in Ahmedabad in support of his demands, including construction of a Ram Temple in Ayodhya.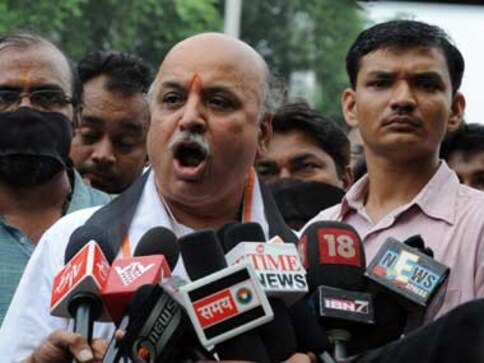 Former Vishwa Hindu Parishad (VHP) leader Pravin Togadia began his indefinite fast in Ahmedabad on Tuesday in support of his demands, including construction of a Ram temple in Ayodhya.
The 62-year-old Hindutva leader, who quit the post of VHP's international working president last week after his nominee Raghav Reddy lost a key organisational poll, launched the fast outside the state VHP headquarters in the Paldi area at 12 pm with some Hindu saints and supporters.
Togadia had earlier said his hunger strike would be aimed at the welfare of Hindus and to draw attention to his demands. These included construction of a Ram Temple at Ayodhya, a nation-wide ban on cow slaughter, enforcement of the common civil code and resettlement of displaced Kashmiri Pandits.
Earlier, Togadia was to sit on fast at GMDC Ground, but the police denied permission after which the venue was earlier today shifted to outside the VHP headquarters.
"We were denied permission by the police to go ahead with fast at GMDC Ground so we had to change the venue," said former VHP city president Raju Patel.
The surgeon-turned-firebrand leader had launched a scathing attack on prime minister Narendra Modi after he quit VHP, a right-wing outfit with which he had been associated
with for decades. Togadia quit the right-wing organisation after former Himachal Pradesh governor V S Kokje was elected VHP international president defeating his nominee Reddy on last Saturday.
Modi and Togadia, both of whom hail from Gujarat and started out as Rashtriya Swayamsevak Sangh (RSS) volunteers, drifted apart in the last decade with Modi's rise. Togadia had made a sensational claim last month, saying a Rajasthan Police team had come here to "abduct" him and he feared he could be eliminated in a "fake encounter". During the long-drawn tussle within the state BJP between Modi (before he became prime minister) and former chief minister Keshubhai Patel, Togadia was believed to have backed the latter.
The former VHP leader belongs to the Patel community. Togadia recently met Patidar quota agitation leader Hardik Patel, who had campaigned against the BJP in the 2017 Gujarat Assembly elections.
World
The purpose of the manual is to provoke young scholars in the West to launch attacks against anyone who dares to criticise the high and mighty academician
India
The prime minister will be travelling to Rome and Glasgow from 29 October to 2 November to attend the 16th G-20 Summit and the World Leaders' Summit of COP-26
India
The prime minister has closely monitored the Kedarpuri reconstruction projects worth Rs 250 crore in Uttarakhand.