Eminent Supreme Court lawyer, ex-law minister Ram Jethmalani passes away at 95; last rites to be performed this evening
Veteran Supreme Court lawyer and former Union Minister Ram Jethmalani passed away on Sunday morning at his residence in New Delhi. Jethmalani was 95. He is survived by his son Mahesh Jethmalani, a noted lawyer, and a daughter. His other child, Rani Jethmalani, had passed away in 2011
Veteran Supreme Court lawyer and former union minister Ram Jethmalani passed away, he was 95 year old

He had served as the Union law minister under Atal Bihari Vajpayee and as the chairman of the Bar Council of India

Jethmalani is survived by his son Mahesh Jethmalani, a noted lawyer, and a daughter
Veteran Supreme Court lawyer and former Union Minister Ram Jethmalani passed away on Sunday morning at his residence in New Delhi. Jethmalani was 95. He is survived by his son Mahesh Jethmalani, a noted lawyer, and a daughter. His other child, Rani Jethmalani, had passed away in 2011.
Ram Jethmalani breathed his last at 7:45 am at his official residence, his son Mahesh told PTI, adding that his father had not been keeping well for a few months. Mahesh Jethmalani said his father's last rites will be performed on Sunday evening at the Lodhi road crematorium.
Home minister Amit Shah paid his last respects to the veteran lawyer at the latter's residence, while several members of the legal and political fraternity condoled his demise.
Speaking to News18, senior lawyer Indira Jaising said, "He was an incredible lawyer and today is not a day to talk about politics. It is a huge loss to the legal fraternity. I do not know if there will be another Ram Jethmalani."
Jethmalani had announced his retirement in on September 2017. During his career he had fought several high-profile cases and had represented many controversial clients including stockbroker Harshad Mehta and former prime minister PV Narasimha Rao.
With inputs from agencies
also read
Politics
The court of Additional Chief Metropolitan Magistrate SJ Panchal summoned the AAP leaders after the court was informed that the summons issued earlier directing the duo to appear on May 23 does not appear to have been received by them as none of them was present in the court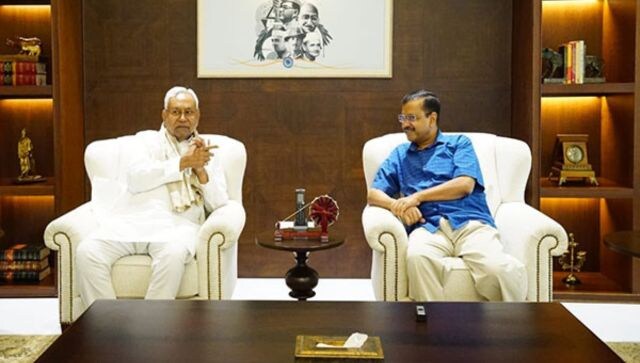 Politics
The Bihar CM discussed the contentious topic of the Delhi vs Centre row on having the capital's sovereignty. He also talked about the Centre's plan to bring about an ordinance to give the control of 'services' back to Delhi's Lieutenant Governor
India
On Friday, the Centre passed an ordinance creating a National Capital Civil Service Authority to deal with service conditions, transfer and posting of officials, seen as a move to wrest back control after the May 11 apex court ruling that gave Delhi government powers over services