Elections 2014: In Vadodara, a human chain for voter awareness
Seen in the light of the BJP gunning for a record-smashing victory for Modi in Vadodara, the voter awareness drive in the city makes ample sense.
Hours before a major BJP rally, the final one before the city goes to polls on Thursday, Vadodara saw multiple organisations launch an initiative to raise voter awareness. 'Vote Vadodara Vote', 'Vote For Vadodara', 'Paanch Ka Pledge' to convince five others to exercise their franchise -- these were the themes of an attempted 15-kilometre human chain of voters in the Parliamentary constituency where Narendra Modi will take on the Congress's Madhusudan Mistry.
Right from its highly organised nature, complete with volunteers wearing 'Human Chain Team Member' t-shirts, the elaborate social media plan, the shrill outdoor advertising campaign to the apparent role of local businesses and builders, the human chain initiative appeared to have more at stake than just nudging Vadodara's folk in the general direction of the polling booths.
Officially, it was an event by a group of non-government, non-political party players. So what if the local BJP unit's leaders listed it among the day's events when journalists enquired about Sunday's schedule.
But there was a more telltale sign of how many in Vadodara viewed the effort.
Somewhere near the congested Padmavati cloth market area, amid milling crowds of Sunday evening shoppers, in front of a Gandhi statue, a small group of men, women and young boys stood incongruously to one side as two singers belted out a Bollywood number standing against a Human Chain backdrop. As soon as the song wound down, this group brought out candles and shouted for the next five minutes: "Ramdev Baba, hai hai." They fidgeted with the ineffective candles -- even at 6.30 pm the summer sun shines bright in Vadodara -- but they had made their point.
The singers looked on uncertainly, while those in the 'Team Member' t-shirts studiously ignored the chanting, targeted obviously at the Bharatiya Janata Party.
At another location close to the Sayaji Baug garden, a woman on the microphone had just minutes ago, been exhorting passers-by to join the chain. "This is for everybody, this is for Vadodara," she was saying. Here, the anti-Ramdev protesters were not asked to join the chain.
They left, unsure what to do with the candles dripping wax. A second ragtag group stood around, candles on the ready. One man who appeared to be their leader tried to get the embarrassed group to move closer to the podium where the singers were restarting, but it wasn't really much of a protest.
The chain itself was a partial success, enthusiastic at places though it was broken and fractured at various points. A group of motorbikers on their Bullets added some drama. But it never really looked like becoming the 15-km chain of voters the organisers had planned.
The context for the concerted effort to ensure as close to a 100 percent voter turnout as possible in Vadodara, seen in the light of the BJP's push for a record breaking win for Modi, makes ample sense. Even if there is a real Modi wave, and especially so in Vadodara, there is still the hard work to be done of converting that mood into votes.
Find latest and upcoming tech gadgets online on Tech2 Gadgets. Get technology news, gadgets reviews & ratings. Popular gadgets including laptop, tablet and mobile specifications, features, prices, comparison.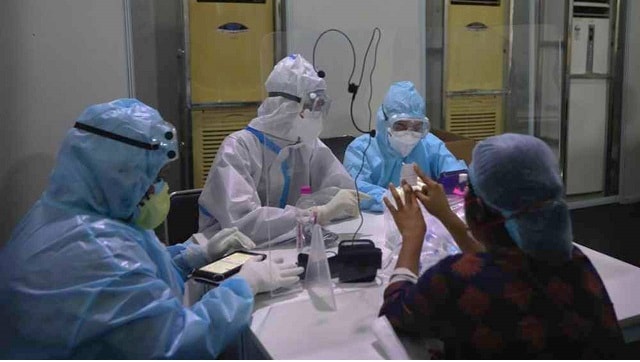 India
A 'weekend curfew' — lasting 57-hour from 9 pm on Friday to 6 am on Monday — has been imposed in Ahmedabad city while the Gujarat government has announced a night curfew in Surat, Rajkot, and Vadodara
Entertainment
While there's no doubt that online shows entertained and even comforted us during these trying past few months, there's also no doubt that they'll never match up to the experience of watching a concert in person. And sadly, they don't seem to be matching up in terms of income for artists either.
Lifestyle
'As I read Emily Ratajkowski's tale, I thought of many of the stories I had heard amongst the models I had interviewed that struck a similar chord,' writes Manjima Bhattacharjya in her monthly column, 'Curious Fashion'