Elections 2014: Five trends to look for once exit polls are out
Later this evening, television channels will release their calls on the likely outcome of election 2014, with the last phase of polling ending at 6 pm today.
Later this evening, television channels will release their calls on the likely outcome of election 2014, with the last phase of polling ending at 6 pm today. The forecasts will be made on the basis of exit polls by news channels along with research and survey agencies have been conducted among voters as they emerge from polling stations or after polling was complete in those constituencies. Data from 'poll day polling' is going to be extensive, complex and may or may not have a clear indication of what will emerge on 16 May.
But here's what to look out for when the flood of numbers hits you later today.
1. A sub-100 tally for Congress will be end of the road for Gandhi parivar
Nobody expects the Congress to do well, but just how poorly it fares will be interesting to watch. A respectable defeat is still possible, and that will, no doubt, be interpreted as being on account of anti-incumbency, a slap on the wrist. But if the party faces the doomsday scenario of finishing with fewer than 100 MPs, as predicted by Narendra Modi, the writing would be on the wall.
Such an outcome has to be seen as an anti-Rahul vote, without a doubt. For Congress president Sonia Gandhi, credited with much of the Congress's success in 2009, was almost absent this election season, joining the campaign rather too late, cherry-picking her rally appearances and then having to cancel a few owing to poor health or exhaustion.
The message to the Congress in such an eventuality is also that the grand old party is now precariously close to becoming obsolete, along with its obsession with a single political dynasty, its feudal power structures and its arrogance.
But more than anything else, managing to get only 90-odd Lok Sabha MPs elected (down from 206) is a loud and clear vote against the Gandhi parivar, coming on the back of the BJP's decision to attack the maa-beta-damaad trio more than the UPA's ten-year misrule. Modi said as much when, in an interview to The Times of India, "Their target is to somehow cross the hundred-seat mark so that their leadership of the Congress party is not challenged. However, I see all possibility of the Congress falling below the hundred seat mark and if that happens, there will be a serious churning within Congress over the issue of leadership."
It is difficult to envision that churn right now, but with Assembly elections coming up in crucial states such as Maharashtra where the Congress is actually in government, where the Congress-NCP will be fighting for prestige and the BJP will be going in for a final extermination, failure to notch up some face-saving state-level victories will certainly help crystallise a picture of the Congress party led by leaders outside the dynasty.
There are plenty of people who believe the Congress, at least mid-way through the campaign, decided it was more expedient to sit out of this one and conserve their energies for a reboot ahead of what some hopefuls believed would be a near-certain midterm poll. Those proponents of the theory that Rahul Gandhi was only doing a beta run would at least agree that Congress leaders will have to hunker down and own up to their disastrous campaign strategy, jumbled messages, the nonsense ordinances and the escape velocities. For, even to convince us that Rahul was conducting a beta run, they'd have to hobble past 100.
2. Modi factor, a ripple, a wave or a tsunami?
If the exit polls for the states of Uttar Pradesh and Bihar indicate that the BJP makes only sub-optimal gains there, the halfway point may be a too-large leap away. Alongside some pickings from the southern states where the BJP has hitherto not had a presence, a real Modi wave must mean the party sweeping Uttar Pradesh and Bihar's combined strength of 120 seats.
These are the states where the BJP's largest gains are to be made, and there is still the chance that Mayawati, Mulayam Singh Yadav and Lalu Prasad could build a bulwark against a major Modi wave. For example, even a trebling of the BJP's 2009 UP tally of 10 MPs may not suffice to storm into government.
You'll recognise the Modi wave from two essential things: One, not just a voteshare but also some seats from the southern states where the BJP's presence is marginal, and two, translating the anticipated large vote shares in Uttar Pradesh and Bihar into seats.
If either one of these fails to happen, we will know that the Modi wave was indeed overstated. It would be not he, but the regional aspirants to power who most effectively cashed in on the anti-UPA wave. What's more, just how much such an NDA government has to lean on the support of non-core members will determine how dictatorial a PM Modi may be, or how much of a team-player he will have to evolve into. Such a result in which the Modi factor caused no more than some ripples, will also imply that the expectation that Indian voters are tired of coalitions and cobbled together governments was a poor guess on Indian voting behaviour.
3. Will regional leaders show that real power now rests in the states?
The possibility of a fractured mandate continues to keep alive the hopes of the regional parties and the smaller parties committed to coming together to form a federal front with the only objective of keeping out a BJP-led government.
For example, if Mayawati is foreseen as pulling out about 25 or 30 MPs from her hat, the BJP could be ruing its move to permit the likes of Ramdev Baba to occupy as much airtime as he did.
A clear win for the NDA entails a battering for the regional parties, and the converse would hold true too. So, a strong showing by the JD(U) in Bihar, the INLD in Haryana, the NCP in Maharashtra, the Asom Gana Parishad in Assam, the Deve Gowda faction in Karnataka, the National Conference in J&K and the SP and BSP in UP will not only leave the door wide open for this so-called third front but will also imply that it's time for the national parties to reinvent themselves, it's the states and their leaders who hold sway in national politics.
Even as the focus will shift mathematically to what, for example, Mamata Banerjee will do after having called Modi a bhonda and gadha, what the DMK could decide if it posts a better than expected result or how far the JD (U) is able to stem its slide in Bihar, the UPA's shabby treatment of regional leaders will come back to haunt it.
The UPA government failed to see popular and effective chief ministers from non-UPA parties as an even match for their own power and its arrogance with even allies such as the Nationalist Congress Party will possibly hurt the Congress deeply. The party will be adding to its laundry list of sins this one, of assuming that the comfortable win in 2009 in comparison to 2004 meant that simple majorities would soon return in 2014.
4 AAP: Will it finally admit it misread the nation's pulse?

Narendra Modi may have been the most omnipresent factor through the election, starting his campaign for Delhi well ahead of the Assembly elections in December and miraculously keeping the momentum going for a full seven months, but it was not the BJP's PM candidate who suddenly made politics fashionable. That credit goes to the Aam Aadmi Party, which appeared for a long time to be capable of providing a constructive alternative to the established political class, its spectacular debut in the Delhi Assembly elections providing much of the rush of blood behind the anti-Congress wave.
If, as expected, the AAP fails to win more than a 4 or 5 per cent vote share in most states, it will be a lesson in party building. Doubtless, gains that had been booked were squandered in a case of over-ambition and misreading national mood.
As Firstpost editor Dhiraj Nayyar had argued as far back as January, Arvind Kejriwal's best bet would have been picking one or two states. "AAP can certainly fight a limited battle in the General Election – in Delhi and a few other major cities where they have recognition. But if they over-stretch and then lose badly, it will damage their cause," said the column.
Instead of focussing on a couple of priority states or cities and sending a small crop of highly effective MPs to Parliament, the AAP campaign was marred by poor candidate selection and overreach.
5. And finally, a 270-plus BJP will mean there's no BJP, only Narendra Modi
If the BJP's latest and loudest proclamations that it expects the NDA to cross 300 with the BJP itself coming within a whisker of forming a single-party government at the Centre, the nay-sayers will have to fall in line. They will have to concede that the highly personalised campaign of Team Modi, the near-perfect execution of his campaign that started as far back as September 15 in Rewari, Haryana, with an address to a large gathering of ex-servicemen and the involvement of the Rashtriya Swayamsevak Sangh's extensive on-the-ground network including a rumoured 6 lakh strong force of swayamsevaks who did everything from image building to booth management have all paid off.
This will silence all doubting Thomases about Brand Modi and will clear the decks for a five-year government that could be rather a lot like the campaign – individualistic, person-centric, dismissive of potential allies and all challenging authorities, and determined to singlehandedly shape the future path of the nation.
Find latest and upcoming tech gadgets online on Tech2 Gadgets. Get technology news, gadgets reviews & ratings. Popular gadgets including laptop, tablet and mobile specifications, features, prices, comparison.
Politics
The AIMIM foray may not amount to much in Bengal, given the distinctly Bengali identity of Bengali Muslims. Nevertheless, that will play into the equation. But BJP can't rely on Owaisi to mount a challenge to the TMC, especially with Banerjee's latest slew of welfare schemes pulling a lot of popular heft.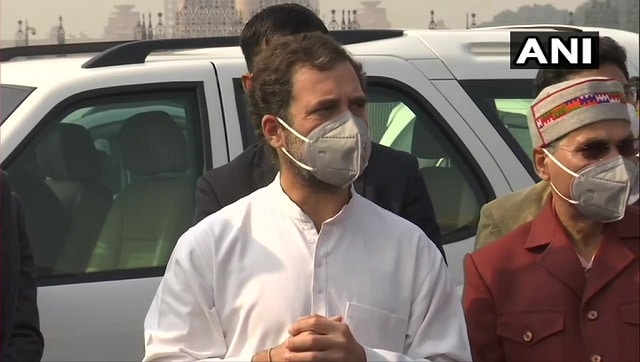 India
Gandhi's comments come after a report by NDTV channel claimed that China has constructed a new village in the disputed region of Arunachal Pradesh and it consisted of about 101 homes
India
After the first meeting of the apex-court appointed panel, Ghanwat, said the first round of talks with the protesting farmers and other stakeholders is scheduled for Thursday 21 January