Mayawati, with her two seats, will support the Congress party in Madhya Pradesh. The Bahujan Samaj Party chief made the announcement on Wednesday albeit extremely grudgingly. "The people who have voted for Congress in Chhattisgarh, Rajasthan and Madhya Pradesh were desperate because they did not want a BJP government. Dil pe patthar rakh ke jitaya hai Congress ko," said the BSP chief and added that her party had contested the elections to prevent the BJP from coming to power.
After Mayawati, Akhilesh Yadav too has said that the lone Samajwadi Party MLA will support the Congress government. The Congress, which won 114 seats had already roped in the support of four Independents and crossed the majority mark. With BSP (2) and SP (1) and Independents (4), the alliance will now have 121 seats, well above the BJP's 109.
"Sadly our party was unable to do this. I've got to know that the BJP is even now trying to cobble together a coalition to return to power in Madhya Pradesh... Results show that people in states like Chhattisgarh, Rajasthan and Madhya Pradesh were totally against the BJP and its anti-people policies and as a result chose Congress due to lack of other major alternatives. Even though we don't agree with many of Congress' policies we have agreed to support them in Madhya Pradesh and if need be in Rajasthan," Mayawati said.
However, a common adversary like BJP has not helped in bringing the Congress and the BSP any closer. What is being played out in Madhya Pradesh is the reversal of what we have seen BJP do to get out of a Hung Assembly situation. The Congress party seemed to have learnt from its mistakes, or rather from BJP's game plan in states like Karnataka, Goa and Manipur, which threw up Hung Assembly. With Independents, BSP, SP support Congress crosses majority mark in Madhya Pradesh leaving zero manoeuvring space for BJP.
The party outshone BJP in the post-poll political manoeuvering in state even though the difference in the number of seats was lesser than it was in Goa, where the BJP managed to form a government.
Senior Congress leader and state unit chief Kamal Nath was prompt to rope in the support of all four Independent MLAs even before BJP could reach them. In doing so, he successfully secured the only free radicals in this highly polarised elections. Besides, in doing so, the Congress also sent a message out to the Samajwadi Party and the BSP, who were dilly-dallying over support to the Congress. Nath knew that because these parties are staunchly against BJP on a national stage, they will be doomed if they support the saffron party. He also drove home the point that the Congress will not be held hostage to threats and negotiations because it is already past the majority mark without these parties' help.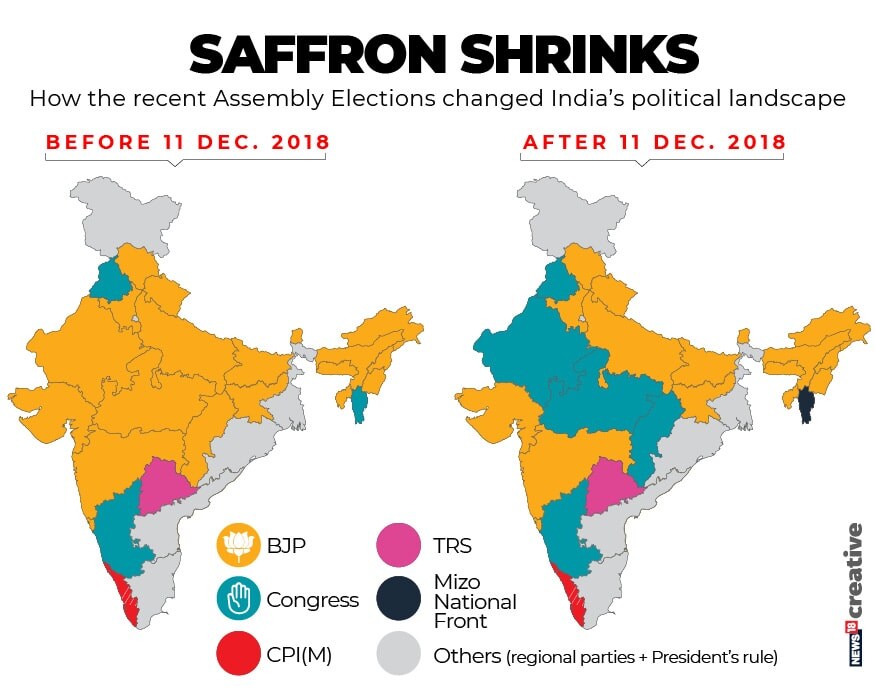 Firstpost is now on WhatsApp. For the latest analysis, commentary and news updates, sign up for our WhatsApp services. Just go to Firstpost.com/Whatsapp and hit the Subscribe button.
Updated Date: Dec 12, 2018 12:14:31 IST