Election results 2014: Historic win for NDA with 336 seats, 282 for BJP
A wide angle look at the progress of counting of votes until now.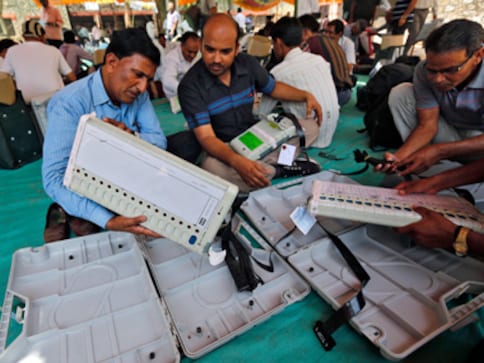 As Lok Sabha Elections 2014 wound down to a historic close, the BJP-led NDA claimed a landslide victory, making huge gains across the country. As results for all 543 Lok Sabha seats were announced, the NDA looked set to win 336 seats, not only far ahead of the half-way mark but also relishing a victory whose scale they had not themselves anticipated. For, incredibly, the BJP crossed the 272 mark comfortably on its own, without allies, winning 282 seats, a gain of 166.
This is the biggest victory since the 1984 election that Rajiv Gandhi won with 414 LS seats. It is also the first time ever in the 67-year history of independent India that a non-Congress party has won a simple majority on its own.
By 9.30 am, just an hour-and-half after counting began, the markets cheered the likely verdict. The Sensex crossed 25,000 points for the first time ever, with a massive burst of 1,000 points before falling into the red later and ending 0.9 percent up at 24,021 points. The rupee breezed past 59 too, to hit 58.91 at the opening, for the first time since July 2013.
By 10.30 am, PM-designate Narendra Modi was declared winner from Vadodara and was leading comfortably in Varanasi. He eventually won the Vadodara seat by 5,70,000 votes, missing the 2004 record of a 5,92,000-margin held by the CPM's Anil Basu from the Aarambagh constituency of West Bengal.
The Aam Aadmi Party showed good numbers in the state of Punjab with four wins, still a far cry from the 100 seats party chief Kejriwal had professed the party would win. Kejriwal, Kumar Vishwas, Medha Patkar and Shazia Ilmi all lost. A large percentage of the AAP candidates will lose their security deposit.
One major defeat for the BJP was suffered by Arun Jaitley, who lost in Amritsar to the Congress's Amarinder Singh.
Modi later addressed huge gatherings in Vadodara and also in Ahmedabad. Speaking in Hindi instead of Gujarati, the prime minister designate said he had hit a record margin in Vadodara. He said the country would never get a better 'mazdoor' (labourer) than him.
Congratulations poured in for the BJP leader often accused of being a highly polarising figure. Pakistani PM Nawaz Sharif called him personally and invited him to visit Pakistan. Sri Lankan President Mahinda Rajapaksa, British Prime Minister David Cameron and Australian Prime Minister Tony Abbott also congratulated Modi.
Congress president Sonia Gandhi later conceded defeat and congratulated the new dispensation. She said the Congress party may have not received the popular support it anticipated but would remain committed to its fundamental principles.
While the Congress was handed its worst-ever defeat with only 46 seats, Sonia Gandhi and Rahul Gandhi were the only two Congress candidates to win in Uttar Pradesh.
In fact, while the BJP made gains across the country, its strongest performance came from the critical state of Uttar Pradesh, where the BJP won 72 out of 80 seats. One seat was won by BJP ally Apna Dal. This was a growth by 700 percent in UP -- the party won only 10 seats in the state in 2009. Mayawati disappointed with the BSP failing to open its account. The Samajwadi Party won five seats, all members of the Mulayam Singh Yadav family.
The other state that saw a shock outcome for the Congress was Maharashtra, where the party went from 17 MPs in 2009 to two MP now -- Ashok Chavan and Rahul aide Rajeev Satav. Incidentally, Chavan faces possible disqualification in a paid news case from a previous Assembly election. Among the big defeats were Milind Deora, Priya Dutt, Gurudas Kamath, Eknath Gaikwad, Sushilkumar Shinde, Manikrao Gavit and Vilas Muttemwar.
The NCP managed to eke out wins in Baramati (Supriya Sule) and three other seats.
In Delhi, the Congress lost all seven MPs.
In Jammu and Kashmir, the ruling NC-Congress coalition faced a complete whitewash, with even Farooq Abdullah and Ghulam Nabi Azad losing. The six seats were shared 3-3 by main opposition party PDP and the BJP.
Elsewhere in the country, the big losers for the Congress included Nandan Nilekani, Sachin Pilot, Raj Babbar, Rita Bahuguna Joshi and Sriprakash Jaiswal. RLD chief Ajit Singh lost too.
Earlier in the day, the Congress party suffered an early onset of nerves as Rahul Gandhi was found trailing in one round though he emerged ahead in subsequent rounds of counting in Amethi, where he won against the BJP's Smriti Irani by 1,07,000-odd votes, not even one third his 2009 margin of victory.
Congress spokesperson Abhishek Manu Singhvi told news channels that the early trends looked "bleak" for the party while other leaders called the verdict a "collective failure".
A glance at state-wise leads showed the BJP stamping its authority on a majority of the states. The BJP won all 26 seats in Gujarat, where the state BJP had launched "Mission 26". The BJP's performance in Chhattisgarh (10 out of 11), MP (27 out of 29, a gain of 11), Delhi (7 out of 7) were also expected. The party will take some satisfaction in its wins (along with Shiv Sena) in Maharashtra (41 out of 48 seats), Bihar (28 of 40, a gain of 16), Jharkhand (12 of 14), Haryana (7 out of 10) and Goa (2 of 2).
In Tamil Nadu, the AIADMK won 37 of the 39 seats and the BJP grabbed just 1 seat and the Pattani Makkal Katchi ahead in one (at the time of publishing). This is a tremendous win for TN chief minister Jayalalithaa, whose party is set to raise its tally from nine to 37, a three-fold increase.
In West Bengal, Mamata Banerjee's Trinamool Congress won the lion's share of seats, 34 of the state's 42.
Politics
"You Idiot. What is your standing to speak on Savarkar, who was lodged in jail and went through so much pain?" he said while addressing a rally in Maharashtra on Sunday.
Politics
Congress tried to firefight as its media and communication incharge Jairam Ramesh brushed aside the video as 'doctored'
India
The foot march entered Madhya Pradesh on 23 November at Bodarli village in Burhanpur district from neighbouring Maharashtra.In the last six days, the yatra has completed more than half of its journey in Madhya Pradesh