Eknath Khadse: There goes the magnificent minister in his flying machine
The CWC teams should be able to to provide evidence of the truth behind Eknath Khadse's not so magnificent sortie by helicopter and the accusation that he allowed the use of 10,000 litres of water in arid Latur to construct a helipad for his convenience.
The Central Water Commission teams that are urgently assessing drought prone areas in Maharashtra, especially the badly hit Latur district intend to produce an interim report in a couple of days.
It should be possible, therefore, for them to provide more evidence of the truth behind Revenue and Rehabilitation Minister Eknath Khadse's not so magnificent sortie by helicopter and the accusation that he allowed the use of 10,000 litres of water in arid Latur to construct a helipad for his convenience. The Minister says he will investigate this misuse of water.
That is truly heartening though he might like to clear some doubts first.
To be honest, it is not a misuse. That is too mild a word. It is a criminal offense and smacks of an imperial arrogance that has faint comparison. You have to be thoroughly insensitive and crass to avoid a 30 minutes surface ride (with sirens blaring) and opt for a chopper. That is bad enough. But to have to then call for a temp helipad tamped down by water that is in frightening scarcity demands far more stringent censuring than a mere slap on the wrist.
What was he thinking? He fetches up in Latur ostensibly on a fact finding mission with the intent of seeing firsthand how parched the people and the land are. Yes, okay, so now he is 40 odd kilometres away from Latur and he decides that is an arduous drive so let me fly there instead.
Who are these people and from where do they get this arrogance to behave the way they do. What stopped him from driving to Latur?
Think of his mindset. He is on a mercy mission, saddened by what is happening around him and the suffering of the thousands without water. We have to believe he is there to get a personal and emotionally charged perspective then hurry back to his office and then activate the bureaucratic machinery so that succor is hastened.
Instead he is okaying the building of helipads.
According to him, the water used to build the helipad was recycled sewage water and not potable. Is that really an excuse for not being able to travel for half an hour by road. The very acceptance that a temporary helipad be built for his exalted presence is bad enough.
Here is his tweet; 'Water used for Helipad was waste from filtration plant which can't be recycled for normal use.'
What exactly is normal use, Mr Minister?
This is confusing. Filtration plants separate liquids from solids in the city's waste water, then dispose of each separately. The liquid is pretty much clean water and the solids are not that easily gotten rid of and require a major investment. They stay a problem because of the smell and the sludge that becomes a breeding ground for mosquitoes.
So, were the high odour solids used for the helipad? Doubtful. And how far away is this recycling plant (this is not a two tinsheds and a pipe stuff) and who gave the permission to move the so called waste water from its point of origin to the helipad site?
Let's see some paperwork showing this waste was used.
The questions continue to cascade. Who gave the sanction for the helipad to be built and who built it? Where did the materials come from and how was the water transported? Did someone go to the sewage plant and hire tankers, after all, even sewage water has to be carried from point A to point B.
These are questions that must be asked because if they cannot be answered then Mr Khadse should face legal charges for wanton wastage in a crisis condition.
Who gives the sanction for these joyrides? Where did this helicopter and its crew come from, who requisitions it and how is it fueled and maintained and what is the bill for these exercises in ugly self indulgence.
Will the CWC please shed some light on this matter.
Maybe, if we go by the way our politicians conduct themselves we could start selling tickets in Latur, sort of make it into the INDIAN PICNIC in LATUR (IPL) turn it into a tourist attraction. Come watch thirsty farmers, taking a selfie with a parched throat, walk twenty kilometres for a bucket of water with village wives. Learn to balance a 'ghara' on your head.
Think of it. The helicopter guy is bad enough. Now you have Pankaja Munde turning a disaster area in a photo op. Okay fine, let's not be petty, everyone has a mobile phone and these days people are literally dying to take a selfie. So, Ms Munde, in her wisdom took a shot of herself against a long, dusty road as evidence of her having been there (Kilroy was here stuff). Then she summons her entourage to pose with her, grin, grin, sayyyyyy cheeeeese. Right, so far no foul. What then was the point of going public with it. Who seriously cares lady and what exactly is the point you are trying to make.
Is this a trip to the zoo? Are the water starved folks of Latur some sort of exhibit, a rare species, some sort of fun thing that sharpens your curiosity, what were you doing, absorbing atmosphere?
Where are the pictures of the rescue missions and the aid efforts.
Come see farmer and family, take picky put on Facebook, send on Instagram, oh what fun it is to be a Minister on this day.
The government has to intervene and stop these trips and this complete lack of sensitivity.
Find latest and upcoming tech gadgets online on Tech2 Gadgets. Get technology news, gadgets reviews & ratings. Popular gadgets including laptop, tablet and mobile specifications, features, prices, comparison.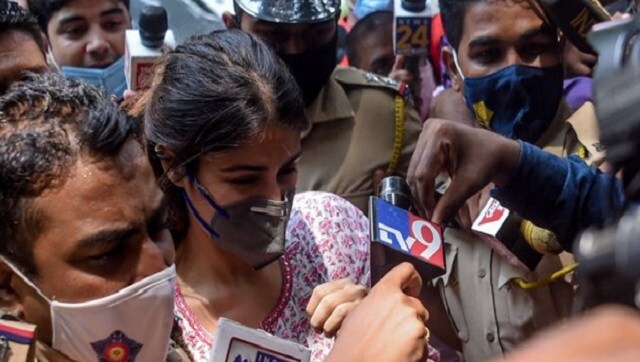 India
The persecution of Rhea Chakraborty, the actor's one-time partner, borders on lunacy, if we are to cling to some notions of rationality and humanity
World
It is this sense of entitlement and hypocrisy that has discredited politicians like Pelosi worldwide.
India
At a time when a new National Education Policy proposes to make education "well-rounded, useful, and fulfilling to the learner", administrators of India's top Central universities only want to tame their students