Ek Thi Tigress: Why Mamata tilts at every windmill
Mamata Banerjee is clearly unable to leave her persecution complex behind. This is why she sees an enemy behind every bush
"Mamata Banerjee ko gussa kyon aata?"  is an intriguing question.
Why does she brand people who tend to disagree with her as Communists and Maoists? Very recently Shiladitya Chowdhury was arrested under non-bailable sections when he questioned the West Bengal government's policy on farmers during a rally being addressed by Banerjee. As The Hindu reported, "Eyewitnesses said that Ms Banerjee was heard giving directions to isolate him from the crowd, referring to him as a Maoist."
A few months back she had called some students "Maoists" after they had asked her uncomfortable questions during a television interaction organised by CNN IBN. "I must tell you that you are CPI(M) cadres, Maoist cadres … I cannot reply to CPI(M) questions," Banerjee had said on that occasion before she walked out of programme.  This happened in May.
A little earlier in April, Ambikesh Mohapatra, a professor at Jadhavpur University, had been arrested for posting cartoons of Mamata Banerjee on the internet. "They don't do any work but think of ways to frame me," Banerjee had said, justifying the arrest and alluding to the CPI(M) being behind the cartoons.
And now she has taken on the judicial system in this country. On the occasion of the platinum jubilee celebrations of the West Bengal assembly she recently said "at times favourable verdicts are given in return for money. There are instances when judgments have been purchased. There is corruption among a section of the judiciary. I know there can be a case against me for saying this. But this must be said and I am ready to go to jail for saying so."
Now why does the Chief Minister, whose alliance has 227 out of the 294 seats in the state assembly, want to go to jail? Even if we were to leave out 43 seats which belong to the other alliance partners, her party, the All India Trinamool Congress, has 184 seats in the assembly.
Why does the Chief Minister of a state whose party has an absolute majority in the assembly bother about small dissent so much so that it forces her to label the dissenters as Communists and Maoists?
The answers to all these questions lie in the 42 years that she has spent in politics.
Mamata Banerjee entered politics in 1970. As Monobina Gupta writes in Didi – A Political Biography, "As an undergraduate in Kolkata's Jogmaya Devi College, she became active in Chhatra Parishad, the Congress's student wing. The college union was then controlled by the Democratic Socialist Organisation (DSO), the students' wing of the Socialist Unity Centre of India (SUCI)…Her dogged fight against the DSO drew the attention of some Congress leaders, even though she did not known them personally then."
By the late 1970s Mamata was at the forefront of the protests happening in Kolkata (then Calcutta). "Mamata was out on Kolkata's streets defending Indira Gandhi after the latter lost the parliamentary elections… From waving black flags at the then Prime Minister Morarji Desai on his visit to Kolkata to getting into a bloody fight with the Left student activists in Ashutosh College, she was gaining a reputation for being a strong combatant of the CPI-M," writes Gupta.
Mamata's big stroke of luck came before the 1984 Lok Sabha elections. Indira Gandhi had asked Mamata's then mentor and Congress legislator Subrata Mukherjee to find a suitable woman candidate. As Mukherjee tells Gupta in her book, "The elections were approaching. Indiraji suddenly asked me to find a woman candidate. The Congress was in a bad shape. Finding a woman candidate was a tough job. I suggested Mamata's name, and she got her nomination from the Jadavpur constituency."
Indira Gandhi was killed by her bodyguards Beant Singh and Satwant Singh on 31 October 1984. In the sympathy wave that followed, Mamata Banerjee won, becoming a Lok Sabha member at a young age of 29. She defeated CPI(M) stalwart Somnath Chatterjee. The Congress party won 16 out of the 42 Lok Sabha seats in West Bengal.
This was enough to rattle the CPI(M)-led ruling Left Front government . It unleashed violence across the state and attacked Congress workers. "This was the scene Mamata entered flush with the success of her maiden electoral victory… She had courted danger right from her days as a student activist. The first in a series of trips Mamata made in this period as to Magrahat in South 24 Parganas, where a Congress worker was brutally murdered and his wife gang-raped by alleged anti-socials backed by the CPI(M). Media reports spoke of the horror of the incident – the assailants 'playing football' with the murdered worker's severed head. Mamata's visit and her meeting with the family of the deceased made front page news," writes Gupta.
Her confrontation with the CPI(M) continued in the years to come. In August 1990, the Kolkata police was following her 24x7, relaying her activities to the higher ups. On 16 August 1990, Mamata stepped out of her Kalighat residence and walked towards Hazra junction to be a part of the procession she had called for. The atmosphere was tense and Mamata was attacked. As Gupta writes, "The attackers had come prepared. Swinging his stick, Laloo Alam, a CPI(M) worker, hit Mamata hard on her head, she (i.e. Mamata) writes in her memoirs. 'The right side of my head (just a hairline away from where the brain is) had cracked open and I was bleeding profusely. I was still undeterred…When I saw them getting ready to hit me on the head with an iron rod, strangely in that grave circumstance, I covered my head with my hand,' Mamata narrates."
Covering her head with her hand nullified the impact of the blow on her head, and broke her wrist. Over the next few days Mamata was at a nursing home fighting for her life. She survived and thus started the second phase of her political career. It took her 21years more to beat the Left Front and form her government in West Bengal. Along the way she quit the Congress party and formed her own party, the Trinamool Congress.
Mamata Banerjee was a leader of agitations who became the Chief Minister of West Bengal on 20 May 2011. All the agitations over the years ensured that confrontation became an integral part of her career and basic nature. As Nilanjan Mukhopadhyay writes at www.asiancorrespondent.com "The bottom line is that as a leader of agitations you require to be spontaneous and have the ability to cock a snook at your adversary." (You can read the complete column here)
This is a trait that has become in-built in her and explains to a large extent why she has been spontaneously branding her dissenters as Communists and Maoists. The aggression that came out in all the protests, dharnas and bandhs she called for against the CPI(M), still needs to come keep coming out, but in other ways. That explains to a large extent why she is hell bent on shooting herself in the foot and is needlessly taking on the judicial system by calling it corrupt.
What also does not help is the fact that she sees herself as having been betrayed time and again. "Much of the excess of Mamata's emotional rhetoric stems from a lifelong sense of betrayal. The hurt and anger run through most of her writings. In school, the classmates she helped stabbed her in the back; the party she grew up (in) ruined her chances of routing the CPI(M) by striking undercover electoral quid pro quo deals with the Communists," writes Gupta. She concludes that all this has led to a situation where Mamata Banerjee is "haunted by a constant apprehension of persecution and conspiracy."
Hence, this is a major reason where even a hint of dissent gets labelled as a Communist or a Maoist conspiracy.
The traits that Mamata had developed over the years stood her in good stead as she fought the CPI(M) rule in West Bengal. And those are the traits that she can't seem to get rid off now. As Mukhopadhyay puts it, "I have long maintained among friends that she is the Uma Bharti of West Bengal. Meaning, both – and they are inherently well-meaning leaders – can lead an agitation to its logical culmination but cannot govern in their wildest dreams. In politics you require the chutzpah to ensure that the government – or people in authority – of the day bend before your agitation. But in governance you are required to listen, think, put one against another and act."
"In governance you need to be routine (diligent, if you prefer this word), ensure that the horse comes before the cart (meaning systems are followed) and, above all, grant the others the right to disagree with you and agitate if they wish to exercise their democratic right," Mukhopadhyay adds.
But this is easier said than done because for this to happen Mamata Banerjee will have to stop being Mamata Banerjee.
Salman Khan has been labelled tiger only in reel life. Mamata Banerjee has been a tigress in real life. But its time she stopped being one because it's hurting her more now than ever before.
Vivek Kaul is a writer and can be reached at vivek.kaul@gmail.com
Find latest and upcoming tech gadgets online on Tech2 Gadgets. Get technology news, gadgets reviews & ratings. Popular gadgets including laptop, tablet and mobile specifications, features, prices, comparison.
India
In the Covaxin phase 3 trial in Kolkata, a total of 1,000 participants will be administered either placebo or vaccine shot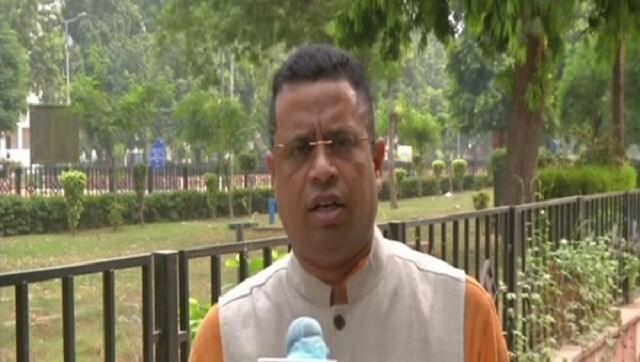 Politics
The ruling TMC has been trying to keep its flock together, as several key leaders, including Suvendu Adhikari, have, of late, openly aired their grievances against the dispensation
India
The Constituent Assembly of India had adopted the Constitution on 26 November, 1949, with the day coming into effect in 1950