Office of profit case: 20 AAP MLAs to meet President Ram Nath Kovind, present party's side, says Manish Sisodia
The AAP legislators, facing disqualification from the Delhi Assembly for allegedly holding offices of profit, have sought time from President Ram Nath Kovind to present their views, Deputy Chief Minister Manish Sisodia said
New Delhi: The AAP legislators, facing disqualification from the Delhi Assembly for allegedly holding offices of profit, have sought time from President Ram Nath Kovind to present their views, Deputy Chief Minister Manish Sisodia said on Saturday.
The 20 MLAs had a meeting with Chief Minister Arvind Kejriwal, Sisodia, and other senior AAP leaders at the chief minister's residence on Saturday, when they decided to approach the president.
"The MLAs were not given opportunity to present evidence with them. They have a lot to tell and prove that there was no office of profit case. It is unconstitutional and illegal," Sisodia said.
"We are seeking appointment to meet the president and the MLAs will convey him that it is a biased recommendation and against natural justice," he said.
On Friday, the Election Commission asked the president to disqualify the 20 MLAs for holding offices of profit, setting the stage for their ouster from the Assembly.
In its opinion sent to president Kovind, the EC said the MLAs, by occupying the post of parliamentary secretaries between 13 March, 2015 and 8 September, 2016, held offices of profit, and were liable to be disqualified as legislators, highly-placed sources have said.
The development does not threaten the AAP government in Delhi as it has 66 MLAs in the 70-member Assembly. Still, the BJP and the Congress have demanded Kejriwal's resignation on moral grounds.
Sisodia said the AAP will also go to court on the matter.
"We hope to get justice in court and the case will not stand. Even if justice was denied us in the court, we will go to the people's court which is the biggest court," he said.
He also hit out at the BJP, saying it wants elections so that all schemes and projects initiated by the AAP government can be derailed.
"They have been trying hard, but none of their conspiracies succeeded. BJP people are having problems because of successes of the AAP government in three years. Now, we are going to do door-step delivery of services, new Mohalla clinics are coming up, CCTV project is in the final stage. The government is now in fourth gear and the BJP is trying to stop us from working on these projects," he said.
Sarita Singh, AAP MLA from Rohtas Nagar, echoed Sisodia's views.
She said the parliamentary secretaries did not get any pecuniary benefit. On the contrary, the parliamentary secretaries had to spend money from their pockets, Singh said.
Alka Lamba, AAP MLA from Chandani Chowk, said all 20 AAP MLAs have sought an appointment with the president at an individual level. "Plus, a petition is also being drafted for all 20 MLAs," Lamba said.
India
On the first day, Kejriwal and Mann will address public meetings at Gandhidham and Joshipura. On the second day, they will address public meetings in Surendranagar city and Khedbrahma town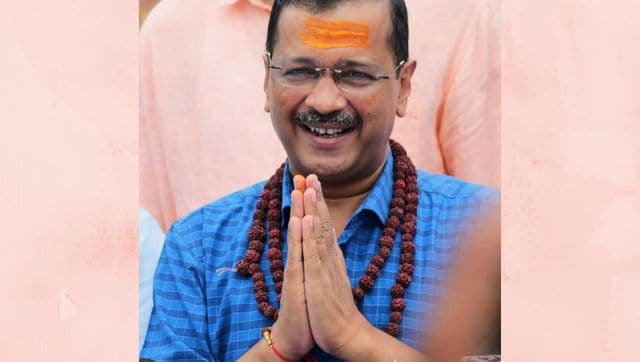 Politics
Taking a swipe at Kejriwal, BJP spokesperson Sambit Patra said it was a matter of 'surprise' that the AAP leader did not say that US president Joe Biden was also afraid of him
India
"The ED has summoned AAP's MCD poll in-charge Durgesh Pathak today. What has our MCD poll in-charge to do with Delhi government's excise policy? Is their target liquor policy or MCD poll?" asked Sisodia.