EC for CBI probe into Jharkhand RS poll
A bench of Chief Justice Prakash Chandra Tatia and justice Aparesh Kumar Singh gave the direction to the EC.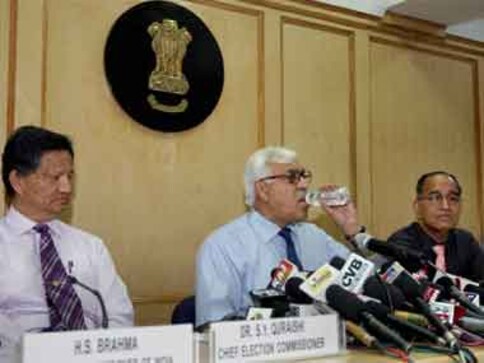 New Delhi/Ranchi: Armed with the Jharkhand High Court order, the Election Commission tonight said it will write to Government seeking a CBI probe into allegations of use of money power in last week's countermanded Rajya Sabha elections in the state.
Hailing the court's dismissal of the petition challenging the EC decision to countermand elections and its order for a probe by a specialised agency like CBI, Chief Election Commissioner SY Quraishi said it was yet another success against corruption.
He also said he was "extremely delighted" with the court verdict. Quraishi said the poll body will formally write to the Union home ministry on Monday for the CBI probe.
He also said that a probe by this central investigating agency was one of the options which was under the consideration of the Election Commission early this week.
"Now that we have clearance from the high court, we will request the Home Ministry to ask CBI to conduct an inquiry," he told PTI in New Delhi.
"It is a success against corruption. We feel stronger now with the High Court decision. We will now order a CBI probe into the matter," Quraishi said.
"Jharkhand HC dismissed a PIL too against countermand with 1 lakh cost! Yet another success against corruption! Time to feel good," he also tweeted on the HC decision.
A bench of Chief Justice Prakash Chandra Tatia and justice Aparesh Kumar Singh gave the direction to the EC, rejecting a writ petition filed by Congress leader and RS candidate Pradeep Kumar Balmachu on Tuesday for quashing the EC's decision.
The petition contended that the EC order was unconstitutional and not within its jurisdiction. With the rejection of the petition paving the way for announcement of fresh schedule for elections, Quraishi said a decision to this effect would be taken soon.
BJP welcomed the court order, calling it a "good step".
"This is a good step and we welcome it," BJP spokesperson Nirmala Sitharaman said. The EC countermanded the elections following seizure of Rs 2.15 crore from a car on the outskirts of Ranchi by Income Tax sleuths and Ranchi police hours before polling.
The police and IT officials had said that the car allegedly belonged to the kin of industrialist RK Agarwal, who was contesting as an independent candidate.
PTI
India
Hearing petitions seeking reforms in the system of appointing election commissioners, the Supreme Court noted that a person like late TN Seshan 'happens once in a while'. Serving as Chief Election Commissioner from 1990 to 1996, the 86-year-old is credited with changing the face of polls
India
When Amir started troubling her more, she went to her maternal home and while narrating her ordeal to her father, she asked for Rs 70,000. her father assured sent her back assuring that he would arrange the money soon
India
Kumar said, in the 2017 elections in Gujarat, material worth Rs 27 crore was seized. To date, this recovery has been worth Rs 750 crore. 27 crore cash has been seized. Liquor worth Rs 15 crore has been seized. While alcohol is banned in Gujarat. Drugs worth 60 crores have been seized