Team Anna to e-democracy: A case for 'mob rule'
Team Anna is being slandered as 'tyrannical' for advancing participative democracy. But the world is moving towards 'crowdsourced government'. Some inspirational examples...
It's become fashionable for politicians across the spectrum and for media commentators to mock Anna Hazare and his band of merry men for their use of the term "civil society" to describe their mass-mobilisation movement.
"If they are 'civil society', who are we: the uncivil society?" said CPI(M) leader Sitaram Yechury, less in jest than in malice.
The Congress has, of course, been leading a campaign to brand Team Anna as being unqualified to speak on behalf of anyone other than themselves because they've not been through the grind of electoral politics. Party spokesperson Manish Tewari, ever ready with an over-the-top hyperbole, suggested that Indian democracy was "in peril from the unelected and the unelectable."
An editorial page commentary in Business Standard takes forward that argument, claiming that the Anna Hazare-led movement was "a clever coup staged (by) a clutch of social activists and retired civil servants…to project itself as 'a representative of civil society'."
It further claims that "so-called 'civil society' leaders" had "filled the vacuum created by the elected MPs' abdication of their constitutional responsibility.
The commentary  brands the Lokpal institution — as visualised by Team Anna — as "an all-powerful Frankenstein of an institution".  Although it was aimed at destroying corruption and empowering people, it would, in the essential nature of all Frankensteins, "destroy democracy in the name of the people."
Writing in Tehelka,  Mona G Mehta makes a similar alarmist case.  The celebration of Anna Hazare and Baba Ramdev as "civil society agents who are making our democracy more accountable" reveals a misunderstanding of civil society as inherently positive." Invoking Tocqueville, the article goes on to say that "civil society" came with "tyrannical possibilities".
All this is completely over the top.
It's true that Team Anna is made up of men who are unelected (and possibly unelectable), but  does that mean they should be barred from the posh club of people who have an exclusive say in public affairs – and who provide inputs when it comes to drafting the law of the land? Is  law-drafting a privilege only of parliamentarians? Should the dirty, unwashed masses not be allowed to contribute with ideas on how the country ought to be run?
Anyone who suggests that should ponder over a unique, even radical, experiment that's going on in Iceland.  The country is drawing up a new Constitution – and is, somewhat uniquely, crowdsourcing ideas from its citizenry, using all the social media platforms available today.
The Guardian reports:
In creating the new document, the (constitutional) council has been posting draft clauses on its website every week since the project launched in April. The public can comment underneath or join a discussion on the council's Facebook page.
The council also has a Twitter account, a YouTube page where interviews with its members are regularly posted, and a Flickr account containing pictures of the 25 members at work, all intended to maximise interaction with citizens.
Says Thorvaldur Gylfason, member of Iceland's constitutional council: "I believe this is the first time a constitution is being drafted basically on the internet."
There you have a country that is crafting an entire constitution and making it a participatory process involving its citizens. And over here, Anna Hazare and his men are branded agents of tyranny merely because they exerted moral pressure to get the government to enact a strong anti-corruption law that will, hopefully, stop the rapacious plunder of India. Shouldn't that be the right of any citizen in a true participative democracy? Isn't that what an open government means - or ought to represent?
Nor is Iceland the only instance of countries soliciting views on laws from the public.
Futurist Ross Dawson notes that New Zealand attempted a somewhat less ambitious project while redrafting its Police Act in 2007 using the crowdsourcing "wiki" format made popular by Wikipedia.
"These examples," he writes, "represent the future of government." He, however, concedes that the path forward will be "long and slow."
"At the heart of democracy is the idea that we all have an equal voice in shaping how we are governed. However most democracies distort that, not least in representative democracies, in which individuals (who usually represent political parties) are voted to represent groups of citizens. The first-past-the-post nature of these elections, combined with the fact that voted representative are often swayed by financial or other persuasions to support their own interests rather than those of their constituents.
"I believe the future of government should, and hopefully will, be crowdsourced."
In fact, nearer home, even the National Advisory Council – that's Sonia Gandhi's own kitchen cabinet that is also made up of unelected and unelectable people – is now pitching for "pre-legislative consultative processes".  In other words, for broader consultation with the hoi polloi before laws are made.
The NAC has asked for a policy on 'pre-legislative consultative processes'. It basically 'mandates public participation and consultation at every stage, from the time a decision is taken to draft a policy till the time it is represented as a bill to be tabled in Parliament'.
The NAC said its sub-group on transparency, accountability and governance, headed by RTI campaigner Aruna Roy, would evolve a policy on "pre-legislative consultative processes" and recommend it to the government.
The rationale was that to strengthen participatory democracy, it was "important to go beyond the existing parliamentary consultative process and directly involve the people in the formulation of important decisions, policies and laws drafted in the name of the sovereign".
The NAC said all policies and laws in the pipeline should be opened up for public discussion before they are finalised.
Perhaps the NAC is pitching for this radical idea now because its own legitimacy has been called into question after the government attacked Team Anna and civil society groups. Even so, it's an idea worthy of consideration.
But do the foul-mouthed Congress spokespersons, who rejoiced in mocking and slandering Anna Hazare and his team for making bold to inject themselves into the law-drafting process, feel the same way about this proposal from Sonia's kitchen cabinet for wider consultation with the dirty, unwashed masses?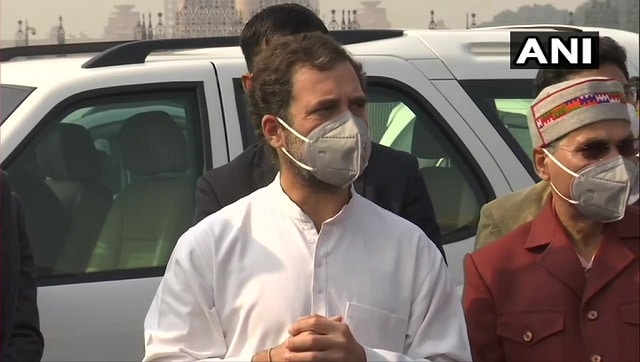 India
India added a record over two lakh new COVID-19 infections in a day pushing the total tally of cases to 1,40,74,564, while the active cases passed the 14-lakh mark
Entertainment
Film bodies like FWICE and IFTPC are considering approaching the Maharashtra Chief Minister, urging him to reconsider his decision as the industry would incur huge losses due to such a restriction
Arts & Culture
With at least two TV dramas and one feature film in the pipeline about 15 April, the drama of that night and the race to save the 850-year-old building looks set to be further graven in the public memory.