Till a week ago, billboards across Delhi splashed the name of Ankiv Basoya of the Akhil Bharatiya Vidyarthi Parishad (ABVP). He withdrew his nomination at the last minute and the reason for doing so was not as public as those billboards. A student on campus said, "after all the random hand-shaking exercises from inside his Red Ford Mustang, where has he disappeared?"
On 6 September, the ABVP declared Rajat Choudhary as its presidential candidate. His name is mis-spelt as Rajatt on some posters and banners. Why? Is he on the wrong side of the law with his name on posters that are plastered on public property – be it bus stops or in market places or on the walls of colleges? As per the section on penalty for defacement of property in the Delhi Prevention of Defacement of Property Act 2007 (an act of the legislative assembly of the National Capital Territory of Delhi which received the assent of the President of India on 17 January, 2009), the first point states, 'Whoever defaces any property in public view by writing or marking with ink, chalk, paint, or any other material except for the purpose of indicating the name and address of the owner or occupier of such property, shall be punishable with imprisonment for a term which may extend to one year, or with fine which may extend to fifty thousand rupees, or both.'
The following picture with his mis-spelt name is doing the rounds on Whatsapp and students have confessed to Firstpost that they are bribed with pizzas, cosmetics and alcohol and that these malpractices are quite ordinary but nobody talks about them openly: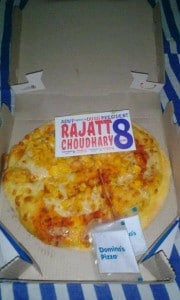 ABVP isn't the only party guilty of introducing spelling errors in the names of candidates. National Students' Union of India (NSUI) presidential candidate Rocky Tuseed's name is mis-spelt as Rockey Toshir on this graffiti. This is a screenshot from a promotional video shared by NSUI Delhi: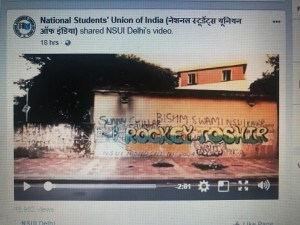 Both parties are aware that they're on the wrong side of the law. Another aspect that unites them is that their respective presidential candidates have been dragged into controversies. Rocky Tuseed was debarred from contesting in the elections, after which he filed a petition in the high court. The high court eventually allowed the NSUI presidential candidate to contest the election but directed the varsity not to declare the results for the post of president.
The Delhi High Court on Monday also sent a show-cause to the DU students contesting the polls on a plea seeking directions to municipal bodies to impose fines on parties defacing public property by putting up posters, according to DNA.
Meanwhile, Raja Choudhary, an independent candidate, has alleged that Rajat Choudhary's henchmen have threatened him to back out. He had filed a complaint with the police that Rajat had physically harmed him, after which a police constable was deployed for his safety. While Rocky is a student of Buddhist Studies at Arts Faculty, North Campus, Rajat studies political science at Motilal Nehru College, South Campus.
Firstpost spoke to a group of students from Kirori Mal College (KMC) in North Campus who explained why they're totally disenchanted with DUSU, which, they feel, is nothing but political gimmickry. "One guy contested from our college as an independent candidate and he was beaten up. We cannot contest if we want to just look around, politics is dirty and scary. They come in big cars and raid our classrooms and classes are disrupted. There is screaming and shouting but we still don't know what the manifestos are about," revealed a student of Science Stream at KMC.
One girl spoke about a gang crowding her college gates each morning and how she walks right past them with her head down, not wanting to be forced to shake hands. She also says the students sell their votes to earn toffees, cosmetics, pizzas and alcohol. Women empowerment is mostly in every party's agenda but some girls at KMC tell us that if an unfortunate incident happens, then a candle light march or a seminar takes place but no concrete steps are taken towards improving women safety in the campus.
"Distribution of alcohol is a common malpractice but people refrain from talking about it. Even the students are at fault because they accept freebies," hinted another student in the group. "The paper used in campaigning can be used to supply books to poor students. In India, paper is vidya (knowledge) and commands respect but not in North Campus," lamented a student of first year at KMC.
These students say they study political science theory and have classroom debates about democracy and awareness and the right to think freely and intelligently but when they look around, the level of discourse is quite pathetic. "There is no positive campaigning, the big parties are interested in pointing each other's flaws," one of the students said. Their demand is an unbiased leader who respects that this is a multi-party system and not a totalitarian state.
The students are depressed by the fact that the university who gave India a leader like Arun Jaitley is growing wary of its own political machinery.
They ask why candidates can't be selected on the basis of academic merit. Last year, nearly 17,000 students voted for NOTA and there was a seven percent dip in the voting turn out. This year's voting turnout was 43 percent.
The students share with Firstpost that once the union is elected, its major responsibility is organising fresher's parties and annual college fests. The budgets, they add, range from Rs 30 lakh to Rs one crore and adding star power to the fest is a matter of pride. Atif Aslam performed at Shri Ram College of Commerce in 2015 and his tentative price for one performance is Rs 50 lakh. In response to an RTI filed by NSUI regarding the DUSU budget 2016-2017, when the ABVP was in power, DUSU authorities shared that out of Rs 26,20,000, an amount of Rs 21,78,000 was spent on miscellaneous needs (tea, photostat, repair, maintenance, and others not in the list).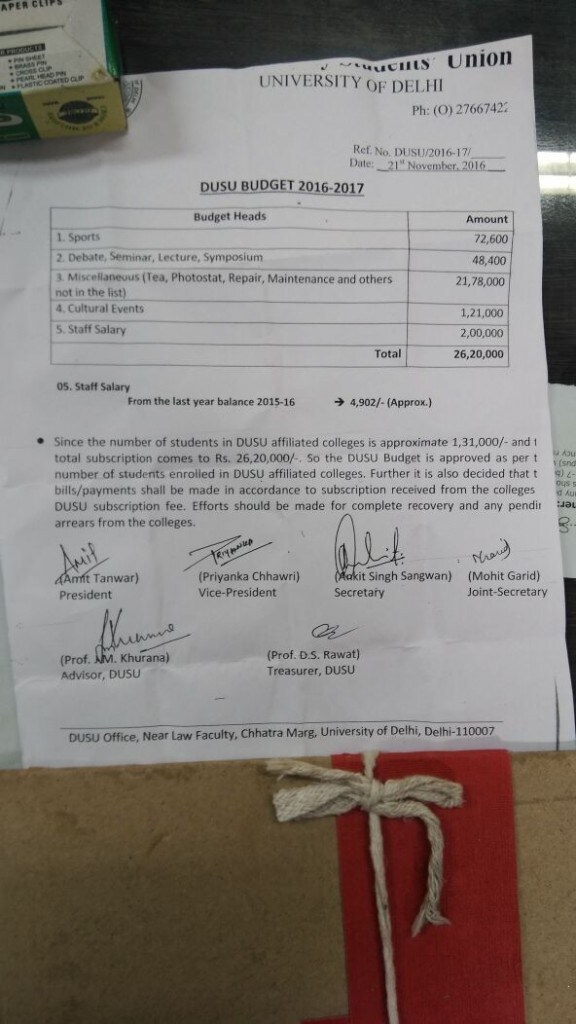 Lack of transparency in the methods is one of the reasons for the Chhatra Yuva Sangharsh Samiti (CYSS), AAP's student body, to keep themselves away from the elections. "The manifestos haven't changed since the 50s. We have studied both ABVP and NSUI manifestos and they raise the same issues of hostels, women's safety and transportation year after year. Why haven't they been able to deliver on ground?" asks Anupam Kumar, Delhi president, CYSS. "There are over 8,000 students in JNU and their president makes it to national headlines. Does anybody know who the DU president is and what his opinion on national issues is, despite the fact that there are more than 1.30 lakh students in this university?" he asks.
Firstpost raised some of these concerns with all four candidates from the NSUI and the ABVP each and heard their side of the story too. Mahamedha Nagar of the ABVP said her party is in a golden period. "Some of our demands are CCTV cameras and a permanent woman constable outside girls' colleges, and this is what some parties have been talking about for quite some time," she said.
When asked about the Rs 22 lakh worth of funds being spent on tea by ABVP as suggested by the RTI, Rajat Choudhary said that it isn't possible to have that much tea. He then accused a former NSUI president of locking his room and staying away from campus issues and highlighted that his party stands with the students through thick and thin.
Meenakshi Meena of the NSUI spoke about the Swachh Bharat Abhiyan and the filth generated on campus by both parties. She said the NSUI had to cover 52 colleges in a short span of time and that's why posters were used, saying, "We will ensure we go paperless from next year."
All India Students Association's Kawal Preet Kaur told Firstpost that a culture of impunity has come into the campus because of parties that think they can get away with anything. AISA fielded Parul Chauhan, a student of Satyawati College, as its presidential candidate. The party has campaigned with less paper and has chanted more creative slogans and made use of hand-drawn posters. Their style of campaigning has remained much closer to that of JNU Students' Union elections, where it has came to power recently. All in all, these elections prove that the practice of politics in Delhi University requires serious change.
Updated Date: Sep 13, 2017 11:26 AM