Dubious land allotments return to haunt Bhupinder Hooda; AJL deal under scanner
Health Minister Anil Vij, too, questioned the manner in which land was allotted to National Herald in a hush hush manner.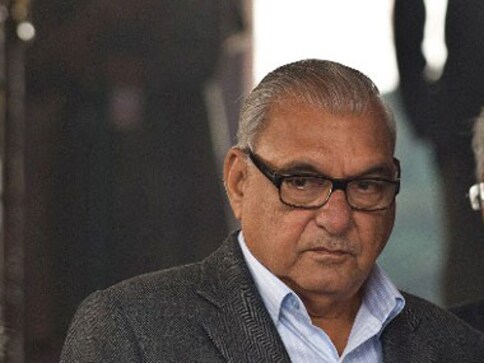 Chandigarh: The BJP government in Haryana has dug up a slew of land deals to nail former chief minister Bhupinder Singh Hooda. While it is likely to order a CBI probe into the allotment of land to Associated Journals Ltd (AJL-National Herald) under dubious circumstances 10 years ago, it has already lodged FIRs some other cases.
The piece of land involving AJL was acquired by the company for Rs 59.3 lakh while its market value at that point was close to Rs 23 crore.
"Within months of coming to power in the state, Congress chief minister Bhupinder Singh Hooda allotted land measuring 3,363 square metres to the National Herald (AJL) in a prime locality, Sector 6 of Panchkula, for a mere Rs 59.3 lakh. The market price of the piece of land at that time was around Rs 23 crore. All rules seem to have been flouted in the allotment," Ram Bilas Sharma, Haryana's Education and Tourism Minister told Firstpost.
"The entire process, from the decision on allotment to the actual possession of the land by the AJL to mutation and other official processes were completed in a single day. What was the tearing hurry? Why did the government give away land at throwaway prices?" questioned Sharma.
He said the departmental inquiry by Haryana Urban Development Authority (HUDA) has revealed that the former chief minister misused his powers to allot land to AJL. "Hooda paid no attention to the negative comments against the allotment and decided the issue at his own level," Sharma said.
Health Minister Anil Vij, too, questioned the manner in which land was allotted to National Herald in a hush hush manner. "Hooda was actually in a hurry to oblige his political masters. While doing so he did not even care to hear the legal advice given to him at that time. If land was to be allotted why no advertisements were issued and why were processes ignored?" Vij asked. He alleged that two months before the Assembly Elections in 2014 an Occupation Certificate (OC) was issued for the four-storey building on the AJL plot.
The BJP minister said it had come to light through AJL's records that Member of Parliament Deepinder Singh Hooda, son of Bhupinder Singh Hooda, was appointed as additional director in the AJL on 20 March 2015.
Meanwhile, an FIR has been registered against Hooda and top functionaries of the HUDA in an alleged scam pertaining to 13 industrial plots in Panchkula. The BJP government is likely to recommend a CBI probe in the case. The vigilance department had reported irregularities in the allotment of industrial plots during the previous Congress regime. Hooda has been charged with giving away plots to candidates who were either his relatives or were related to his close associates and friends.
The FIR followed the recommendation from Haryana's Advocate General Baldev Raj Mahajan. The AG in his report had held the chairman of HUDA responsible for changing the allotment criteria to help beneficiaries. The AG had also found the case fit to be probed by an independent agency like the CBI.
The former Haryana CM is also facing a court case over land deals in Manesar. The CBI had registered a case against builders and Haryana government officials for their alleged role in the purchase of 400 acres of land from Gurgaon farmers for just Rs 100 crore when the actual worth of the land (according to market rate at that time) was Rs 1600 crore. The farmers sold their land in desperation because they were under threat of land acquisition between August 2004 and August 2007.
The Haryana government had announced to set up an Industrial Model Township on 912 acres of land in the area which covered Manesar, Lakhnoula and Naurangpur villages. But the land was released from acquisition later.
Hooda has called the government's action 'political vendetta'. Speaking to the media on Tuesday, the former chief minister said he was innocent. "This is political vendetta and witch hunting against me and the Congress. The BJP government has failed on all fronts. It has committed a big scam of thousands of crores of rupees in the purchase of rice. It is trying to divert people's attention by bringing in malicious charges."
Speaking to Firstpost, he said issues like de-acquisition of land in Manesar, allotment of industrial plots in Panchkula are already in court. "I am not afraid of court cases. Main na kabhi dara na kabhi darunga.(I was never afraid nor I am going to be)," he said.
Politics
Congress will organize the Chintan Shivir in Chandigarh on 31 May and 1 June
India
The move is aimed at "giving big boost to conserve water in the state by launching an effective technique for paddy growers"
India
A tormenting heatwave swept through the National Capital and its neighbouring areas on Sunday with the mercury leaping to 49.2 degrees Celsius