Drought in India: Narendra Modi's inaction speaks louder than his words
When the PM - who is tasked with responding to a disaster takes to musing right in the middle of a drought crisis, something is out of place
Editor's note: Swaraj Abhiyan founder Yogendra Yadav is on a ten-day padyatra of drought affected regions of Marathwada in Maharashtra. He will file dispatches for Firstpost during his march. This is the first of the series. 
It must have been the heat. Or else, why would I react so to the perfectly sane and sage advice from our own prime minister? Why would I find his address insufferable, obscene and pompous?
After all, he was talking about the drought, something that I want to hear about. He was advocating drought proofing, not wasting a drop of water, more crop per drop – things that I often talk about. Why this hot-headed reaction then?
I was trying to catch an afternoon nap under the shifting sun-shade of a mango tree in the rural hinterland of drought-affected Latur. It was the second day of our Jal-Hal padyatra. We had walked for about 15 kilometres in the forenoon, much more than we had anticipated.
That is when a colleague alerted me to the agency report about the prime minister's Mann Ki Baat. I scanned through the report, was annoyed, asked for a full copy, was furious and surprised at the intensity of my reaction. Was it just the heat? Or my proximity to the unfolding tragedy?
Maybe. But consider another thought. Obscenity usually does not lie in words. It often lies in the context in which an otherwise harmless word is spoken. If a columnist or a professor has expressed these sentiments, it could be excusable, perhaps even welcome.
But when the man tasked with responding to a disaster takes to musing right in the middle of a crisis, something is out of place. And when he uses these sagely utterances to cover up his own inaction and for thinly disguised self-promotion, perhaps there is something obscene here.
A simple fact check might help.
The prime minister patted his own back for meeting all the CMs of drought affected states separately, not in a group as may have been done in the past. What he did not mention is what the CMs asked for and what he has done about it.
Fact is that state governments have been asking for money from the National Disaster Response Fund. They were given much less than what they needed and asked for, that too after considerable delays. Uttar Pradesh, for example, got its funds after the end of the financial year.
Ever since the yatra began, we have been listening to the woes of the poor, agricultural labour. They are desperate for jobs. The construction work they can get is very infrequent. Farm work is not available now.
In any case, women get just Rs 100 per day. They all want MNREGA work that pays Rs 191. The trouble is that MNREGA is starved of funds by the central government. The situation is much worse in Maharashtra, where the entire scheme has been captured by the rural-landed class. The prime minister chose to applaud Maharashtra for its drought management.
He also patted (who else?) the Gujarat government for the use of technology in combating the drought. The fact is that the Supreme Court indicted the government of Gujarat more than once for following antiquated, colonial practices of annawari and for failing to use modern indices and remote sensing data.
Modi spoke of preventing water wastage. Who can possibly disagree with that? But it is one thing to talk about petty wastage, quite another to take on water misuse, diversion built into our models of growth.
Next to the mango tree, there was a private tanker filling up water from one of the few functional wells. Just two weeks ago, P Sainath had shown us slides of advertisements for residential complexes with swimming pool on each floor! I was waiting for the PM to talk about such matters or about the massive diversion of water from agriculture to industry and cities.
He did not.
Moral of the story: Switch on your AC before you switch on the next Mann ki Baat!
The author is co-founder of Swaraj Abhiyan and the national convener of Jai Kisan Andolan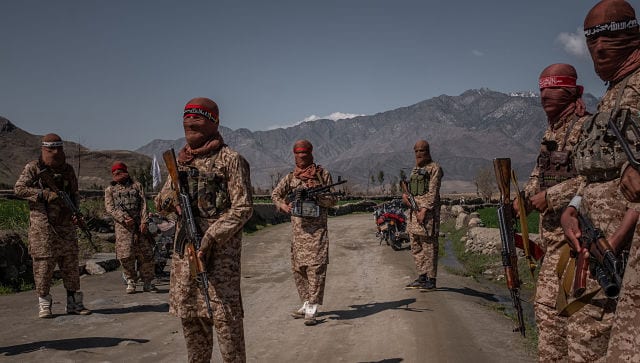 World
While the government in Kabul has brought reforms, including on women's rights and voting, Taliban have reiterated that they want an "Islamic system" in Afghanistan
India
The Centre has said there is "no rigid criteria or trenchant formula for selection" of an awardee but that the main consideration is the "lifetime achievement of an individual"
Politics
After years of "will-he-won't-he", the Tamil Nadu superstar on Monday once again announced that he will not be entering politics and the Rajini Makkal Mandram (RMM) will carry out welfare activities