Corruption allegations against a political leader by a comrade can prove more harmful than those shot by a rival because conspiracy theories forwarded to neutralise the impact of such accusations hardly prove of any effect in these cases.
This is what seems to have happened with Delhi Chief Minister Arvind Kejriwal, after a Cabinet colleague and a close aide since the days of India Against Corruption movement, Kapil Mishra, accused him of bribery and forgery. Aam Admi Party was grappling for a befitting reply to these allegations which delivers a solid blow to Kejriwal's public image of incorruptibility.
Since the results for the Municipal Corporation of Delhi were announced, the public discourse around AAP has been about Kejriwal's political ineptitude. But the discourse has drastically shifted to corruption after Mishra's allegations against the chief minister surfaced — accepting a bribe of Rs 2 crore from water mafia and of being involved in a conspiracy to pass fake bills worth Rs 10 crore and misusing official power to make land deals. In fact, the party's allegations on EVM tampering made against BJP in the Delhi Legislative Assembly on Tuesday seemed like an attempt to deflect the issue to a more convenient issue.
When AAP fared miserably in the recently-concluded civic polls, Kejriwal's rise to grace and fall from it was compared to Prafulla Kumar Mahanta's, the leader of Asom Gana Parishad, who once rode to power in Assam on the tides of a mass-hysteria left by historic 'Assam Movement'. The two were compared because Kejriwal, like Mahata, formed the AAP on the pedestal of a mass movement 'India Against Corruption'. However, Mishra's allegations set the two apart — Mahanta, who was Assam chief minister for two terms, faced numerous charges of corruption but none of them came from his cabinet colleagues.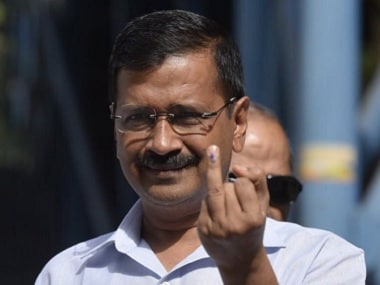 "Certainly, betrayal of public trust was a serious allegation against Mahanta, as severe charges of corruption were levelled against him and his government in his very first term as the chief minister (1985 to 1990). But it is noteworthy that no member from his cabinet or legislative party went on record to lodge a complaint against him," said Naba Thakuriya, a senior journalist based in Guwahati, underscoring the difference in the way how both the leaders fell from grace. From its formulation days, the AAP has been following the trajectory of AGP, albeit inadvertently.
"Aam Admi Party's oath taking ceremony at the Ram Lila Maidan instead of Raj Bhawan, fiery speeches by it's leaders in the ceremony, and subsequent rise of dissidence in the government and party — all seemed repetition of the heydays of AGP," said Naba Thakuriya.
AGP that was formed by the leaders of the historic 'Assam movement' — which took the state by storm for nearly six years from the year 1979 to 1985 — rose to powe on the aspirations of Assamese to be free from infiltrators from Bangladesh. Nearly three decades later, AAP was conceived on the pedestal of the 'India Against Corruption' agitation led by Anna Hazare in Delhi's Ram Lila Maidan, with the lofty goal of eradicating corruption.
Both the agitations appealed to the people's aspirations for freedom, which they believed were hindered by factors such as illegal immigrants from Bangladesh and corruption — and the public trusted the likes of Kejriwal and Mahanta on the belief that leaders of both the agitations were incorruptible.
Kumud Sharma, once an activist in the Assam movement told Firspost that such was the intensity of people's trust on Mahanta that they would keep fasts for his good health and success. "But this is not the image that he enjoys now," he promptly to added. It was almost same for Kejriwal. Former AAP member and psephologist Yogendra Yadav, who was ousted from the AAP two years ago, had refused to believe corruption charges against Kejriwal. "I might agree with charges of power greed, arrogance, authoritarianism against Kejriwal, but charge of taking bribe need solid evidence," he tweeted.
Barring his 49-day-long stint as the Chief Minister of Delhi in 2013, Kejriwal too did not have any prior experience in politics just like Mahanta,when he held the reigns of the state with a thumping majority in the assembly in 2015. The results of holding political power without any political experience became evident in the very first few months in power, as both the leaders faced serious threats from dissidents.
If Mahanta fell apart with his cabinet colleague, home minister and long-time aide in Assam Movement Bhrigu Kumar Phukan, just after rising to power for the first time in the year 1985, Kejriwal witnessed dissidence being brewed by Prashant Bhushan and Yogendra Yadav just a few months after the elections.
India Today had reported the difference between Mahanta and Phukan in their first term in power in Assam:
"Differences between Mahanta and Phukan, both of whom showed admirable acumen and tenacity -during the students movement, had been simmering for some time. The chief minister suspected that his home minister was growing too ambitious and was garnering support among dissidents to dethrone him. According to AGP sources, Mahanta also had suspicions that Phukan had covert links with the Bodo agitators in the state."
It also cited an interview given by Mahanta, where he reportedly said, "The problem is that Phukan sometimes tries to act like a chief minister. The problem with the AGP government is that every ministry wants to project its own image. Nobody is bothered about the collective image of the government."
Though differences between Mahanta and Phukan were sorted out between the two after Mahanta suspended three dissident leaders, an uneasy calm prevailed between the two. Phukan was even quoted in the media as saying, "My differences with the chief minister were never personal and I will sort them out within the party. I believe in party discipline and will never go to the press with grievances and also never compromise on the issue of corruption."
Kejriwal, too, tried to contain dissent by expelling Yadav and Bhushan but failed miserably as allegations of corruption and mis-management within the party continued to find its way through.
Another AAP MLA Devinder Sehrawat alleged corruption and exploitation of women during Punjab election by some party members. Arvind Kejriwal suspended him too after which Shehrawat tweeted, "Repeated reports of molestation of women and sexual abuse, ring master, Arvind Kejriwal obliging his lecherous cotrie (sic) & adding more such candidates."
The final blow came from Mishra, who not only accused Kejriwal of accepting bribe but also lodged a formal complaint with the CBI.
Just like Kejriwal,  Mahanta's first term as the chief minister was marked by severe allegations of corruption and political ineptitude. But in his very first term, Mahanta showed remarkable command over his colleagues within the party, which is missing in the case of Kejriwal. Even though Mahanta won a second term to power, he failed to recover his earlier image.
In fact, in his second term, Mahanta launched 'extra constitutional killings' to contain ULFA militancy by killing the relatives of the insurgents.
Mahanta's second term as the chief minister of Assam heralded the darkest period in the state's contemporary history which saw many innocent people being killed by state-sponsored assassinations. The charges of secret killings decimated Mahanta and his party to near-irrelevance.
Only in 2016, AGP emerged as a junior partner in the present BJP-led alliance government in Assam after 15 years of exile from power. Mahanta ensured his second trysts with power by managing to keep the party together. But would Delhi give Kejriwal a second chance?
Updated Date: May 10, 2017 09:33 AM