Disgruntled BJP workers protest choice of candidates for Gujarat Assembly elections
Disgruntled BJP workers on Sunday held a protest at the party's state unit headquarters in Gandhinagar over the BJP's choice of candidates for the next month's Gujarat polls.
Ahmedabad: Disgruntled BJP workers on Sunday held a protest at the party's state unit headquarters in Gandhinagar over the BJP's choice of candidates for the next month's Gujarat polls.
The BJP has so far announced 106 candidates out of a total of 182 seats by releasing two lists.
While some workers were angry over renomination of sitting MLAs, others demanded that the newly announced candidates be replaced if the party wanted to avoid "defeat" in the polls, scheduled to be held in two phases next month.
BJP MP from Patan threatened to resign if his son is not given a ticket to contest.
Hundreds of party workers from Nandod (ST), Nikol, Naroda, Kheralu and Anklav seats reached the BJP headquarters "Kamalam" to "warn" the BJP of consequences if their demands were not accommodated.
Workers from Narmada district opposed renomination of sitting Nandod (ST) MLA Shabdsharan Tadvi, saying his "popularity has gone down over years".
"The party's decision to renominate Tadvi could cost dearly in the polls as his popularity has hit rock bottom in the last five years," claimed Narmada district BJP secretary Karansinh Parmar.
He accused Tadvi of not bringing development to the constituency in the last five years.
"As a sitting MLA, Tadvi neither visited villages nor did he bring any developmental work (to the constituency). Despite he lacking any ground connect, the party has decided to repeat him," Parmar told reporters outside "Kamalam".
"We all have come here to warn the party leaders that if he is going to contest, the BJP will be eliminated from Narmada district this time," he said.
Parmar said the BJP workers wanted to replace Tadvi with a "capable" candidate to avoid defeat.
BJP workers and leaders from Kheralu seat in Mehasana, Nikol and Naroda seats in Ahmedabad and from Anklav in Anand district also gathered at the party headquarters.
Some of them even raised slogans against the candidates selected by the BJP and demanded their replacement.
BJP has renominated Bharatsinh Dabhi and Jagdish Panchal, sitting MLAs for Kheralu and Nikol seats respectively, for the polls. Panchal also heads the Ahmedabad city BJP unit.
The BJP has selected Balram Thavani for the Naroda seat, overlooking the claims of sitting BJP MLA and Gujarat minister Nirmala Wadhvani.
The party has fielded Hansakuvarba Raj, a woman, from Anklav seat, currently represented by Congress MLA Amit Chavda.
Angered over Jagdish Panchal's renomination for Nikol, a Patel-dominated area, several party workers rushed to "Kamalam" with banners demanding his removal.
"Panchal is known for his dictatorial style of working. Though we had made several representations to the party leaders about Panchal, he is given ticket once again. If he is going to contest, the BJP will definitely bite the dust from Nikol," a BJP worker said.
Youth BJP workers are unhappy with the selection of Balram Thavani, a Sindhi, from Naroda seat currently held by Nirmala Wadhwani, who also belongs to the Sindhi community.
"Though Naroda is a Hindu-dominated seat, the BJP has been giving tickets only to Sindhis since long. Though we have urged the party to give ticket to a Hindu this time, our demand is not met. Youth BJP workers may refrain from election if Thavani is not changed," a party leader from Naroda said.
Opposing Hansakuvarba Raj's candidature from Anklav seat, a BJP leader said she is not known to any party workers in the constituency.
"Hansakuvarba Raj is a school teacher and she is not known to any of the party worker of Anklav, which is held by a strong Congress MLA at present. The BJP should have refrained from allotting ticket to such a weak candidate. If she is not replaced, the party workers will not campaign in Anklav," he said.
Gujarat chief minister Vijay Rupani exuded confidence that BJP workers will start working for the party after venting their anger.
"Though they are protesting against ticket allocation at present, they will get back to work once they are done with venting their anger," Rupani told reporters in Gandhinagar.
BJP's election campaign committee chief Kaushik Patel, also exuded confidence that the issues will be sorted soon.
"Some party workers have come here to make a representation. We have listened to them. BJP's campaign is going in full swing. With the support of party workers and people, we will win over 150 seats," Patel told reporters at the party headquarters.
In Bhuj in Kutch district, several supporters of Gandhidham (SC) MLA Ramesh Maheshwari held protests against the selection of his relative Maltiben Maheshwari, as a result of which the party office was closed.
As many as 22 BJP councillors of the Gandhidham municipality rushed to Bhuj and tendered their resignation from the party's primary membership in support of Ramesh Maheshwari.
BJP's Patan MP Liladhar Vaghela said he would resign if his son is not given a ticket for Deesa seat in Banaskantha, currently held by Congress MLA Gova Rabari.
"I had made an appeal to my party that my son Dilip should be given a ticket for Deesa seat. I am confident that my appeal will be accepted. But, if they do not give a ticket to my son, I will give my resignation," Vaghela told reporters in Patan on Sunday.
India
Union Home Minister Amit Shah is expected to attend the swearing-in ceremony
Politics
The search for a new CM has begun in Gujarat and the names doing the rounds are deputy chief minister Nitin Patel, Union health minister Mansukh Madaviya and state BJP chief CR Patil, among others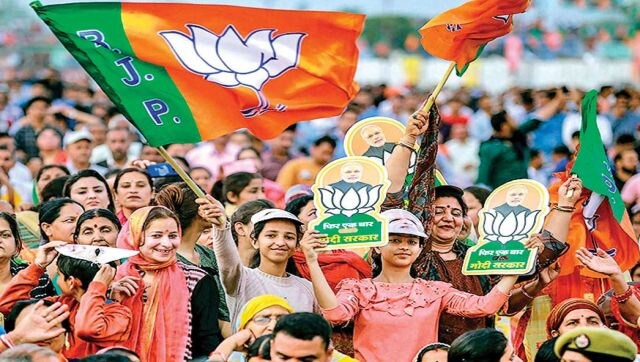 Politics
The Patel community is an estimated 12-14 percent of the population and one-fourth of the party's vote share in the state can be contributed to them