Digvijaya Singh's prescription for the Congress: More than 'deep surgery'
Digvijaya Singh has truly set the cat among the Congress pigeons by admitting that the party requires 'deep surgery'
There are two kinds of Congressmen.
One who would always make the appropriate noises, on instructions or on their own, because it is 'proper'. Like Randeep Surjewala did on Thursday: "reject the improper suggestion totally" that Sonia Gandhi and Rahul Gandhi should take responsibility for the Congress' show in the State Assembly elections.
How dare anybody! The party, after all, has the 'heads-I-win, tails-you-lose' outlook on anything that involves the party heads. He even went on to say that the party does not "at state elections in terms of individuals — Tarun Gogoi or Oommen Chandy. We will analyse causes''. If the lower order is not to blame, how could it be taken to the higher tiers?
Then there are others, such as Digvijaya Singh who has spoken of the need to go in for a "deep surgery" because of two reasons: Despite "introspection" over months, the Congress bombed itself out of reckoning everywhere in the Assembly elections, except Puducherry.
The only difference is that Surjewala's "analysis" has that clinical element to it — everyone getting into a huddle, and examine the patient on the table, though they are both the patient and the ones who analyse. It is about looking at things from an arm's length. Digvijaya Singh's has that deeper effort of self-reflection. A contrast to external observation.
In this case, Digvijaya Singh raised other possibilities, but only apparently. He wanted "deep surgery". But of what? Did he mean get Rahul Gandhi out of the decision-making process, because the man paid more attention to his dog than to Hemanta Biswa Sarma, who quit the party and helped BJP make spectacular gains in Assam and form a government?
Or get rid of Sonia Gandhi, because her love for her son has led to the party getting into a dual-leader mode, with no internal democracy? Could Digvijay Singh, who apparently went on a break in the Assam forests, instead of campaigning in that state, be pointing fingers at her?
He then complicates matters by speaking to the India Today channel, and a day after, an the interview to the Indian Express where he said that Sonia Gandhi is his leader and she had to carry out the surgery. And would the leader send the son packing? Going by the tract record, not of just that but any party where close kin are more valuable than the suffering others, it is unlikely.
Sharad Pawar will not sacrifice — whatever be the provocation — his nephew, Ajit Pawar. Mulayam Singh Yadav, so far, has shown that he may chide his son, Akhilesh Yadav, publicly, but he would remain the chosen one. Imagine, Lalu Prasad Yadav telling his son, Tejaswi Yadav, the Bihar Deputy Chief Minister, that he has to quit for bad performance.
Digvijaya Singh, a motor mouth, and a mentor of the Congress vice-president, is not likely to target Rahul Gandhi because that would mean admitting his failure in grooming the man into a leader. Does his "young leaders" pitch for the present and the future include Rahul Gandhi or is it a hint at the need to bring in his sibling, Priyanka Vadra, who uses, when politically required, the maiden surname?
Now, he has truly set the cat among the Congress pigeons.
This again points to the ingrained inability of the party to look beyond 'The Family'. Shashi Tharoor has also joined in. "Time for introspection is past" and the time "for action has come… make visible changes". Because this introspection, led by Rahul Gandhi, has been interminable. That time has seen him spend it on vacation, even if it meant his non-availability for crucial party matters.
But none have suggested what the "action" has to be. Even though both Tharoor and Singh dwell on "introspection", it only means that the number of states ruled by the party, which lost heavily in 2014 and continuing, is shrinking. That process has not started, though reports were filed by state leaders and some chosen few, to tell the bosses — mother and son — what could have gone wrong in the Lok Sabha elections.
Beyond that, as of now, Digvijaya has been only a tad different. The headlines dogging him post his tweet and then his interview are disproportionate to his actions. It is much the same — just someone making noises — and the party goes ahead in its own ways, as always.
Politics
The leader reportedly discussed the efforts to end factionalism in the state unit, that came to the fore following a rift between Amarinder Singh and Navjot Singh Sidhu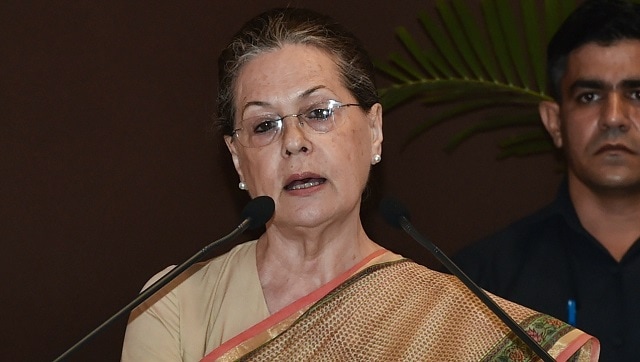 Politics
Adhir Ranjan Chowdhury will be the leader of the Congress in the Lok Sabha, while Mallikarjun Kharge will be lead the party in the Upper House
Politics
Sidhu's elevation as the president of the Punjab Pradesh Congress Committee (PPCC) may position him as a succeesor to Captain