Desperate Rajasthan Cong targets Vasundhara with sleaze, innuendo
Several jarring phrases used by Gehlot during the campaign reflect his burning desire to violate the unwritten covenant that politics is sexy but it should be sexless.
Rajasthan's elections are on the brink of degenerating into a referendum on Vasundhara Raje's personal life. Unable to effectively deal with Raje the politician, her rivals are now targeting Raje the woman.
The efforts don't surprise. The mudslinging is just the climax of a campaign rooted in misogyny, chauvinism and chicanery, some of the characters that define Rajasthan's polity in this election.
Raje has always been a target of nasty innuendoes and sleaze. But the smear campaign hit the gutter when posters and CDs attacking her life and lifestyle were circulated by post in Jaipur on Tuesday.
The BJP did not react officially. But a supporter filed an FIR in the state capital for a probe into the incident. Nobody was named. But the Raje camp believes it has the names of those behind it.
This was the second attempt on Raje's character. Only a few days ago the Jaipur police had seized thousands of booklets with 'objectionable content' on her.
Raje's life outside politics has always interested her rivals, including Gehlot. His slogans have contributed immensely to the sexualized, anti-women undertone of the political discourse.
The subtext of chief minister's campaign against Raje is the insinuation that her cupboard is full of scandals and deplorable passions. His favourite lines -- '8 PM- No CM' and 'she was in London' -- have mischievous connotations. Obviously, none of them would have made sense if Raje's gender was not a factor in politics.
Several jarring phrases used by Gehlot during the campaign reflect his burning desire to violate the unwritten covenant that politics is sexy but it should be sexless.
"Latka-jhatka dikhati hai… pata nahin London gayi thi ya kahan gayi thi…" are his constant refrains. These words, obviously, would not have been heard if his rival were not a woman.
Imagine Narendra Modi or Arvind Kejriwal saying the same things for the Congress top leadership and getting away with it?
Others within the Congress aren't lagging behind in adopting this line of attack. Baleful darts are their weapons, hypocrisy their shield. Gehlot mouthpiece and state Congress chief Chandrabhan once asked voters: "Aap daaru peene walon aur maans khane walon ko kaise vote de sakte ho (How can you vote for those who drink and eat meat)?" The Congress chief does not know that many within his party would lose their deposit if elections were based on these laughable criteria.
The reprehensible plan is clear. If a single woman is your opponent, attack her character with constant hints of association with scandalous pursuits. If she has a friend, drop hints of an affair; if she doesn't step out of home after a particular time, suggest a link to alcohol.
This mind-numbing obsession with alcohol --  every hypocrite's favourite morality peg -- is a defining feature of Congress' holier-than-thou politics in Rajasthan. In 2008, soon after he came to power, Gehlot ordered closure of liquor shops by 8PM. It didn't matter to him that sales went up 25% per annum in spite of his moralistic stand on the issue, or that bars and restaurants made huge profits. Undeterred, Gehlot kept extolling liquor politics as his masterstroke.
Gehlot is known for his constant moralizing and back-patting on trivial, irrelevant issues. He was, for instance, the first to criticize Shashi Tharoor for the latter's 'cattle class' tweet, a light-hearted comment whose context and intent was lost on many like him. No wonder, Gehlot's Twitter handle is generally idle.
With his overzealous attempts to occupy the high moral ground and become the cheerleader of the 'drinking is a sin' brigade, Gehlot resembles a preacher railing against lifestyles and values that have found acceptance within the middle class and liberals. He may be burnishing his 'Gandhian' image with such sermons. But to others they seem inspired by the rigid mindset moulded in RSS shakhas.
Raje has many flaws. But her being a single woman is not one of them. By constantly attacking the single woman in her to silence the politician in her, Raje's rivals just underline the fatal flaws of their mindsets.
Subscribe to Moneycontrol Pro at ₹499 for the first year. Use code PRO499. Limited period offer. *T&C apply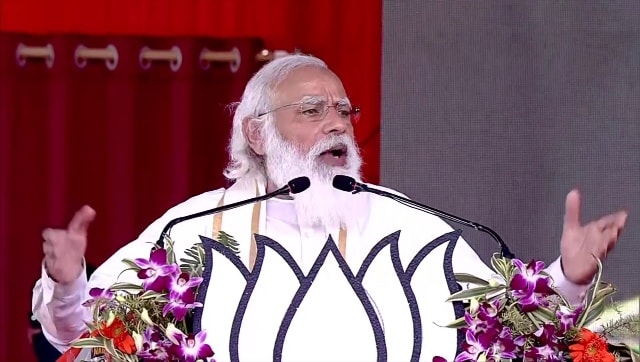 Politics
The prime minister also accused the Mamata Banerjee-led Trinamool Congress government of not transferring funds of central schemes to people in the state
Politics
The use of the prime minister's photograph on hoardings violates the Model Code of Conduct, which came into force on 26 February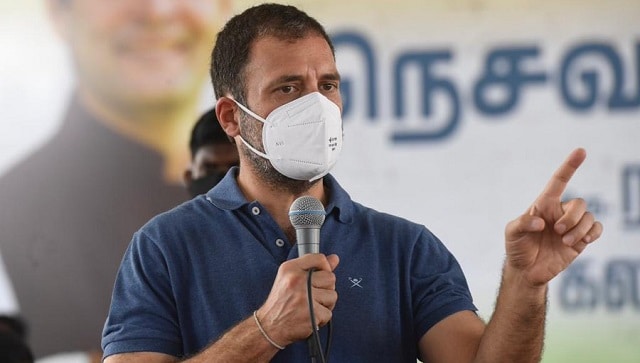 Politics
The north-south divide inadvertently flares up before every election, especially in southern Indian states. This time it has come before the Assembly elections in Tamil Nadu, Kerala, and the UT of Puducherry