Desi student, 'Most Likely to Change the World', faces deportation from the US
Undocumented Indian-American students fight deportation, and dream of the passage of the DREAM Act.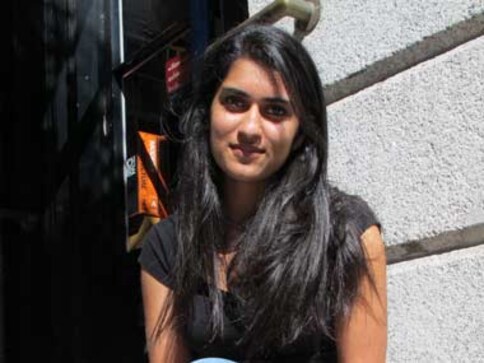 On the surface, Mandeep Chahal, 20, looks like any other high-achieving Indian-American student.
As a high school student in the San Francisco Bay Area who excelled academically, Chahal helped start an anti-poverty organisation and she was even voted "Most Likely to Change the World" by her classmates. Now, as pre-med student at University of California at Davis, Chahal heads an anti-genocide organisation and started a new campus chapter of Amnesty International.
But for all of her promise, Chahal sat in a US Immigration and Customs Enforcement (ICE) detention centre in San Francisco for several hours on Tuesday morning awaiting a Wednesday morning deportation.  Although she was released, the cruel prospect of deportation lingers.
As an Indian immigrant who came to the US at age 6, she continues to face deportation along with her mother, who originally came to the US in 1997 seeking asylum. (Chahal also has two younger brothers who are US citizens.)
"Mandeep and her mother have been released from ICE, though their situation has not been fully resolved," attorney Kalpana V. Peddibhotla said in a statement. "I am in communication with the [Department of Homeland Security] and am hopeful that we will have a definitive resolution to their case soon.  I and the family wish to thank the thousands of supporters from around the country who have advocated on their behalf, without which I am fairly certain that Mandeep and her mother would have been deported."
Though Chahal's mother has been fighting her immigration case for years, US authorities ordered Chahal and her mother to report to a San Francisco detention centre on Tuesday morning to prepare for their impending removal from the country.
Like many US immigration cases, Chahal's mother's petition to remain in the country was complex and time-consuming. Her original asylum case wended its way through the courts for about six years until Chahal's mother was denied amnesty in 2003. But the elder Chahal has claimed that she received poor legal representation and she has been fighting her case ever since, but with little success. For Chahal, the student, this means that she has also fallen out of status, culminating in the joint deportation order with her mother.
Dreaming of the DREAM Act
Chahal is the latest poster child in the campaign to pass the Development, Relief and Education for Alien Minors (DREAM) Act, which would offer conditional permanent residency to students who came to the country as children and who demonstrate good moral character. But the legislation, which has been introduced every year for the past decade, has never passed, and few believe that it has any chance of success this year.
Still, Chahal's advocates are hopeful that she will be able to remain in the country because she has a new tool at her disposal. On Friday, the director of ICE issued a memo that outlines the agency's deportation priorities, and it states that immigrants like Chahal, who came as young children and who are pursuing higher education, should not be the agency's focus. Chahal's advocates see her case as a test case for how this new immigration directive will play out.
"The memo laid out with great care and precision the agency's position on the who, what, why, where and how" regarding its enforcement priorities, said Marshall Fitz, the director of immigration policy for the liberal Center for American Progress. "The criteria the agency holds itself to point to compelling relief for [Mandeep]."
He added: "Her case clearly and unequivocally should not have reached this point. Discretion should have been exercised much earlier."
But some challenge the legality of the memo itself. "Every law enforcement agency and prosecutorial agency in the country and in the world has some discretion, but this memo indicates that the Obama administration is willing to disregard the law and write their own laws," said Ira Mehlman, the national media director for Federation for American Immigration Reform (FAIR), which advocates for improved border security and ending illegal immigration.
Meanwhile, Chahal's attorney has filed a petition for a "deferred action," which would allow her to remain in the country temporarily. If it is not eventually granted, she will be put on a plane back to India.
Not the only one
Though illegal immigration is not commonly associated with Indians, Chahal is not the only one to face the legal and bureaucratic tangle of living without documentation in the US. In fact, Deepa Iyer, executive director of South Asian Americans Leading Together (SAALT), said that Indians make up the sixth largest undocumented population in the US.
"Sadly these cases are not uncommon within the Asian and South Asian community," Iyer said. "Contrary to popular perception, there is a need for immigration relief for Asian and South Asians" who are  "living in the shadows."
Indeed, another Bay Area woman of Indian descent named Prerna Lal is also facing deportation. Like Chahal, Lal immigrated to the US as a child. After attending high school and college in the US, where she served in various school leadership positions, she earned a master's degree in international relations at San Francisco State University. She is currently studying law at George Washington University in Washington, D.C., and if she is able to remain in the US, she said she'd consider becoming an immigration attorney.
Lal's parents immigrated to the US from Fiji when she was 14. Her father had come as a student, and Lal immigrated as a dependent on her father's visa. But she  found herself in a legal and bureaucratic quagmire related to her status as a dependant of her parent's immigration visas, and she is currently undocumented and deportable. "The law is unclear on what happens once the [student] whose status you depend on [as a child] becomes a legal permanent resident," Lal told Firstpost. "You become out of status, you become 'illegal.'"
Her grandmother, who is a citizen, has also petitioned for her residency, but she currently remains undocumented and faces the spectre of eventual deportation, a prospect that torments all of her relatives.
"I'm the only person in my family without papers," Lal said. "My entire family feels undocumented because of this. We get letters from immigration and everyone gets scared and freaked out."
She said she has become a vocal DREAM Act activist—she co-founded an advocacy organisation called DreamActivist—because she felt "betrayed" when she came to realise the legal tangle she was in that she had no part in creating. "I felt betrayed by everyone in my life," she said. "I was told that if you work hard and stay in school and do your best, you can achieve what you want."
"It's morally bankrupt," Lal said of her circumstance and those of other DREAM Act-eligible students. "It doesn't make sense—this involves children who have not say in the matter who come here because of the actions of their parents. It doesn't make sense to punish people who were brought here when they were 2 or 5 years old."
But even as Lal pushes for immigration reform for students like herself, she doesn't have high hopes that the DREAM Act will pass any time soon. "I don't think this is our year," she said. "Probably when Obama gets reelected, that will be a better time. But I find him underwhelming right now. There are a lot of things Obama could do in his capacity as president to give relief to undocumented students. But I'm not sure if I have a lot of faith in him right now."
And even those opposed to the legislation acknowledge that young students like Chahal and Lal are put in a difficult situation.
"The problem with the DREAM Act is that it's a response to a systemic failure to enforce the laws in the first place," said FAIR's Melhman. "We should avoid putting kids in this situation, which everyone wants to avoid, by making it clear that people shouldn't come here illegally. Many of the children didn't violate the law; their parents did. And it has an unfortunate and negative consequence for the kids."
Entertainment
Minimum follows the story of newly wed immigrant Fauzia who lands in a house that isn't hers with her mother-in-law, Ruxana, who insidiously keeps her captive.
World
The extension period of up to 180 days will automatically be extended to up to 540 days from the expiration date