Demonetisation: Why Chandrababu Naidu is the only non-BJP CM to hail move
Following PM Narendra Modi's announcement of demonetisation of Rs 500 and Rs 1,000 notes from 8 November, Naidu has been on a gloat mission
Andhra Pradesh chief minister and Telugu Desam Party (TDP) supremo Chandrababu Naidu, an important ally for the BJP in the south, is known for his penchant to look for ways to maximise his political clout.
Following Prime Minister Narendra Modi's announcement of demonetisation of Rs 500 and Rs 1,000 notes from 8 November, Naidu has been on a gloat mission — he had written to Modi barely a week earlier demanding a ban on these denominations in an effort to curb black money.
As the Opposition gears up for a strident battle over the issue, Naidu too is gearing up — not to fight, but to defend the idea. Naidu has geared his administration to face the challenge posed by the cash crunch, particularly in Andhra, a state that serves as a junction to three states with the Bay of Bengal on one side.
A helping hand
As is done during times of natural calamities, the AP government set up a help desk at Vijayawada to help citizens sort out difficulties in exchanging demonetised notes at banks and post offices. A call centre and a toll free number (1800-599-1111) too was made available for information. A notification issued by Chief Secretary SP Tucker also put the state government administration on standby, cancelling all leave for cadres of essential services including the police and treasury departments, in anticipation of enormous confusion and rumour-mongering. "We put a five-member team on a 24/7 basis to answer calls and also guide callers to the nearest banks and ATMs, and also advised them to be prepared for a long wait," said a spokesperson in the chief secretary's office.
Besides organising IT-based feedback services from all 10 districts, Naidu also held teleconferences with district collectors on a daily basis to address the crisis. The public relations attempt worked well. Although Telugu news channels beamed the travails of the common man waiting at banks and ATMs through the day, they also telecast Naidu's video conferences showcasing him as a "working chief minister".
A past master in crowd management, Naidu directed officials to provide shelter, drinking water and also butter milk for the milling crowds at banks and post offices. His office also issued advisories on setting up counters for women, the elderly and handicapped to banks.
"In fact, Naidu's office knew about the arrival of truckloads of new currencies ahead of us," said a banker after the CMO advised them on where to send the fresh currency in view of the huge crowds and need for marketing agricultural produce.
Officials were also directed to source small change – Rs 50 and Rs 100 notes — from wherever possible, including hundis at places of worships and also toll gates, milk vendors etc to meet the shortfall of smaller denomination notes until the RBI delivered the new notes.
Naidu also wrote to the Ministry of Finance to focus on the ways and means to address the problems faced by people in the wake of demonetisation, particularly the hardest-hit communities of street vendors, transporters and petty traders.
Guidelines for the Centre
Naidu set the ball rolling for the Union government and Ministry of Finance by issuing guidelines and advisories to state administration and bankers within the state on what to do and how to tide over the crisis. All late payments for power, water, property taxes, excise, toll gates, school fees etc were deferred and advisories issued to provide non-stop services in spite of non-payments as per schedule. "It appeared as if Naidu was in charge rather than the bankers and the RBI at least in Andhra Pradesh," said a senior official at the stock market at Visakhapatnam.
The Chief Minister's Office issued press releases daily on what he wanted banks and the RBI to do, without bothering with whether he had the authority to advise or direct them. The CMO and the chief minister often advised banks to introduce multi-purpose counters instead of separate counters for withdrawals and deposits. He also wrote to the RBI to send more currency to Visakhapatnam, Tirupati and also Vijayawada in view of the ongoing infrastructure projects and taking into account the significance of the sea port of Visakhapatnam and religious tourism in Tirupati. "We don't need Rs 2,000 notes, but only Rs 100 notes," he said, in a request to RBI.
The AP government also threatened traders with the PD Act (Preventive Detention Act) if they resorted to hoarding or denial of essential commodities.
Government employees were roped in to help out people at banks, ATMs and also at bus stands, railway stations and airports along with the regular staff.
"We want the Centre to send us the new Rs 500 notes as it had already sent them to Maharashtra and Madhya Pradesh. Only Rs 6,700 crore was deposited in the banks in Andhra Pradesh since demonetisation," Naidu told the media on Tuesday evening.
Digital money focus
The TDP supremo also shifted focus on the use of digital money to tide over the crisis. Presently, only 18 percent of transactions in Andhra Pradesh are on digital mode and the government's target is to increase this to a minimum of 30 percent by the end of the year. As part of this task, e-pass instruments (POS) were being installed at all PDS outlets.
Naidu lauded the efforts of West Godavari District Collector in issuing tokens at rythu bazaars (farmer markets) for small change which were redeemable at banks. This practice was replicated in four more districts during the weekly markets to facilitate farmers who brought their produce from across the state.
Addressing the parliamentary party meeting on Wednesday, Naidu also urged his MPs to build pressure on the Centre to provide swipe machines to traders and abolish transaction cost for online banking in toto. "Countries with lower education levels and less development are ahead of India in using mobile banking services," he said, urging TDP MPs to press for policy framework for the popularisation of digital currency in villages and towns.
Politics of the opportune
Naidu is not openly all praise for Modi though, perhaps conscious that it might rebound on him. "Precautionary measures should have been taken to minimise difficulties to the public," said Naidu speaking to reporters, adding, "To curtail the flow of black money, public must be encouraged towards electronic currency. The Centre must have taken adequate steps to increase online transactions."
Naidu has a good reason to join the 'Har Har Modi' club. He needs money for his state and its brand new capital city Amaravati. "The Centre has promised over Rs 1.5 lakh crore in grants and investments in over 115 projects and schemes. But unless they are done before 2017-18, the purpose will not be served," said state finance minister Yanamala Ramakrishnudu on the sidelines of a CII meet at Vijayawada while interacting with industrialists.
The TDP and the BJP are old friends — allies since 1996, except for a decade in between from 2004 to 2014 when the TDP was out of power in united Andhra Pradesh.
Opposition YSRC leaders therefore alleged that the TDP supremo and his son Nara Lokesh had converted their black money into white thanks to the advance information given to them by BJP leaders. "Lokesh's benamis have converted almost Rs 13,000 crore into white a few days ahead," said YSRC leader Bhumana Karunakar Reddy.
But TDP leaders insist that the campaign against black money was not new to the party. Way back in 2013, TDP invited Artha Kranti Pratisthan Chairman Anil Bokhale and extended support for his campaign against black money. They had also brought out booklets against former Congress chief minister YS Rajashekhar Reddy's alleged corruption and impleaded themselves in the CBI case against corruption in EMAAR Group's real estate activities in Hyderabad city, a case in which YSR's son and YSRC party chief YS Jaganmohan Reddy was named.
India
Built at a cost of Rs 2,329 crore, the medical colleges inaugurated on Monday are located in Siddharthnagar, Etah, Hardoi, Pratapgarh, Fatehpur, Deoria, Ghazipur, Mirzapur and Jaunpur districts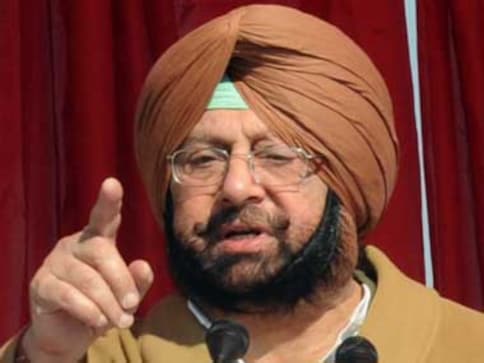 Politics
Amarinder, who was one of the Congress' powerful regional satraps, also said he had never experienced "this sort of interference ever as a chief minister"
India
Communal tensions have long simmered in Bangladesh, whose constitution designates Islam as the state religion but also upholds the principle of secularism.