Demonetisation: Sitaram Yechury may be right, widespread job losses to create fresh headache for govt
Former Prime Minister Manmohan Singh, also an economist, said in Parliament today that demonetisation could contract the GDP by as much a 2 percent though he did not give a timeframe for this prognosis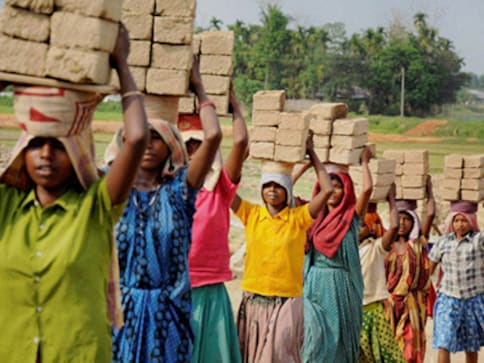 New Delhi: Demonetisation and its impact on India's economy have been discussed in detail over the last fortnight, after the shock announcement by PM Modi on 8 November. Based on their political affiliations, economists have differed widely on the impact of this step but most are unanimous on at least one point: This single move will contract one of the world's fastest growing economies in the short run. Former Prime Minister Manmohan Singh, also an economist, said in Parliament today that demonetisation could contract the GDP by as much a 2 percent though he did not give a timeframe for this prognosis. Brokerage Ambit Capital has already created shock waves by predicting that GDP growth will fall to 5.8 percent in 2017-18 from 7.3 percent estimated earlier.
It follows then that job creation, which has been Modi government's biggest headache even before the demonetisation move, will slow down further as economic growth tapers off. The clearest indication of a direct link between job losses and demonetisation came from CPIM's Sitaram Yechury, who claimed in Parliament today that since 8 November, four lakh jobs have vanished.
And more than 31.9 million people employed in the textile sector or "government" sectors have not been getting wages. It is quite evident that at least for the short term, jobs will be vanishing in many sectors directly impacted by the cash crunch. Construction and allied sectors, jewellery, textiles and real estate are some sectors where job losses, if not already happening, are imminent.
Yechury has not said what is the basis of his analysis on number of jobs lost but B N Rai, President of the Bhartiya Mazdoor Sangh (affiliated to the BJP) also echoed similar sentiments on job losses. "Workers who are employed as contract labour, those working in construction and other infrastructure sectors, daily wagers and those getting wages weekly are definitely affected by this demonetisation drive. I do not have estimates but many jobs have vanished in these sectors," Rai told Firstpost.
The government is already in bind over the extremely slow pace of job creation under the Modi rule, parrying frequent allegations of the NDA government's alleged belief in jobless economic growth. Just last week, Labour Minister Bandaru Dattatreya said in Lok Sabha that the unemployment rate increased significantly last fiscal. He said as per findings of the National Sample Survey Office (NSSO), during 2011-12 the unemployment rate on usual status basis was 2.2 percent. This has increased to 3.7 percent in 2015-16.
Dattareya went on to say that employment generation was a key priority of the government and the 12th Five Year Plan projects five crore new job opportunities to be generated in the non-farm sector besides also providing skill certification to an equivalent number of people. What has been the government's job creation record so far? In calendar 2015, only 1.35 lakh new jobs were created in the eight labour intensive sectors, the Labour Bureau study for its quarterly estimates. This compares quite poorly with even the 2014 stats when close to five lakh new jobs were created, and belied the election promised or crores of new jobs being created each year.
In a paper titled Demonetisation: Impact on the Economy, NIPFP has said that if the extinguished cash (through demonetisation) was used as a medium of exchange in financing unaccounted income generation or income in the informal sector, "demonetisation would result in these activities closing down and a corresponding reduction in the incomes and employment associated with these activities. The spillover effect would be felt by the organised sector as well since the consumption from the incomes generated would extend to the formal sector as well."
Economist Pronob Sen has also warned that a virtual shutdown of India's informal sector could spell doom for employment. Sen has said the fact that the informal sector in India accounts for about 45 percent of the gross domestic product (GDP) and nearly 80 percent of the employment, "disruption of this liquidity can be very costly indeed, both in terms of growth and equity."
The NIPFP study quoted earlier cites the example of the real estate sector which is sure to be impacted by demonetistaion. "With contraction in demand from one set of agents – say agents who have earned unaccounted incomes and placed them within the real estate space – either prices within this segment would fall or transactions would cease to happen. While of itself, this would be considered a positive development and evidence of a correction in the unaccounted incomes, it could lead to a compression in investments in the construction sector which can have adverse income and employment consequences for the economy."
This Financial Express piece speaks of roughly a fifth of the almost 32 million people employed in the textile and garment sector (who are paid wages either daily or weekly) being hit. While some of them have already lost their jobs, many are apprehensive of such a fate. A majority of garment industry workers, especially in hubs like Tirupur, do not have a savings bank account as 70 percent of them are migrant workers from the north and northeastern parts of the country.
Similarly, 20-25 percent of the roughly 2.5 lakh workers in the leather industry have been adversely affected as they are daily wage workers. The industry has been hit particularly hard as 90 percent of the units are small and medium enterprises. In the jewellery sector, 15-20 percent of workers, who are paid daily, too, have been affected.
India
The countrywide vaccination drive was rolled out on 16 January with healthcare workers getting inoculated in the first phase
India
As part of the celebrations, Union Health Minister Mansukh Mandaviya requested people to get themselves vaccinated and also help others to receive their jab
Arts & Culture
Documenting the heritage and culture of a region renowned for its uniqueness, the book preserves the sanctity attached to them.